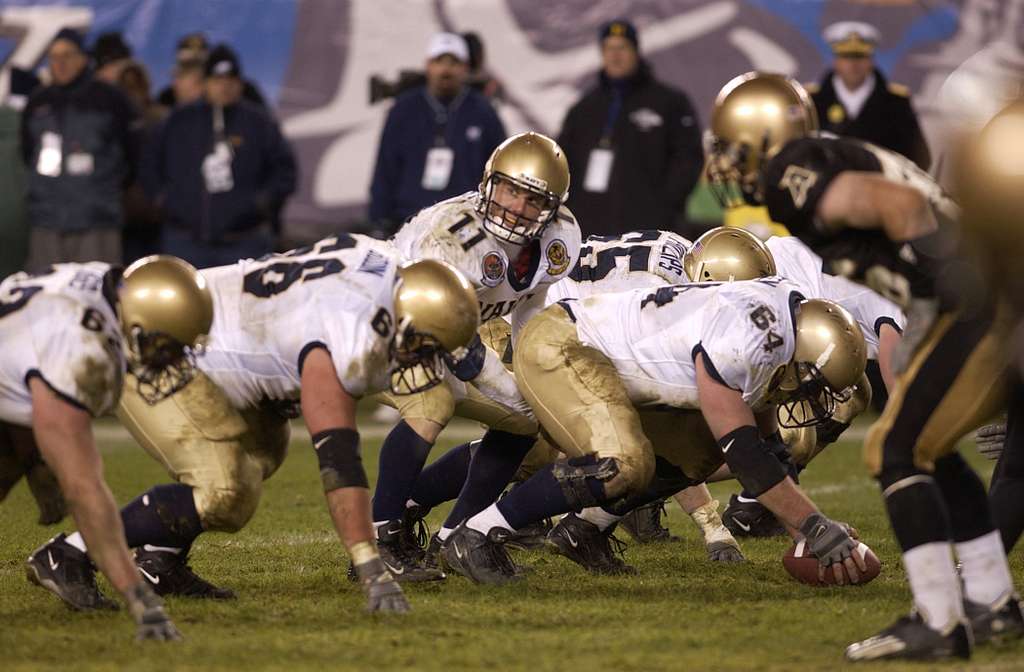 Celebrating 20 Years of Navy's Triple Option
Can you believe it? Navy's Triple Option is turning 20 this year. That just blows me away. It's amazing how time flies. During the past two decades, Navy football fans have seen the program achieve some unprecedented success. And the fact that this success lines up with the team transitioning to the triple option offense is no accident.
Seeing how it has been 20 years, I thought it might be fun celebrate some of those accomplishments. But to gain a true appreciation for how far the Navy Football program has come, it's important to remember where it had been.
Rock Bottom
There's no other way to put it. Following the 2001 season, the Navy Football program was hanging on for dear life. Not only was it losing, but the team was just not competitive. From 1982 – 2001, their record was 72-148. They only had three winning seasons during that period. In 2000 and 2001, they went 1-20 and were outscored by an average of 17 points a game. And there was no sign of that changing any time soon.
Fans were frustrated. Some wondered if the football team might be better off at the Div. I-AA (now FCS) level. But there were two people who were bound and determined not to let that happen. One was the Naval Academy Superintendent, John Ryan. The other was his newly hired Athletic Director, Chet Gladchuk.
Both agreed that fixing the Navy Football program was a top priority because of the role it played in the Academy's physical mission. Ryan and Gladchuk also knew just the man to fix it: Georgia Southern head coach Paul Johnson.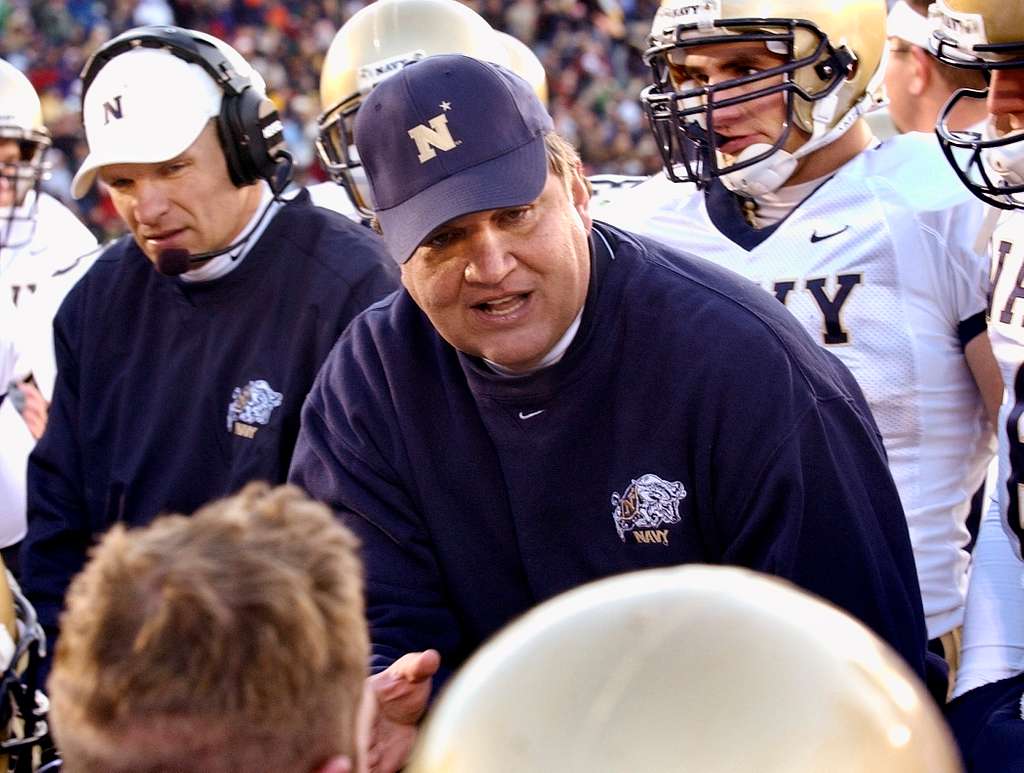 Johnson had previously been the Mids' offensive coordinator for two seasons. After the team went 9-3 in 1996, he left to coach the Eagles, where he had gotten his start in the mid-80s. Over the next 5 years, Johnson racked up a 62-10 record and won two back to back Div. I-AA championships.
In his book, Navy Football: Return to Glory, T.C. Cameron wrote that "Johnson, wasn't Ryan's first choice . . . he was his first, second and third choice." After their initial meeting with the coach, Ryan made it very clear to his assistant Jim Grant and Gladchuk that they should plan on remaining in Statesboro until they had Johnson's name on a contract. And that's exactly what they did.
Season 1
When Johnson arrived and performed a total assessment of the program, he found out just how bad things were. There was no morale to speak of, and there was a significant gap between the number of players on the football team and the number who had the talent to actually compete at the Division I level.
Johnson's mantra was "Expect to Win". It was the attitude he consistently drilled into the players, and he found out quickly who wanted to be there and who didn't. That said, getting into the win column consistently didn't happen overnight. There were some rough patches.
The Mids were 1-7 going into their final three games of the season. But they actually led Notre Dame 23-15 before losing 30-23 in the final five minutes. Then came the game against Army. It was Dec. 7th, 2002.
The Mids didn't just deliver a beat down. They delivered a cathartic beat down. In those 60 minutes, they took out their collective frustrations from the previous two seasons on the Black Knights. It was a complete annihilation.
Navy quarterback Craig Candeto ran the triple option to perfection. He rushed for a school record 6 touchdowns, and the Mids ran for 421 yards. They never turned the ball over and weren't flagged for a single penalty the entire game. The final score was 58-12, and Army left the Meadowlands wondering what the hell had just happened.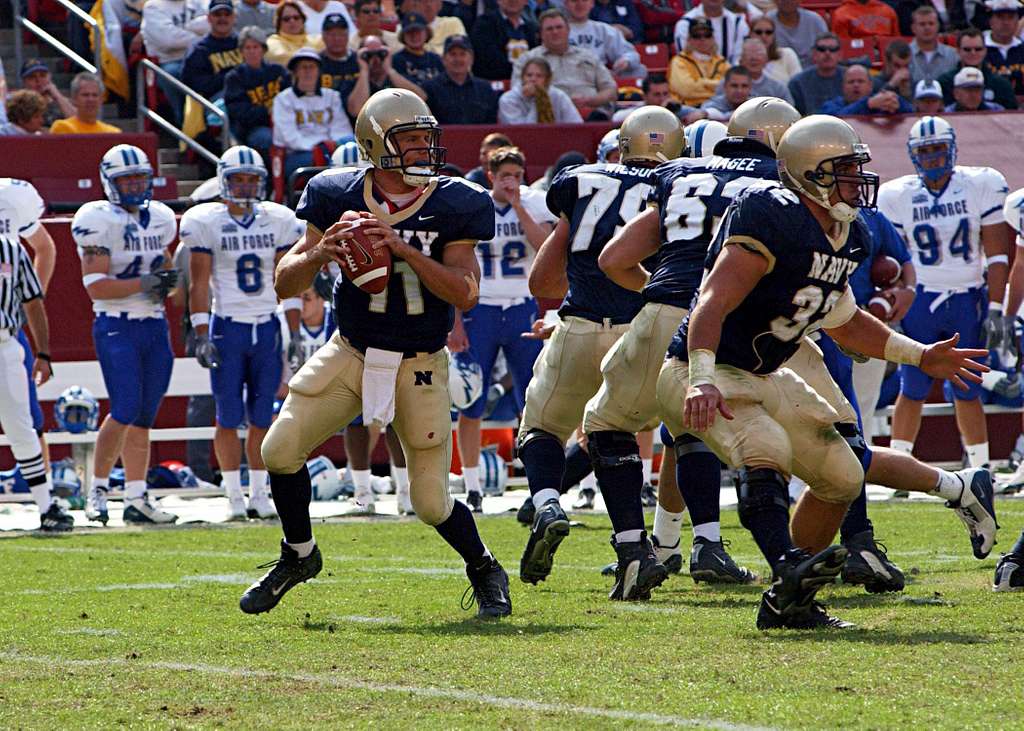 After a season of growing pains, Navy's Triple Option Era had officially begun. And over the next 5 years, Paul Johnson used it to put the football program on a completely different trajectory. Now let's take a look at some of the other wins that defined his legacy at Annapolis.
Season 2
Without a doubt, the win over Air Force in Coach Johnson's second season was the one that really made Navy fans sit up and take notice. I would spend some time talking about it here, but I did an extensive feature on that game and how it impacted the Navy – Air Force series in the years to come two years ago. You can click here to read about it.
The win over the Falcons was only half the story. As big as it was, it merely gave the Mids a chance to do something they hadn't accomplished since 1981: take home the Commander In Chief's trophy. Now the question was could they close the deal when they faced Army in the last game of the season.
On paper, the scales were heavily tilted in Navy's favor. The Black Knights had gone winless all season, and they stood on the brink of setting a record in futility. Another loss would make them the first team to go 0-13 in Division I College Football.
Army was getting absolutely hammered as a member of Conference USA. They ran a pro-style offense. But truthfully, they didn't have the athletes to pull it off. Going into the Navy game, the Black Knights had allowed 30 or more points a game in 9 of their 12 losses. And the average margin of victory was over 21 points.
Still, I remember 1991. That was the year the Mids went into the Army-Navy game having yet to post a win. They were 0-10, while the Black Knights were playing to finish with a winning record. Navy won 24-3. So I don't care how lopsided the game looked on paper, I wasn't taking anything for granted.
Two in a Row
Unlike the previous year when the game's outcome was never in doubt, the 2003 game close for the first 30 minutes. The Mids went into the half with a 13-6 lead.
Things changed in the 3rd quarter, though. Kyle Eckel proceeded to go crazy. He'd had a decent game up to that point. But he picked up both of his touchdowns in the second half on his way to rushing for 152 yards. Eric Roberts tacked on another TD to go along with the one he scored in the first half, and Navy's triple option torched the Black Knights for 359 yards, totally dominating them, 34-6.
The Mids now had two consecutive wins. My son was born 23 days after that game, on Dec. 29th. Navy would not lose to Army again until he was in the 8th grade.
The C-in-C Trophy Comes Back to Annapolis
If the 2002 Army game signaled the beginning of Navy's Triple Option Era on the field, taking the Commander-In-Chief's trophy in 2003 marked a clear inflection point for the Navy Football program. They had just posted their first winning season in 6 years. And ever more importantly, Coach Johnson and his staff did a great job leveraging those wins on the recruiting trail.
They were winning the battles against Army and Air Force to land players like quarterback Kaipo-Noa Kaheaku-Enhada and defensive end Jabari Tuani. And the Commander-In-Chief's trophy, which hadn't been back to Annapolis in over 20 years, stayed in Navy's possession for a record 7 consecutive seasons.
Season 3
The last time a Navy team won 10 games, Teddy Roosevelt was speaking softly and carrying a big stick as the country's 26th President. The same could be said for the 2004 Mids as Coach Johnson led them into his third season.
Craig Candeto had graduated, but he left Navy's triple option in the very capable hands of Aaron Polanco. It was his first year as a starter, but the senior had seen plenty of action the previous two seasons whenever Candeto got a little banged up.
Under Polanco, the Mids got off to a 5-0 start. He and Kyle Eckel combined for over 2,000 yards rushing on the year to lead the Navy running attack. Polanco as also an underrated passer. He only threw the ball about 5 times a game, but he connected on 53% of his passes and averaged nearly 19 yards per completion. And it seemed like anytime the offense needed a crucial pass play, Polanco always came through.
Getting To 10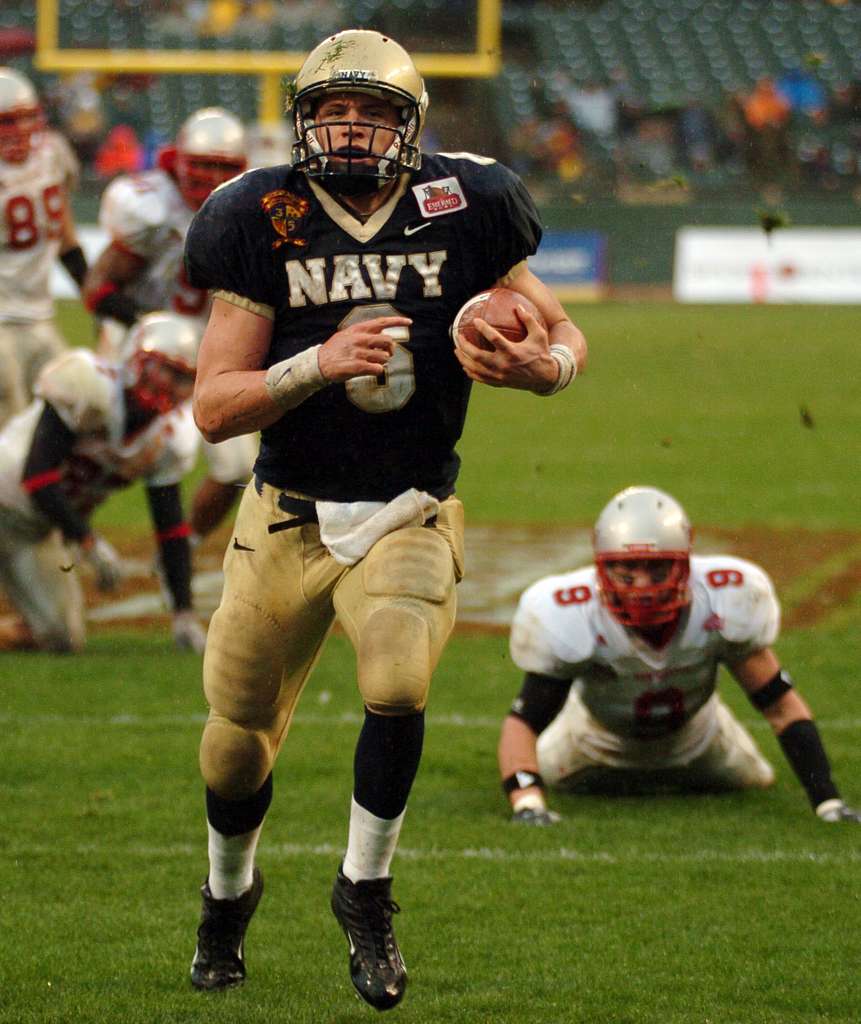 So after crushing Army 42-13, Navy was quietly sitting on a 9-2 record going into their bowl game against New Mexico. And after playing nearly a century of football without a 10 win season, the Mids were not about to let this opportunity slip away.
It was Polanco's day to shine. He ran for 136 yards and 3 touchdowns while throwing for 100 yards and 1 TD. He scored midway through the 3rd quarter to give the Mids a 31-19 lead. Then he engineered a 26 play, 99 yard drive that burned up nearly the entire 4th quarter. It lasted 14 minutes, 42 seconds and led to a field goal that iced the game. The drive still stands as the longest on record in either college or pro football, both in length and time of possession.
Season 4
After that impressive run in 2004, the Mids began 2005 by stubbing their toe in a big way. Two tough losses to Maryland and Stanford, put them in an early hole. The loss to the Terrapins was especially painful. Leading by 5 in the 4th quarter, the defense gave up a late score and a two point conversion and lost 23-15.
The team got back on a winning track after having a rare two consecutive weekends off in September. Navy went 8-2 the rest of the year to finish 8-4. They clinched their 3rd straight Commander-In-Chief's trophy. But the game that really put the triple option on display was their bowl game against Colorado State.
In the Poinsettia Bowl, the Mids ran for a jaw-dropping 467 yards and scored 5 touchdowns. Slotback Reggie Campbell and fullback Adam Ballard accounted for 245 of those yards. Campbell also chipped in with 89 receiving yards, including touchdown catches that went for 55 and 34 yards.
Navy quarterback Lamar Owens ran for 50 yards and threw for 144 on just 5 completions. The Mids scored four touchdowns in the first half to take a commanding 27-10 lead. From there, they cruised to a 51-30 win.
By the end of his 4th season, it's fair to say that Coach Johnson had far exceeded expectations. He'd just won his 2nd consecutive bowl game, clinched his 3rd straight Commander-In-Chief's trophy and was a combined 7-1 against Army and Air Force.
Most Navy fans figured it was just a matter of time before a Power 5 conference team lured him away; including me. But my hope was that the Mids could hang onto him a little while longer.
Season 5
Coach Johnson posted another solid 9 win season in 2006. But I remember it mostly because quarterback Brian Hampton was having a terrific year, and it was cut short by a gruesome knee injury in a loss to Rutgers. His back up was sophomore Kaipo-Noa Kaheaku-Enhada. Hampton was a senior who had spent the previous year getting experience as Owens' backup. Now, the keys to Navy's triple option were being turned over to a second year player with very little time under center.
But the situation wasn't as grave at it seemed. Kaheaku-Enhada was recruited out of Hawaii from a program that ran a version of the triple option. So there was a reason he was second on the depth chart.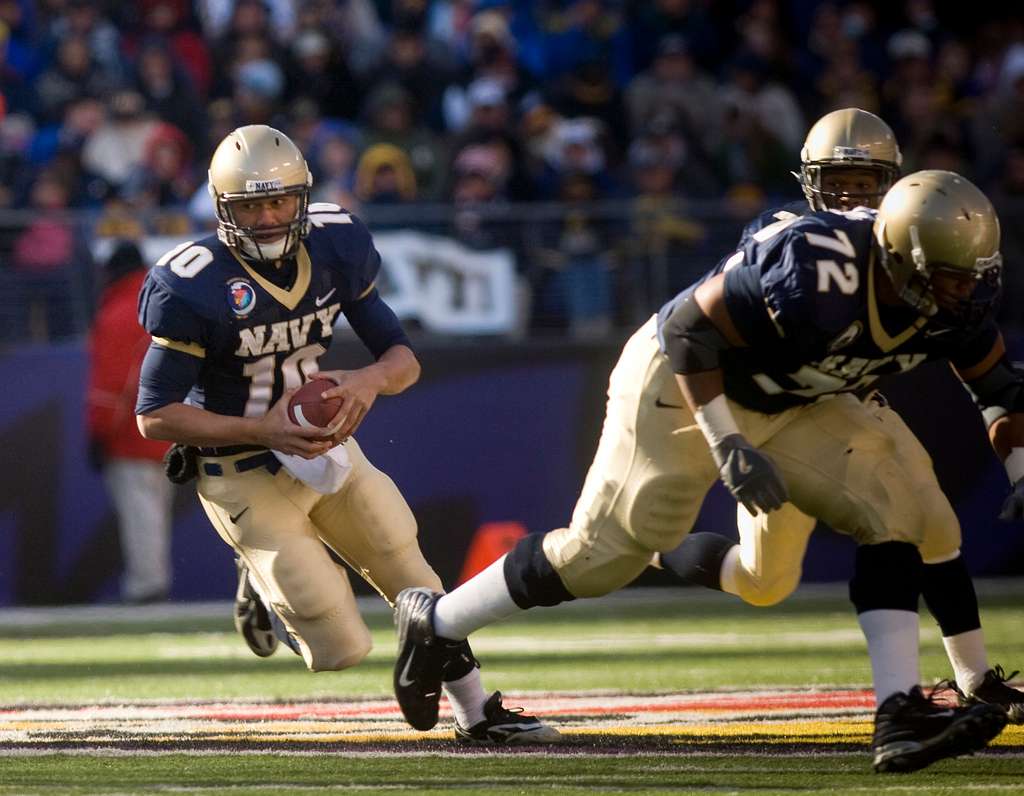 And the Mids hung tough for a half against Notre Dame in his first start. The Irish pulled away in the second half, but after that, Kaheaku-Enhada went on to lead the team to four straight wins to close out the regular season. They were minutes away from their 10th win of the season in their bowl game against Boston College. But a holding penalty put them behind the sticks, and a turnover allowed the Eagles to kick a game winning field goal as time expired.
So Close . . .
I can't put I my finger on a specific win that defined Paul Johnson's 5th season. But I think the loss of Brian Hampton really showed how good a coach he was to those who didn't know much about him. The triple option isn't the easiest system to run, but after Hampton went down, it never really missed a beat over those last 5 games. It was a real testament to Johnson in terms of how he and his staff had Kaheaku-Enhada game ready so quickly.
If it weren't for a couple of bad breaks against Tulsa earlier in the year (an overtime loss) and Boston College in the bowl game, the Mids could have come away with 11 wins in 2006. But the best news for Navy fans was that Coach Johnson didn't seriously consider any coaching offers from other schools in the off season. Another bullet dodged. Navy fans would have him back for at least one more year, but I think we all knew we were living on borrowed time.
Season 6
In the first half of the 2007 season, the Mids had trouble finding a rhythm. The triple option was working fine, but the defense was giving up a lot of points. Navy's opponents scored over 30 points on six occasions during the regular season. But the Mids actually ended up winning four of those games.
One was a crazy shootout against North Texas that looked more like a basketball score. When the dust had settled, Navy came out on top 74-62. They rang up 572 rushing yards and scored 35 points in the 2nd quarter alone.
But the game that defined the Mids season took place the week before, and it was unforgettable.
Nov. 3rd, 2007
If you were to ask Coach Johnson which question he was most sick of hearing going into the Notre Dame game each year, it's pretty much no brainer. It was any question referencing the longest losing streak to a Division I college football opponent.
Unfortunately, the Mids owned that record. They were on wrong side of a streak that had reached 43 games. And there had been more than a few heart-breaking losses along the way.
In any case, there was good reason to think that Navy had a fighting chance going into this game. Notre Dame was having an awful year. They had only one win on the season and were 0-4 at home. Still, they always seemed to cash in on that Irish luck whenever they played the Mids.
The game was pretty much track meet like I expected. I was hoping Navy DC Buddy Green could figure out a way to stop the ND offense at least a few times. Then, if Kaheaku-Enhada ran the offense with his usual efficiency, it just might happen.
4th Quarter Heroics
For my money the game turned on two key plays. Well, actually three if you count the very last one in overtime. First, we'll go to the 4th quarter. With 10:24 left to play, the Irish had the ball on their own 16, and they led 21-20. Then, Michael Walsh sacked Notre Dame QB Evan Sharpley, who fumbled the ball. Navy lineman Chris Kuhar-Pitters scooped it up and scored, giving the Mids the lead. They got the two point conversion to go up 28-21. Navy had been playing catch up all game long. It had been tied a couple of times, but this was their first lead. Now, it was the Irish who needed to play catch up.
The second play that helped determine the game's outcome took place with less than a minute to go in regulation. Notre Dame had the ball. They had a 4th and 8 from the Navy 24 with 45 seconds left to play. After calling timeout, they decided to try and pick up the first down. It would have been about a 41 yard field goal try. I guess ND Coach Charlie Weis had his reasons for not giving it a shot.
Anyway, the Navy defense came with a rare blitz. Sophomore linebacker Ram Vela literally flew over the top of his defender to sack Sharpley. He looked like Superman. That play got me up off the couch, and I was screaming my head off. This isn't the best quality YouTube video, but you can check out the play here.
The Mids got the ball and managed to burn up all but the last seven seconds before punting the ball away. Notre Dame decided to kill the rest of the clock and take their chances in overtime.
It's Finally Done
Notre Dame was frustrated with Navy's triple option all day. That continued into overtime. Both teams scored touchdowns on their first possession. Notre Dame had the ball first in the second overtime, and the Mids held them to a field goal. But they couldn't punch it in and had to kick the field goal to stay alive. Joey Bullen connected from 32 yards, and it was on to overtime #3.
Kaheaku-Enhada didn't waste any time. He found Reggie Campbell for a 25 yard touchdown, and then went back to him again for the 2 point conversion for an 8 point lead.
The Irish got down to the 5 yard line before punching it in. They tried passing for the two point conversion, but it failed. Of course, the Navy defense got flagged for pass interference (that Irish luck I mentioned earlier). Notre Dame had another chance.
This time they went with a running play. For a split second, it looked like there was an opening. But every single Mid on defense swarmed to the ball and stopped the ND ball carrier well short of the goal line. It was over. The streak was dead, and Coach Johnson didn't have to hear that question any more.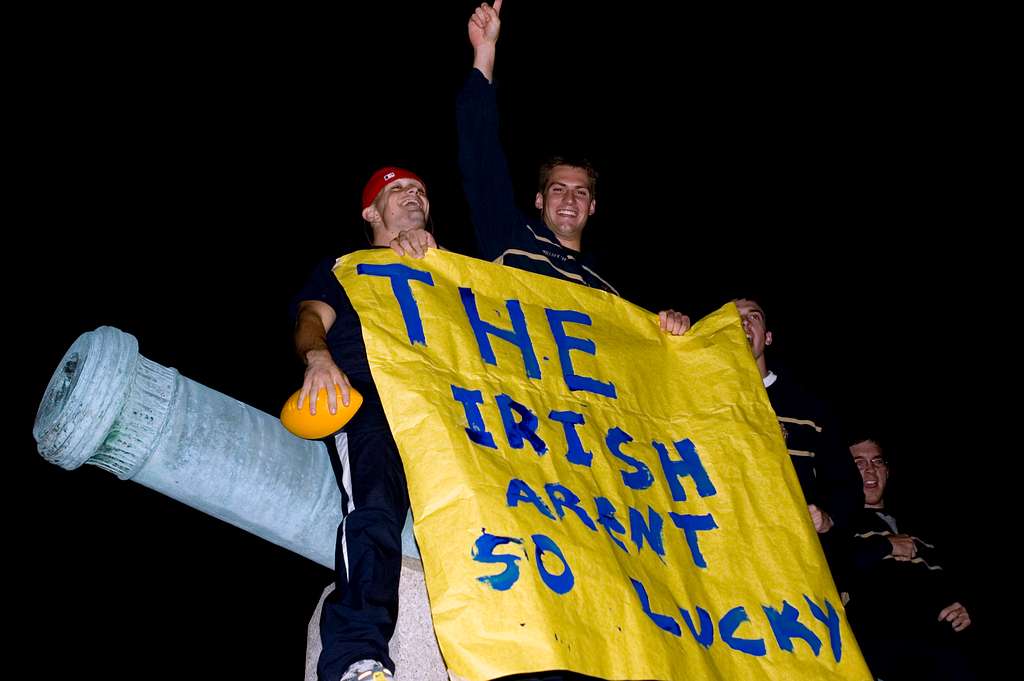 The Aftermath
Navy had done it. And for at least 2-3 minutes, I couldn't bring myself to believe it had actually happened. After it had sunk in, I went to my computer, came up on a group chat with some friends in my running group and posted the following message:
After 43 Years of Frustration . . . Navy 46 Notre Dame 44
Now I Can Die In Peace
I wasn't kidding either . . .
The Mids followed that historic win up with 2 more (North Texas and Northern Illinois) before getting ready for another showdown with Army. Then on Nov. 26th, Georgia Tech fired their coach Chan Gailey. And I said to myself . . . "That's going to be a problem."
Coach Johnson Departs the Pattern
Five days after that news came out of Atlanta, Navy absolutely beat the brakes off the Black Knights 38-3 to clinch their 5th straight Commander-In-Chief's trophy. Six days later, Paul Johnson announced that he would be leaving Navy to take the head coaching job at Georgia Tech. The day many Navy fans had hoped would not arrive for a long time was now here.
The move made total sense. It had always been Coach Johnson's goal to take his triple option system to the top tier of college football. He wanted to show what it could do once he had access to a much deeper recruiting pool.
At Georgia Tech, he compiled a record of 82-61, winning three divisional titles and one conference championship. His 2014 team finished the year ranked 7th in the country. He retired after the 2018 season with an overall coaching record of 189-100.
Final Thoughts
Like all Navy fans, I will always appreciate Coach Johnson for what he and Chet Gladchuk did to get the football program back to being the centerpiece of the Navy Athletic program. Since that time, his successor has elevated it even more.
The day after Johnson made his announcement, Gladchuk promoted Assistant Coach Ken Niumatalolo to the head coaching job. So on Dec. 8th, 2007, the Johnson Era was officially over, and the Niumatalolo Era had begun.
And as Coach Ken prepares for spring practice leading into his 15th season as Navy's coach, he continues to take the program to new heights. But that's a story for another day.
Until next time . . .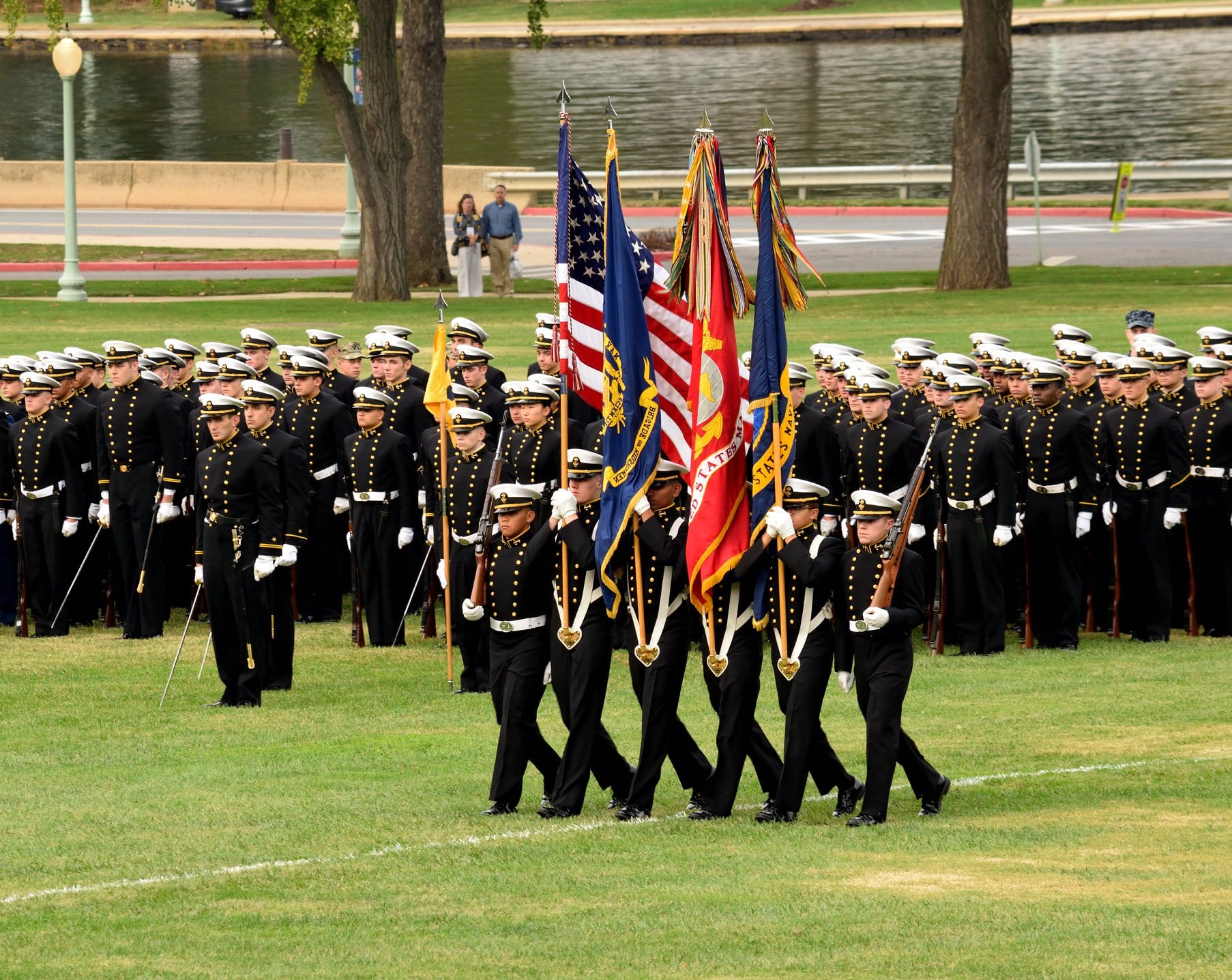 My sincere thanks to Scott Strasemeier, Senior Associate AD for Sports Information at the U.S. Naval Academy for granting permission to use images and video from the Navy Athletics media library. All photos used from this source will be properly credited in the caption. The only exception would be if the photo is used as a feature image where no caption is visible.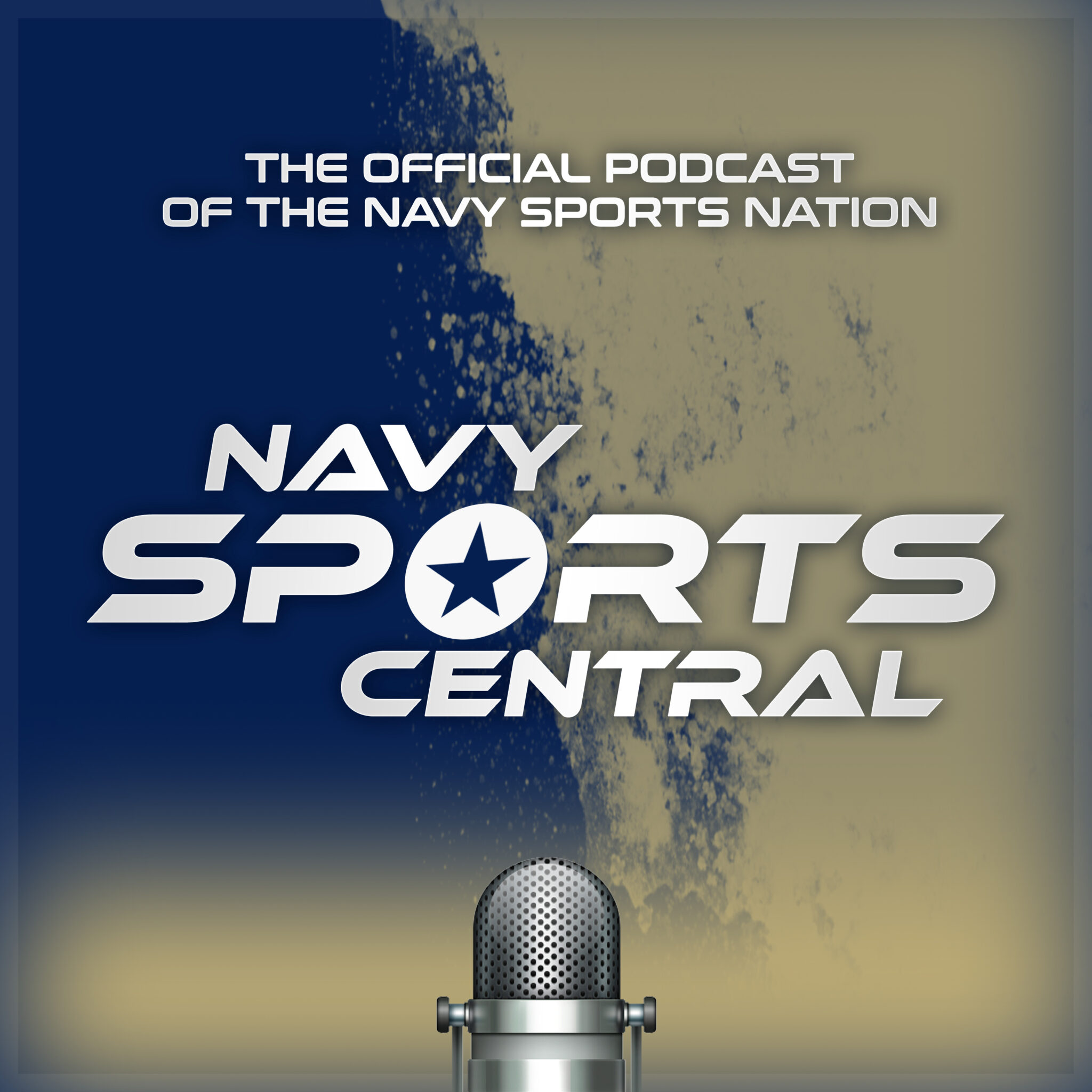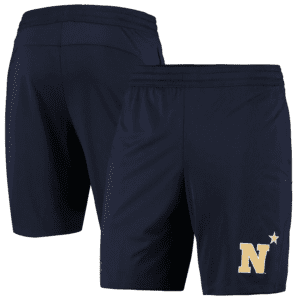 As an affiliate partner, Fanatics shares a small percentage of each sale through these links with the Navy Sports Nation which will be used to maintain the website. Thanks for your support!
Navy and St.Mary's are the only two rugby  programs in the country that have produced two Rudy Scholz Award winners. The award for the collegiate rugby player of the year was first given out in 2016.
Connor McNerney was the Naval Academy's first recipient in 2018. This year, Lewis Gray earned that honor. It was a fitting end to his outstanding career.
Click on the images to buy these two "must have" books for all Navy football fans. As an Amazon associate, I earn from qualifying purchases.
cRA Div. 1 National Championship Highlights
Karl Darden
I am a Navy veteran and a graduate of the U.S. Naval Academy. The idea to start this blog actually came from my classmates. I hope you enjoy reading this content as much as I enjoy writing it. Go Navy!! Beat Army!!