Those of us who follow service academy football are very familiar with the Commander-In-Chief's trophy and its significance. For those who may not be, it's awarded to the winner of the of the annual football competition between Army, Navy and Air Force. The team that beats the other two gets the trophy as well as the bragging rights for the next year. If there is no clear winner, it is technically shared, but the trophy stays with the team that last won it. Before we go any further, here's a little thumbnail sketch of the competition's early years.
Army won the first Commander-In-Chief's trophy in 1972. But they would only win it outright one more time ('77) in those first 10 years. Navy took home the hardware five times ('73, '75, '78, '79, and '81). Air Force never won the trophy during that time. But there were three ties in '74, '76, and '80. That's a little ironic considering the idea to start the series came from a General who had previously been the Athletic director at the Air Force Academy. But things changed pretty quickly from that point forward.
High Flying Falcons
I was a sophomore at the Academy when the Mids won the CinC trophy in the fall of 1981. It never occurred to me that they wouldn't win another one for the rest of century. But that's exactly what happened. In the 21 years starting in 1982 and going through 2002, Air Force basically owned the competition. Army managed to wrestle trophy away from them three times during the '80s ('84, '86, and '88). And there was another tie in '93 followed by Army taking it again in '96. But during that same period, the Falcons simply dominated, winning the CinC trophy 16 times. That included a four year and a five year winning streak. It got to the point where it was news only if Air Force didn't win the trophy. And that really started to tick me off.
It wouldn't have been so bad had the Mids been somewhat competitive. But except for a short period when Paul Johnson was the offensive coordinator in '96 & '97, the years from 1984 – 2001 were particularly dark ones for Navy Football. Things pretty much hit rock bottom in the 2001 season when the Mids failed to win a single game. Their 1-20 record over two years gave new meaning to the word futility. It was time for Athletic Director Chet Gladchuk to make a change. And he knew just the man to resurrect the Navy program.
Coach Johnson Returns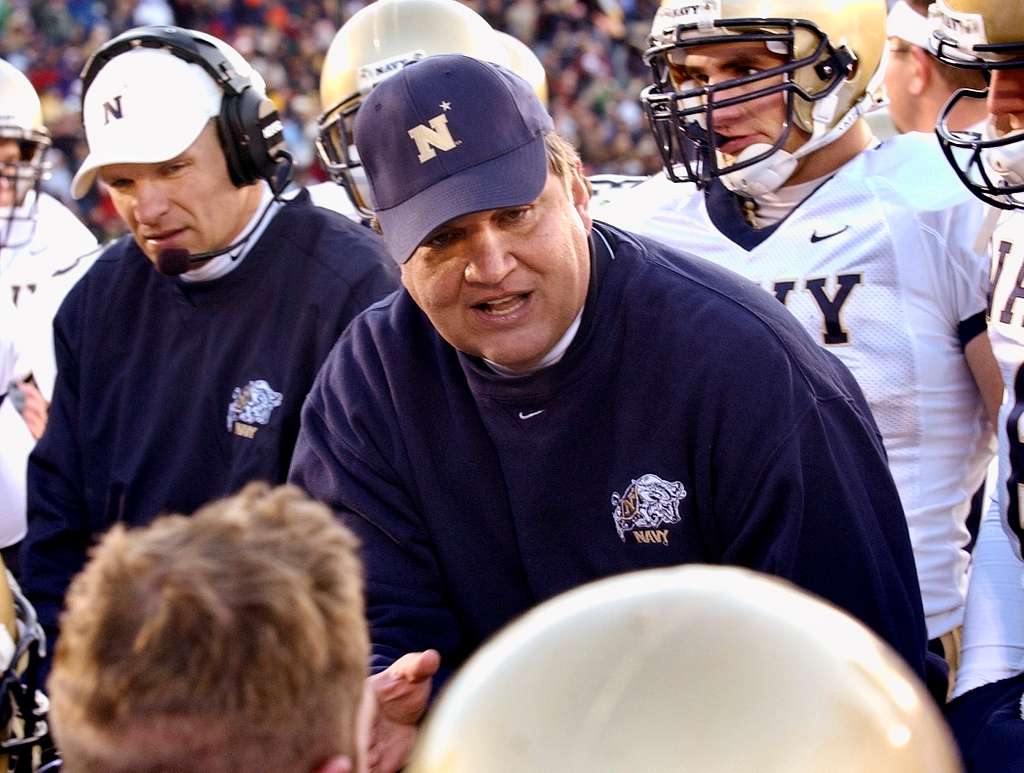 Paul Johnson took over as Navy's head coach after the 2001 season. There were definitely some growing pains when the 2002 campaign began. The Mids were getting a handle on the triple option offense, but they could not keep teams out of the end zone. When they faced Air Force on Oct. 5th, the Falcons laid a 48-7 pasting on them that ranked as one of the most lopsided defeats in the history of the series. That's when Air Force did something really stupid. They decided it would be okay to poke the bear.
In the post-game interviews, it was reported that the Falcons said that their goal was to send Navy a message: it didn't matter what the Mids did to improve their program, the Commander-In-Chief's trophy wasn't going anywhere. Clearly, they didn't know anything about Coach Johnson. Because if they did, there is no way that those words would have ever made it into the newspapers.
The Mids went on to finish that season 2-10. But they absolutely destroyed Army in their final game of the year, and Navy fans believed that good things were in store for 2003.
A Promising Start
They weren't wrong. The team had already matched their 2002 win total through the first four games of 2003. The downside was they weren't going into the Air Force game with a ton of momentum. A descent Rutgers team had just thumped them pretty good 48-27, and the Falcons were rolling into Annapolis having yet to lose a game. The memory of that 41 point beat down still had to be fresh on the Mids minds also. So it wouldn't have been unreasonable to think that their psyches were a little fragile.
But the difference between this team and the ones that went 1-20 over two seasons was their attitude. Coach Johnson returned to Navy with a simple mantra: Expect To Win. So even though they had dropped six straight against the Falcons including the previous year's disaster, none of that seemed to matter.
Oh, and there's one more thing. Coach Johnson has a memory like an elephant. Those "We wanted to send them a message" comments were still fresh on his mind. And I'm sure he was really looking forward to sending one of his own.
The Showdown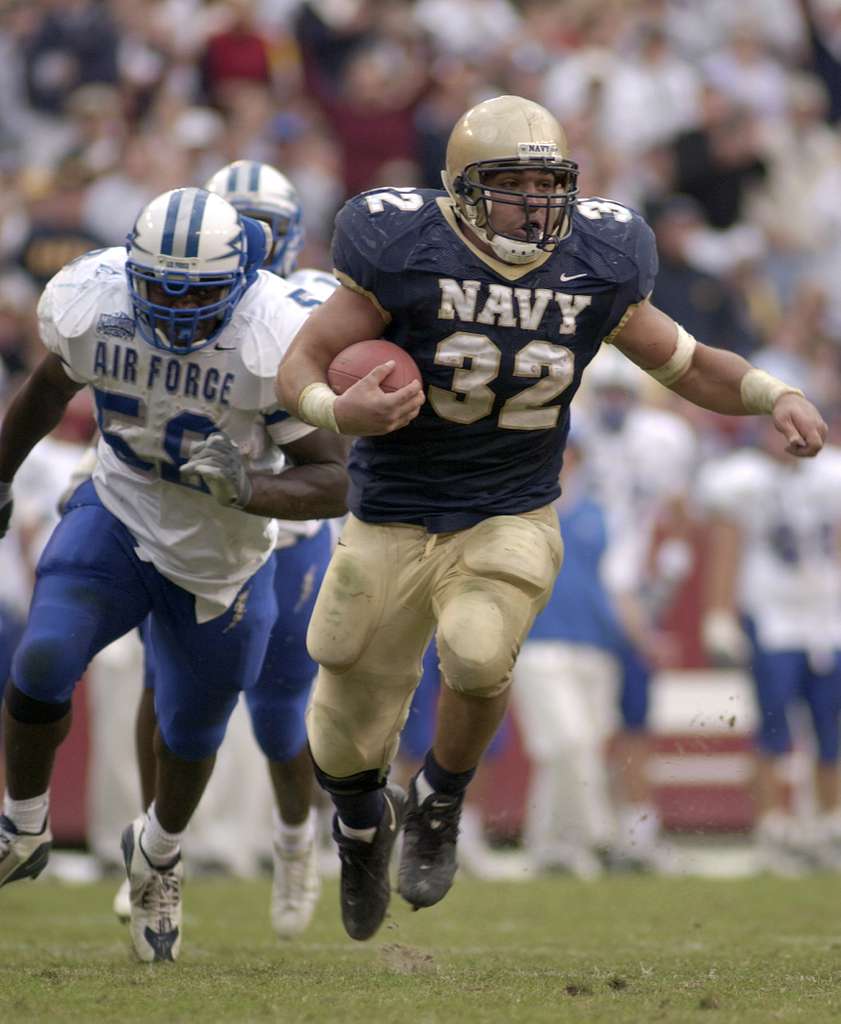 Navy was the home team, but the game was actually played in Landover, MD at FedEX Field rather than Navy-Marine Corps Stadium. That only served to bring back bad memories for me. Four years previously, I saw the game live with my family in that same stadium and watched Mids go down 19-14 in particularly painful fashion. In 2003, Navy entered the game ranked first in the country in rushing offense. Air Force was right behind them. The Falcons also came into the game ranked 25th in the ESPN/USA Today poll. And seeing how they had won 12 straight games combined over Army and Navy since 1996, they had no reason to think this outcome was going to be any different. they had come to think of the Commander-In-Chief's trophy as rightfully theirs. But Navy fullback, Kyle Eckel, quarterback Craig Candeto and the rest of team felt differently.
True to form, Air Force drove right down the field on their opening drive. They got to the 20 yard line before the Mids stopped them on fourth down and took over on offense. But the Falcons forced a punt and got on the board with a field goal on their next drive. After that, the Navy triple options shifted into high gear with Eckel and Candeto leading the way.
Forty-Eight Seconds That Changed the Program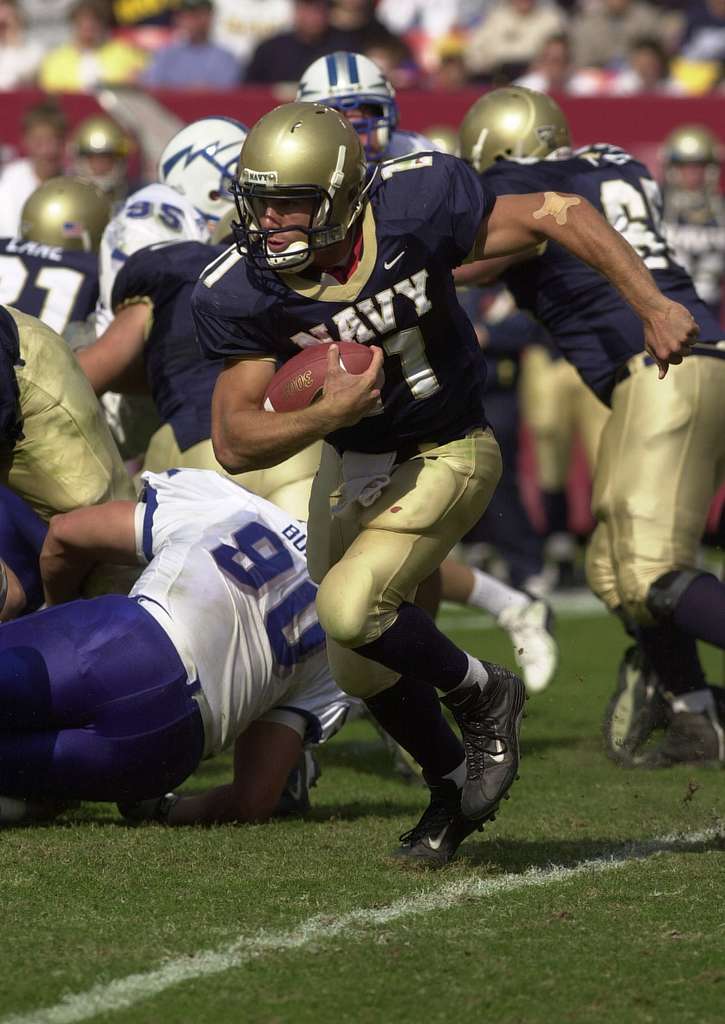 There have been countless times in sport where you could point to a specific play or period of time that proved to be the turning point in a game. To take things a step further, there have even been games where the outcome has turned around a season. But I am going to go way out on the skinny branches here and say this. There was a 48 second stretch of time in that game against the Falcons that didn't just change the momentum in that game. It put the program on a completely new path. First, let me tell you what happened.
After the Air Force FG, Candeto led the Mids on a 15 play drive that featured a heavy dose of Kyle Eckel. Then, the Navy QB finished it off by scoring from two yards out to put them up 7-3. On the following drive, Navy DB Shalimar Brazier intercepted the Air Force quarterback on the first play of the drive and returned tot the Falcons's 4 yard line. The Mids punched it in from there to take a 14-3 lead; one they would never give up. In just 48 seconds, the Mids had turned a 3-0 deficit into a 14-3 lead.
Ending the Streak
Air Force did score to make it 14-10 at the half. But Eckel continued to pound the Falcons defense in the second half . He scored Navy's final touchdown with about seven and a half minutes to go in the game to put the Mids up 28-18. Eckel gained 55 of his game high 176 yards on that drive, and Air Force's inability to stop him proved to be the difference in the game. The Falcons scored once more, but Navy recovered the on side kick, ran out the clock. The six game losing streak was over. The team came up big where previously, they might have buckled under the pressure. This team expected to win, and they did. The Commander-In-Chief's trophy was back in Annapolis.
My favorite part of the post-game celebration came when the press asked Coach Johnson for his thoughts. And he delivered the line you know he was waiting one year to drop on the Falcons. He said, "After last year's game, they said they wanted to send us a message . . . Got it. Back at 'em." That was a mic drop moment before they ever existed. And by the way, Coach Johnson never lost to Air Force again while he was at Navy.
The Long Term Impact
I remember thinking how that win over Air Force set the tone for the rest of Navy's season. There is no question that it did. Their win over Army put them at 8-4 and qualified them for their first bowl game since 1996. They finished the year at 8-5. But it's even more interesting to look a little deeper to see what happened in the years that followed.
Let's back up a second, though. In the 21 plus years between Navy last winning the CinC trophy in 1981 and that game against Air Force in October 2003, the Mids had a 76-160 record. That meant they weren't even winning one third of their games. The team did manage to go 9-3 in 1996, which included a win in the Aloha Bowl. But they also had five years where they lost 10 games, and their record against Air Force during that time was a horrific 2-19.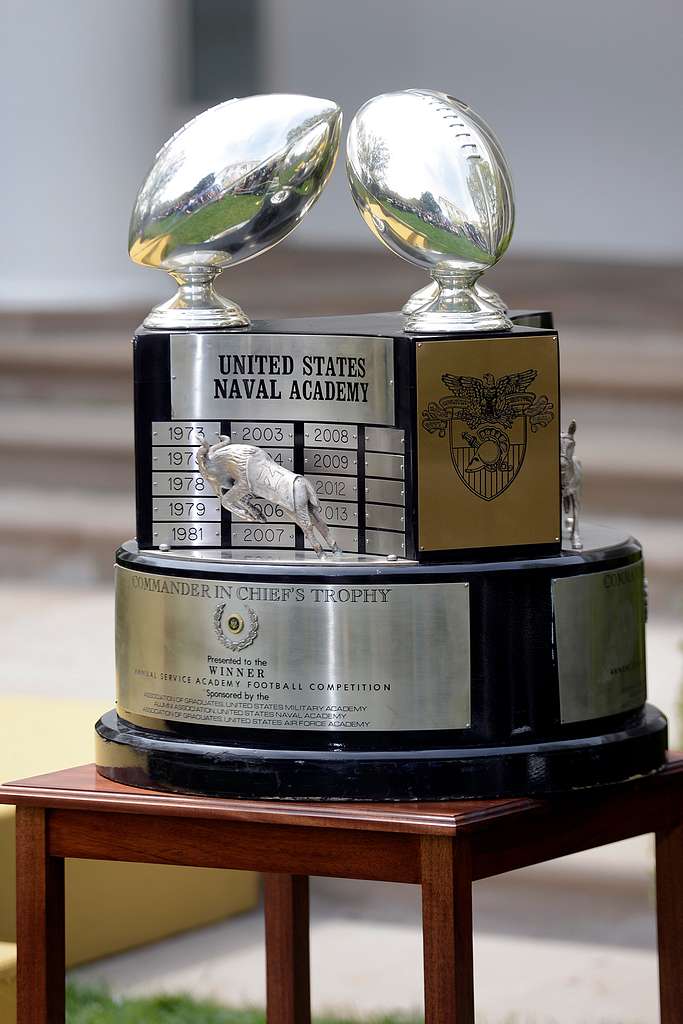 Then came the 2003 game when Navy went from trailing 3-0 to leading 14-3 in just 48 seconds. Take a look at how things have changed since then. The Mids' record is 138-77, now they are winning about two out of every three games instead of losing two out of three. They went on to defeat Air Force for seven straight years while beating Army 14 consecutive times. That translated into 11 Commander-In-Chief's trophies in 17 years, including a record seven in a row from '03-'09. And finally, Navy qualified for 15 bowl games (winning eight), while registering two 10 win seasons and two 11 win seasons. I could go on, but I think you get the picture.
Some Closing Thoughts
There you have it. Many fans will look at Coach Johnson's hiring and say that was when the Navy Football program got turned around. While I do agree that it couldn't have happened without him, the Mids were still only 4-12 through his first 16 games. To identify the real inflection point, we need to look at what happened on the field. And to qualify, I think it had to come in a big game against a rival where the team had previously experienced a lot of adversity.
So for my money, you don't need to look any further than Navy's 28-25 upset win over previously undefeated and 25th ranked Air Force on Oct. 4th, 2003. The inflection point occurred with 8:31 to go in the second quarter. That was when the Mids scored their second of two touchdowns in a 48 second span to take control of the game and the Commander-In-Chief's trophy competition. And in doing so, they put the Navy Football program on a completely new trajectory.
Until next time . . .