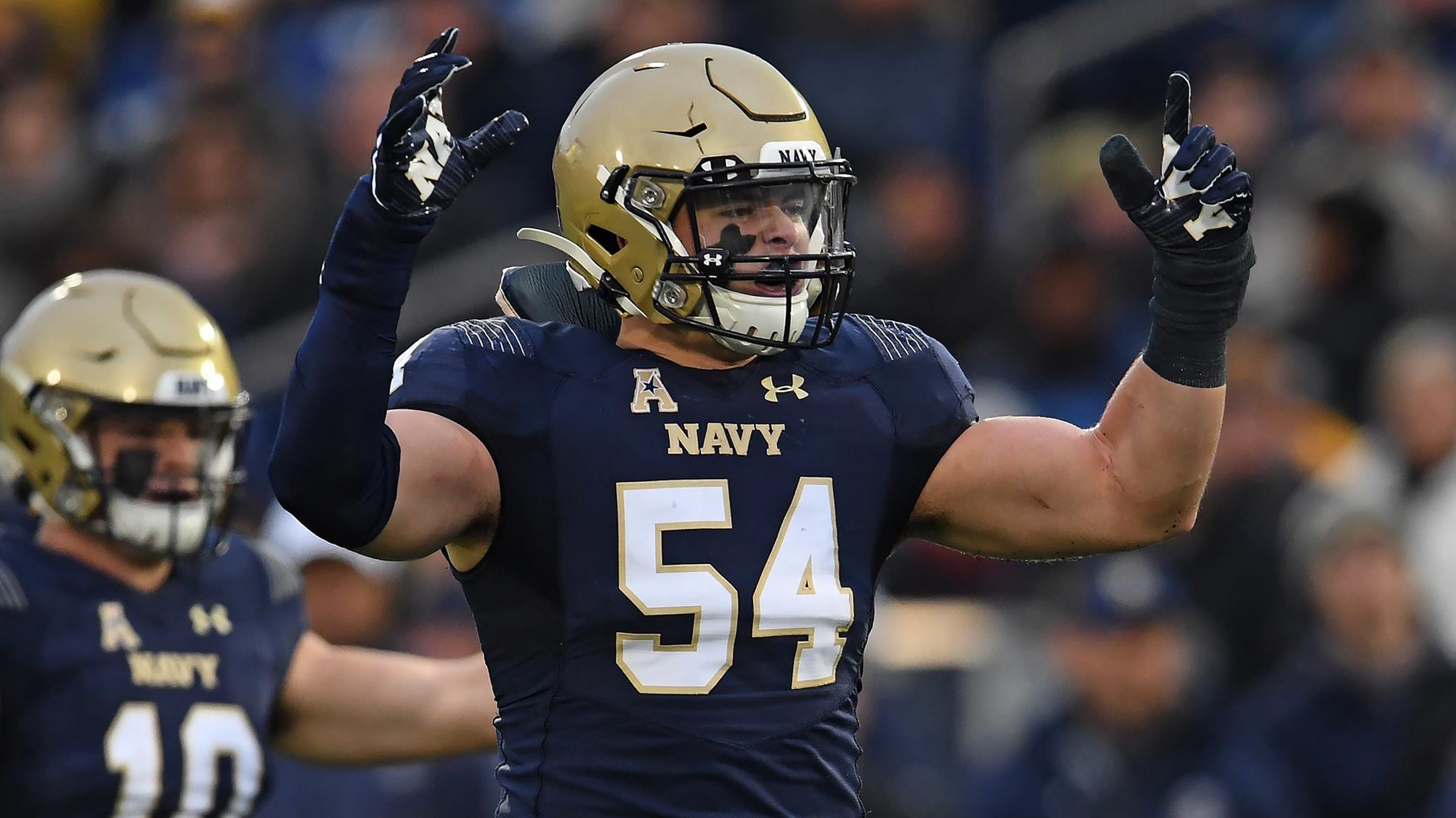 Confusion, Pressure & Chaos: A Breakdown of Navy's Defense From a Fan's Perspective
Three significant dates stand out to me related to Navy Football. The first is Dec. 9th. 2001 when Paul Johnson was hired as head coach following a horrific 0-10 season. Next comes Dec. 8th, 2007. Navy Athletic Director Chet Gladchuk promoted Ken Niumatalolo after Johnson took the head coaching job at Georgia Tech. Finally, the most recent important date is Jan. 12th, 2019. That was when Coach Ken announced the hiring of Brian Newberry as Navy's incoming defensive coordinator. It didn't take me long to check out his background. And after doing so, I can tell you that I couldn't wait for the 2019 season to start. I had a really good feeling that things were going to be different with respect to the Navy defense.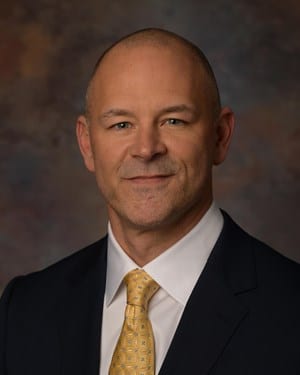 I covered Coach Newberry's arrival in Annapolis in detail four months ago in my third blog post. You can read more about that by clicking here. Today, I'd like to explore the defense more based on what I see as a fan and talk about what makes it so exciting to watch. And just so you know, I am not a football coach, so this is not going to be an X's & O's discussion. I'd be a little out of my element there. I will lay out the basic alignment though. Then I'll talk about some of the key positions as well as the players who figure to play a big part in building on last year's success. Finally, I'll get into Coach Newberry's overall defensive goals and the tactics used to achieve them.
Typical Alignments
Navy usually lined up in a 3-4 under their two previous defensive coordinators. It's a straightforward alignment that is effective against the pass and the run. But the Mids biggest challenge was dealing with the size difference. They were always outweighed by an average of at least 25 – 30 pounds up front. That's not to say that they didn't have some outstanding defensive linemen. Jabaree Tuani ('11), Will Anthony ('15) Bernie Sarra ('15), and Amos Mason ('16) were four of the best I've ever seen. Sarra was the only one that played at about 300 pounds. The rest were closer to 270, but what they lacked in size, they made up for in quickness.
A Question of Philosophy
The 3-4 defense relies on strong linebacker play. Historically, the Mids have always recruited well there. And they've had some excellent safeties and cornerbacks over the years as well. So why was the defense having such problems stopping opposing offenses?
I always believed Navy's defense had the athletes to play a more aggressive scheme. But Coach Green and Coach Pehrson followed a "bend but don't break" philosophy. That was fine against certain competition, but once the Mids joined the American Conference, they really got exposed. To be fair, the 2015 defense had some great players, which did allow Coach Pehrson to take a more aggressive approach. That unit finished ranked 27th in the country in points allowed (21.8 ppg). But they lost some great athletes to graduation that weren't easily replaced. The rash of injuries to key players the next year didn't help either.
The biggest problem was that the defensive philosophy played right into the hands of high powered offenses like Memphis, Houston and Cincinnati. They just took whatever the defense gave them through the air and worked their way downfield. It didn't take long before they got a mismatch and exploited it. The Mids just couldn't match up athletically, and it eventually showed. Their scoring defense ranking fell from 27th in 2015 to 103rd in 2018. So clearly, the "bend but don't break" concept using the 3-4 defense just wasn't cutting it.
Changing With the Times
Coach Ken knew that the defense needed a more aggressive approach to stay competitive in the American Conference. Playing it safe meant getting torched to the tune of almost 34 points per game. Coach Newberry's system was just what they needed. The buy in from the team was immediate. And instead of a 3-4, he shifted them to a 4-2-5 alignment while keeping some of the 3-4's concepts. This gave the defense the needed flexibility to handle the pass-oriented offenses in the conference while still being able to defend the option attacks they would see every year when playing Air Force and Army.
Coach Newberry's 4-2-5 scheme used much of the same terminology, but the responsibilities at certain positions differed. We'll hit these with a broad brush while spotlighting the ones that required the biggest shift in terms of how they had to be played.
The Defensive Line
In an interview discussing the Navy defense following a spring practice last March, Coach Newberry stated "everything starts up front with the defensive line." Those four lineman have to control the line of scrimmage. They are typically a defensive end, defensive tackle, nose guard, and a hybrid player known as the Raider. I"ll get into more on that position in a minute.
One thing I noticed when watching the games is that you won't see all four of them down in a three point stance. It's usually any combination of two or three of them depending on what play is called. In any case, they have responsibility for establishing control at the point of attack. That's no easy task when taking the usual weight differential into account. But you'll see how they did it successfully later. Now let's look at two important hybrid positions that form part of the linebacker corps.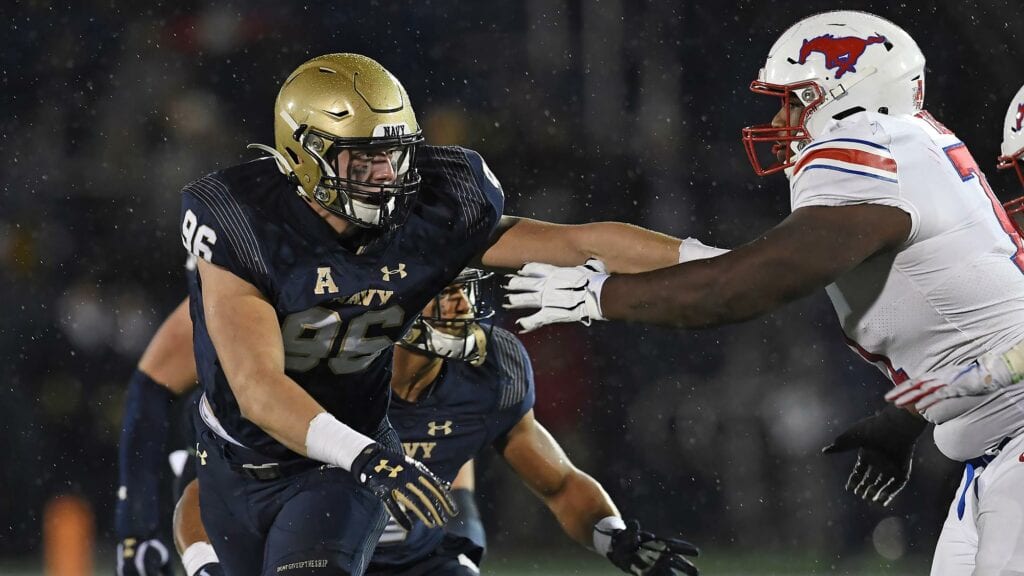 The Raider
When spread offenses became all the rage in college football, defensive coordinators had to adapt. They needed a versatile athlete with more speed than they currently had at outside linebacker. Their solution was a hybrid position known as the Raider. He had to be athletic enough to put pressure on the quarterback and provide run support too. Co-captain Nizaire Cromartie filled that role for the Navy defense this past season. And he did an awesome job. He recorded 9.5 tackles for a loss and 3.5 sacks to go along with 38 tackles and two forced fumbles. Cromartie also recovered two fumbles. This season, the position is pretty wide open, but John Kelly III is listed as first on the depth chart going into the fall.
The Striker
Athletes playing the Striker position have the versatility to play outside linebacker and drop back into coverage to pick up extra receivers that usually come with the spread offense. In Coach Newberry's system, he can also come on a blitz at any time. Jacob Springer was last year's standout at Striker. He led the team in sacks with eight, finished third in total tackles, and had two pass breakups. Springer was arguably the best athlete on the field on defense. He will be tough to replace, but rising senior Dakare Coston is one potential candidate.
Linebackers & Defensive Backs
The "2" in the 4-2-5 alignment in the Navy defense refers to the middle (Mike) and weak side (Will) linebackers. The Mids have typically been very deep at these positions and this past season was no exception. No one disrupted opposing offenses more than Diego Fagot. He registered 100 tackles to lead the team. He also made himself very comfortable in opposing backfields, chalking up 12 tackles for a loss and 5.5 sacks. Fagot will be returning as the heart and soul of a defense looking to become even stronger next season.
Paul Carothers lined up alongside Fagot last season, He chipped in with 61 tackles for the year (4th on the team), 8.5 tackles for a loss, and 4 sacks. Both players had a nose for the ball, an instinct that is really important at this position. The linebackers in Coach Newberry's scheme need to make the correct reads when the play is actually happening to add to the confusion they create before the ball is snapped.
The best news regarding the Navy defense is that the Mids will be returning their entire defensive backfield. Michael McMorris pulled out of the transfer portal. So he will be at one cornerback, Cameron Kinley joins him at the other corner. Evan Fochtman comes back as the safety and Kevin Brennan returns as the Bandit (the name for the strong safety in Coach Newberry's system). Brennan was second on the team with 81 tackles. Both he and Fochtman rung up 2.5 sacks. This unit has the potential to create a lot of problems next season, and I can't wait to watch them.
So now that we've touched on each of the positions, we can take a look at some the things the defense does to make life so miserable for opposing offenses.
Constant Pre-Snap Motion
It only took about two downs into the 2019 season for me to see what we Navy fans could expect from the defense for the rest of the year. "Bend, but don't break" was the past. Now, it was all about creating confusion and applying pressure in an effort to produce complete, total chaos. It all starts with motion . . . and lots of it. On almost every down, you saw two to four defenders showing blitz, then backing off. Sometimes they were replaced by one or two different defenders prior to the snap. The quarterback and offensive line never knew how many were coming or from where.
It was all part of Coach Newberry's plan. Create confusion in the quarterback's mind, but as importantly, do the same with the offensive line. So it wasn't unusual to see the defensive linemen moving prior to the snap count either. That slight change of angle was usually all they needed to get an advantage.
Visual Proof
Check out play #6 in Navy's Top 10 Defensive plays video (at the 1:35 mark). It's the second play in the Army game. You can see J'arius Warren is to Jackson Pittman's left and Mike Flowers in next to him. Just prior to the snap, all three of them shift ever so slightly to their left. That change almost forced Army into double teaming Warren to keep him out of the backfield. And Pittman now had an angle going one on one against the center.
That was basically child's play. The Navy nose guard easily defeated the block and tackled the quarterback for a loss. If you look at the rest of that Top 10 Defensive plays video, you will see the multiple shifts by the linebackers and safeties also. That wasn't the half of it though. The defense also did some other things to cause more problems for the offense.
Relentless Pressure
Besides the pre-snap motion, how the defense lines up can make it tough for the offensive linemen to get to their blocking assignments. This results in another defender bringing pressure by coming free unopposed to make the play.
Take a look at #7 in the Top 10 Defensive plays (the 1:25 mark). It's from the Air Force game. Jacob Springer is at the far left with Jackson Perkins to his right. Perkins is lined up outside the offensive tackle, whose blocking assignment looks to be Diego Fagot (#54). At the snap, Perkins knocks the tackle off balance on his way to getting into the backfield. That left no one to deal with Fagot, who came in to take down the Air Force quarterback for a loss.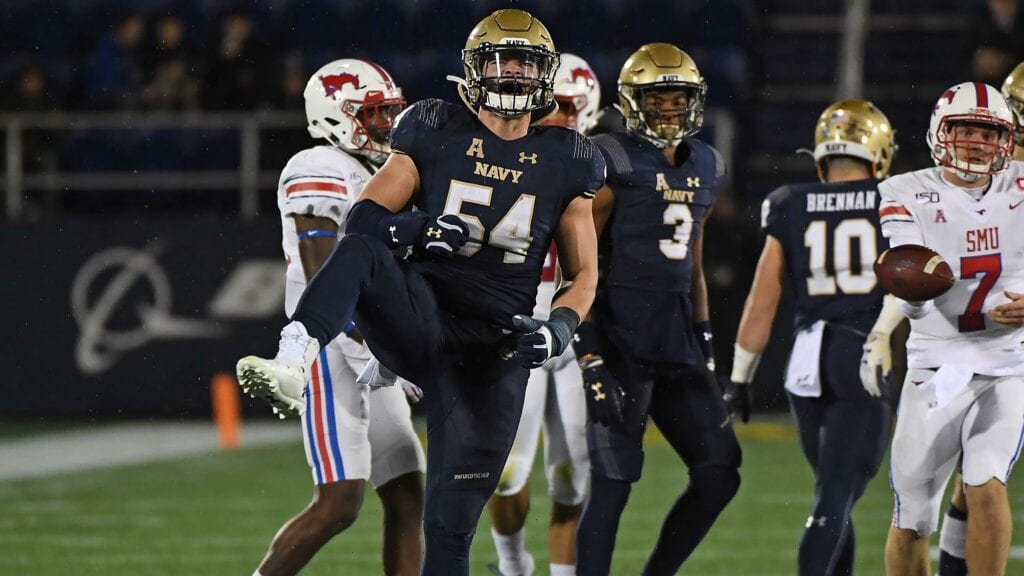 Post-Snap Deception
In addition to bringing pressure from unpredictable angles, Newberry's defense also looks for ways to confound the quarterback after the play has started. It's not that uncommon to see a linebacker show blitz and drop back into coverage. But how often do you see a defensive lineman engage his blocker then break off to get into the passing lane?
That's exactly what Jackson Perkins did against UConn in this clip. Go to the 2:11 mark. He's lined up third from the bottom on the Navy front line in a three point stance. When the ball is snapped, he fires out to rush the passer as the offensive tackle drops into pass protection. Perkins gets three yards up field and then breaks off his attack to slide back into the passing lane. The quarterback never saw him do this because he was focused on the receiver running the crossing route in Perkins' direction. Pressure was coming from his left, so he needed to get the ball out of his hands quickly. When he did, the 6'6″ Perkins was there for the interception.
The Mids scored on the very next play when Perry hit Mychal Cooper in stride for a 58 yard touchdown pass. That broke the game wide open. Navy went on to dismantle the Huskies, 56-10.
So those are just some of the ways the defense created havoc for opposing offenses last season. And the results exceeded all expectations.
The Numbers Tell the Story
In that disastrous 2018 campaign, the Mids recorded 37 tackles for a loss and 10 sacks. One season with Coach Newberry's system produced 80 tackles for a loss and 29 sacks. He also challenged the defense each game to "Get Six." In analyzing past film, he determined that any combination of three & outs (or holding on fourth down), sacks and turnovers totaling six significantly increased Navy's chance of winning. In 2019, they hit the Get 6 metric in 7 of their 11 wins. That included Army and Air Force. It's a great measure of the defense's effectiveness, and it will continue to be a big part of the their success next season.
Coach Brian Newberry's impact on the Navy Football program is undeniable. And as a fan, it's been awesome watching this dynamic, aggressive defense take the field. After years of just hoping they could just muster up one or two stops a contest, they are now capable of taking over a game. And when a defense can do that, it makes a team very, very dangerous.
Until next time . . .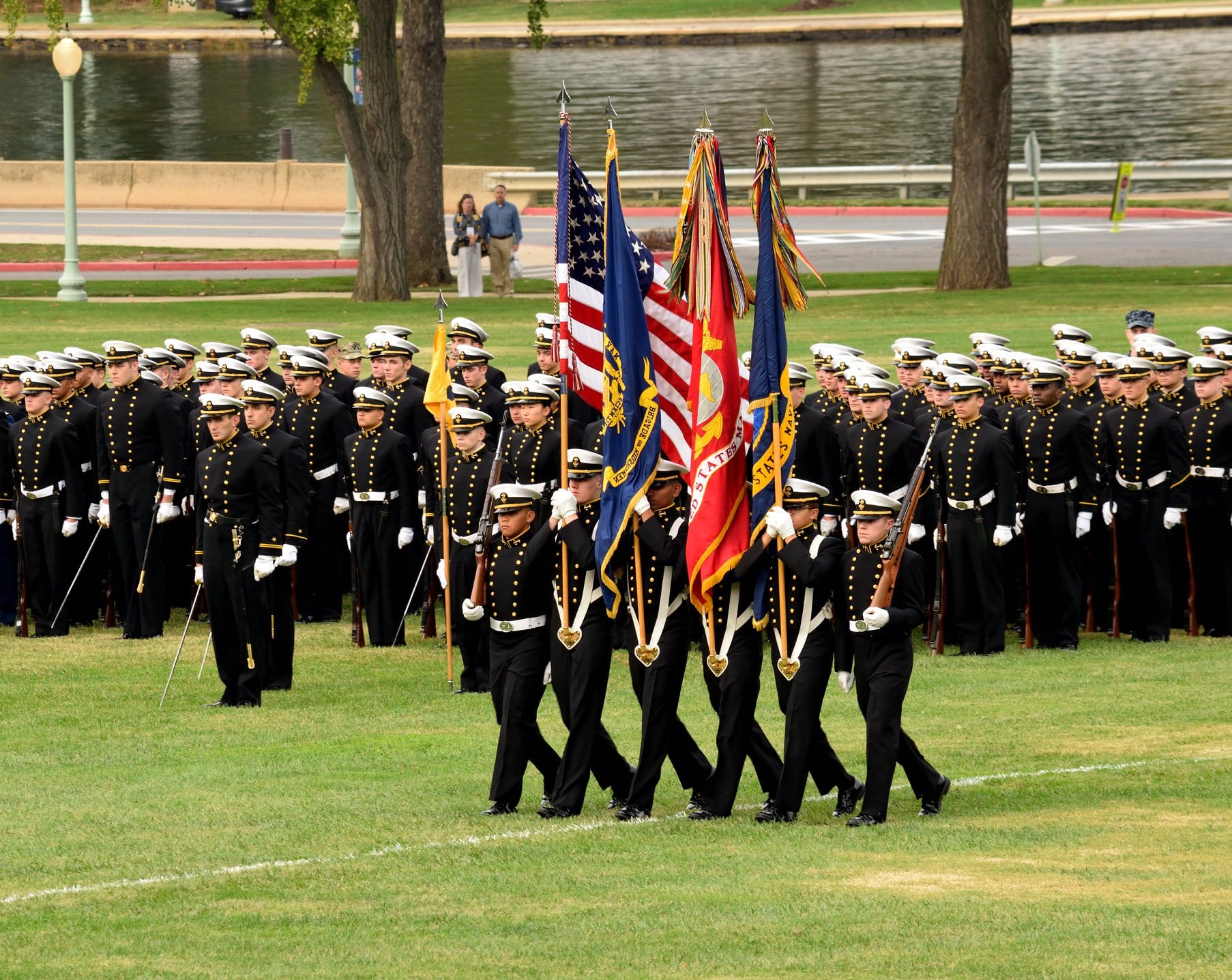 My sincere thanks to Scott Strasemeier, Senior Associate AD for Sports Information at the U.S. Naval Academy for granting permission to use images and video from the Navy Athletics media library. All photos used from this source will be properly credited in the caption. The only exception would be if the photo is used as a feature image where no caption is visible.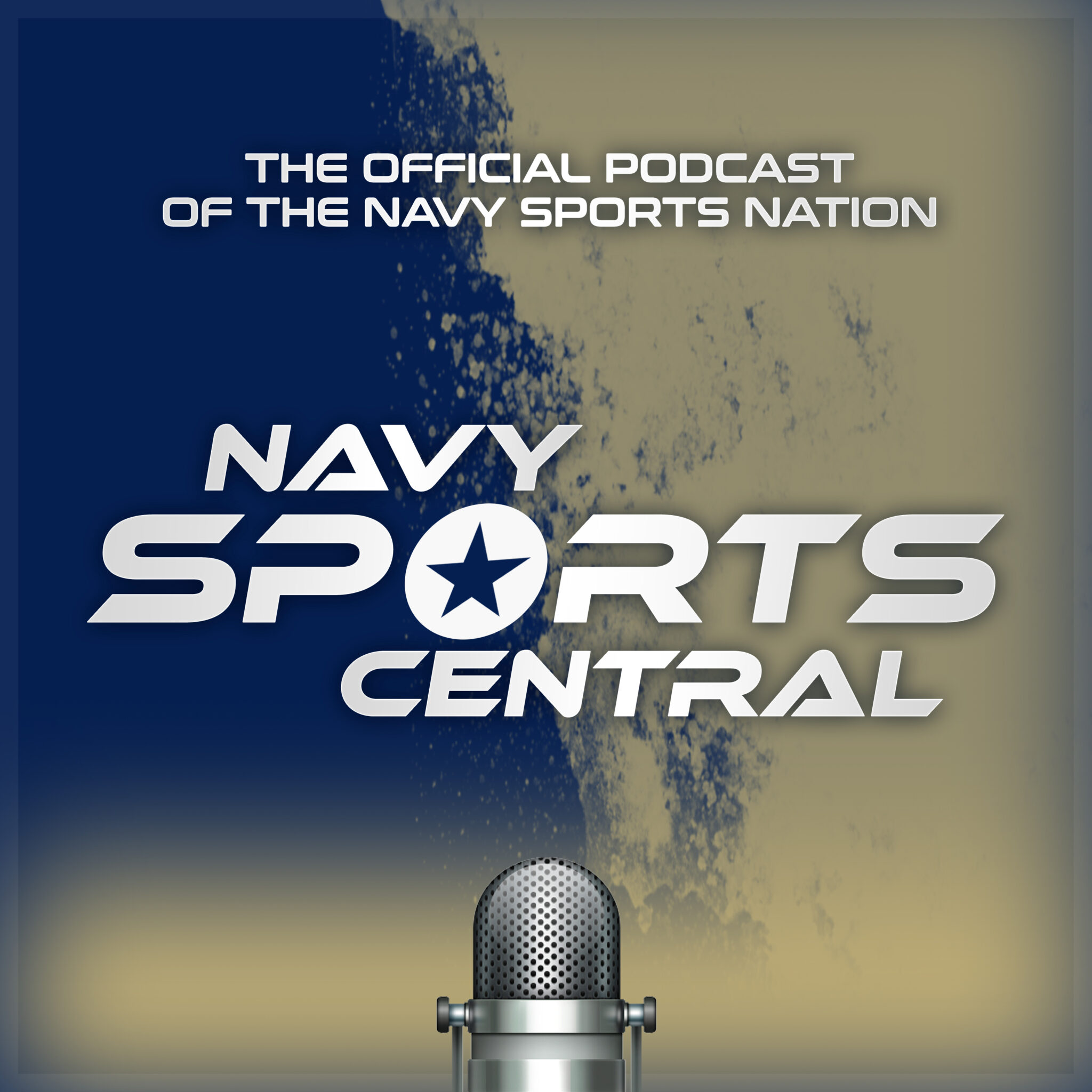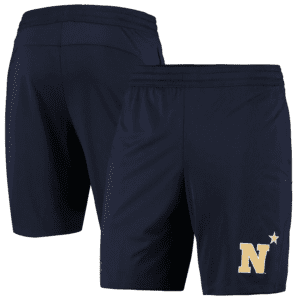 As an affiliate partner, Fanatics shares a small percentage of each sale through these links with the Navy Sports Nation which will be used to maintain the website. Thanks for your support!
Navy and St.Mary's are the only two rugby  programs in the country that have produced two Rudy Scholz Award winners. The award for the collegiate rugby player of the year was first given out in 2016.
Connor McNerney was the Naval Academy's first recipient in 2018. This year, Lewis Gray earned that honor. It was a fitting end to his outstanding career.
Click on the images to buy these two "must have" books for all Navy football fans. As an Amazon associate, I earn from qualifying purchases.
cRA Div. 1 National Championship Highlights
Karl Darden
I am a Navy veteran and a graduate of the U.S. Naval Academy. The idea to start this blog actually came from my classmates. I hope you enjoy reading this content as much as I enjoy writing it. Go Navy!! Beat Army!!