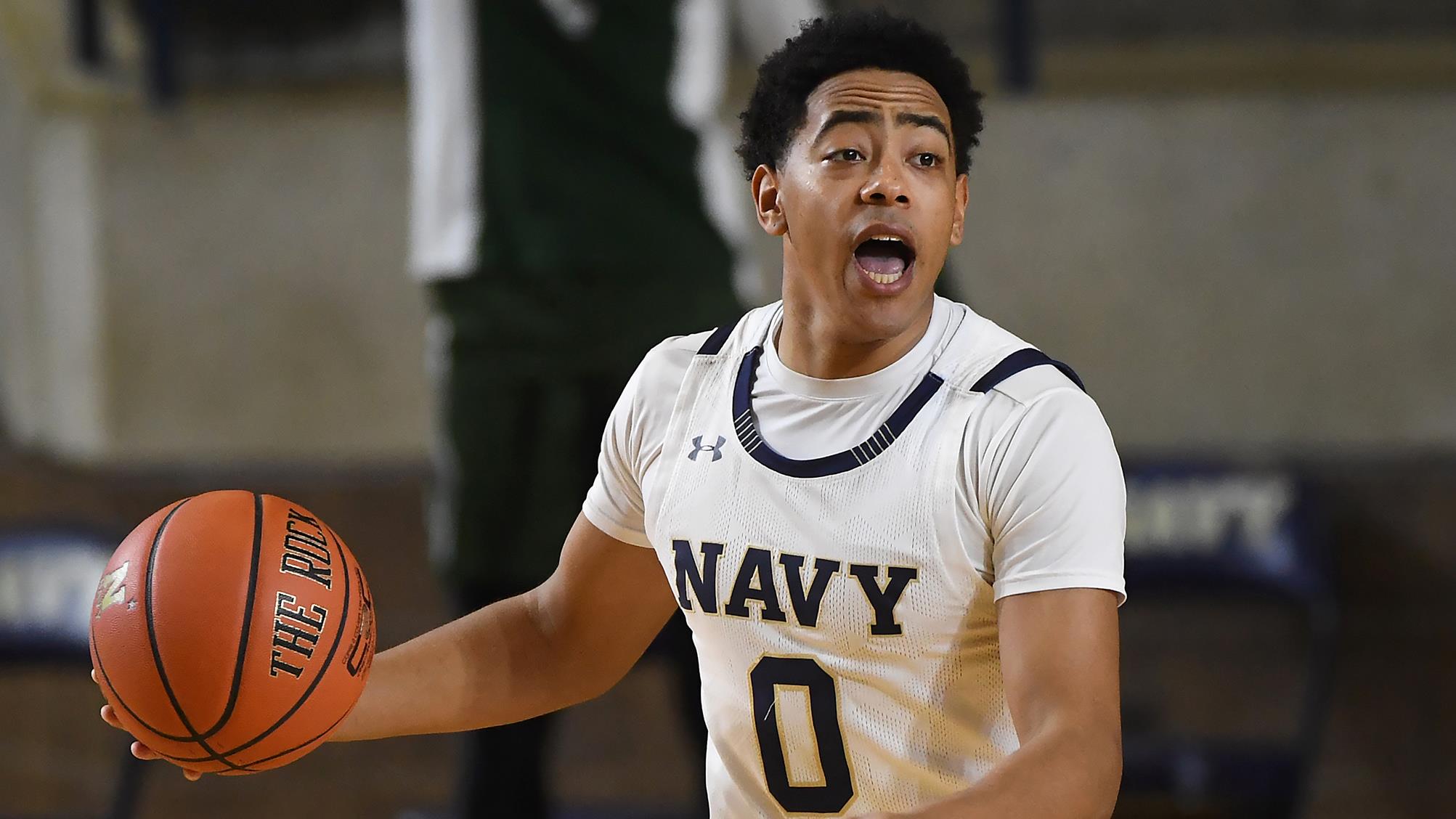 Energy and Effort: How Navy Guard Austin Inge Has Impacted the Navy Basketball Program Right Out of the Gate
With just over two minutes to go in the Navy-Georgetown basketball game this past season, the Hoyas brought the ball up court following a missed three pointer by Tyler Nelson. Down by six after hitting a three of their own, Georgetown looked ready to grab the momentum. But Navy guard Austin Inge was having none of it.
As the Hoyas Jahvon Blair passed the ball to the top of the three point arc, Inge flashed in front of his man and poked it away. He chased it down and made the lay up off the steal to put the Mids back up by eight. Cam Davis stole the ball again on Georgetown's next possession. His jumper increased the lead to 10 points, and Navy eventually won the game, 78-71.
It was a signature win for the program. The Mid's hadn't beaten Georgetown since 1977. And the fact that the Hoyas made the NCAA tournament this year underscores the quality of that win.
But I'm not here to talk about that game. I'm here to talk about Austin Inge. It's not that I found it all that surprising for a Navy athlete to make a big play when it counted. I've seen that happen a number of times. What's rare is to see a play like that come from a freshman so early in the season. This was only the Mids' fourth game. So that tells you something about what Inge brings to the table. And while I'm at it, this definitely seems to be a thing when it comes to this year's freshman class.
'24 Coming Up Big
Just last week, freshman Katie Herrmann scored a spectacular goal from 18 yards out to lift the Navy Women's Soccer team to the Patriot League Championship game. It was #5 on ESPN's Top 10 Highlights that night. Three days later, the Mids beat Colgate for their second straight title as freshman goalkeeper Maddie Gallagher came up with some huge stops.
And just a couple months ago. Navy freshman wrestler Andrew Cerniglia took the mat with the Star on the line against Army. It was the last match of the meet, and the Mids were hanging onto a 16-13 lead. Cerniglia came out an absolutely overwhelmed his opponent. He won 14-3, and the win gave Navy its first Star in five years.
I'm seeing all of this happen and finally decide I need to talk to one of these athletes and get their story. Basketball conversations are pretty much in my wheelhouse, so that made Austin Inge the logical choice. And thanks to Navy Sports Information, things got set up pretty quickly. We talked for a good 15 minutes, so stay with me. I'd like to share that conversation with you now.
Back to the Beginning
NSN: Okay, we are here with Navy Basketball guard Austin Inge. He was key contributor to the team's successful year. The Mids went 15-3 overall and finished 12-1 in the conference during the regular season. So we're going to talk a little about what that was like. Austin, thank you for being with us.
AI: Thank you for having me.
NSN: So, before we get into this season, I think it make sense to back up and start at the beginning. I remember reading your bio on the Navy Sports website and learning that your dad played basketball for James Madison. What sort of role did he play in your development as a basketball player? Did he work with you individually or did he coach your team as well?
AI: It was a little bit of both, actually. Early on, he worked with me on my skills development as well as improving my basketball IQ. And then as I got older . . . probably about the time I got into middle school, I started getting into the gym more with individual trainers. My dad was still there to give me tips from the sidelines; especially when it came to what he saw in my games and my practices.
As far as coaching goes, he did step in to coach my AAU team in the 6th grade. But other than that, he was more into the helping me develop and grow as a player.
Motivation & Focus
NSN: Okay, now along those lines . . . and I'm thinking back to when I worked with my son at an early age. I would always try to leave him with a thought to help him get motivated and focused for an upcoming game. Is there anything in particular your dad shared with you to get you ready for a game?
AI: Yes. He always told me, "Energy and effort. Those are the two things you can control. Everything else will fall into place." I take that with me even to this day. He started telling me that from the time I was in middle school. And it's stuck with me ever since then for every game, every practice, and every workout.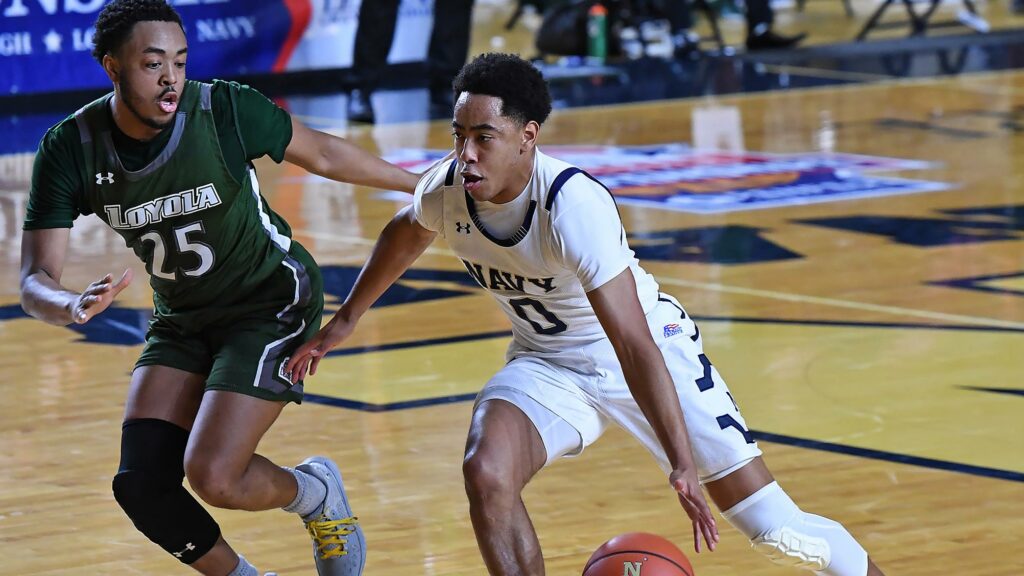 Making Comparisons
NSN: All right, that makes total sense. So now I'd like to get into that transition from high school to college basketball. I'm really curious to get your take on some of the differences you saw. As I recall, you came from a pretty strong program at Greensboro Day right? Didn't you guys win three championships while you were there?
AI: Yes, sir. We won three straight North Carolina state championships.
NSN: That's really impressive. So you came from an elite high school program, and decide to come to the Academy. Can you talk a little bit about the differences in the game that you saw when comparing your senior year to your first year at Navy?
AI: There is a little bit of a difference. The speed of the game is a little bit faster. But it wasn't that hard to make that transition as far as college basketball goes. It was more the strength and size that I had to get used to.
You can't simulate seeing a 6'10" guy everyday in high school. And you can't simulate the strength that some of these college basketball players have and the athletic ability that they have. Everybody is athletic in college basketball. You can slide a couple games here and there in high school, maybe not playing the best competition. But not in college. So that was probably the biggest thing . . . adjusting to that size, strength, and athletic ability in the college game.
NSN: Yeah, that makes sense because I know even out here in Arizona, we just don't see that many players up around 6'10". I think we only saw one guy that tall this past season.
Having An Impact Early
NSN: I saw just about every game, and the first time I clearly remember seeing you have an impact was in the Georgetown game. About midway through the second half, I saw you pull down a rebound and push the ball up court before dishing it off to one of the Loehr brothers for an assist.
Later, you made that nice steal with just over two minutes left and converted the layup to get the lead back up to eight points. And then, you guys finished things out from there. So my question is what did that feel like going down the stretch? Now, I get the fact that there were no fans. But this is still Georgetown . . . you've got Patrick Ewing standing over there on the sidelines . . . What's going through your mind as you're looking to close this game out?
AI: Honestly? Do whatever it takes to win. I wasn't really focused on the jersey name. Those guys put their shorts on the same way we do. Plus, growing up in North Carolina . . . watching North Carolina play . . . watching Duke play. Seeing and playing with some of those ACC guys back at home kind of prepared me for a situation like that.
DE-Fense . . . DE-Fense
NSN: All right, thanks. I definitely see what you mean. Now, I mentioned that steal against Georgetown just now. And in watching you play, that's really the thing that jumped out at me first . . . your defensive fundamentals. Active hands . . . active feet . . . all those sorts of things.
How much was that stressed early on in your development by either your dad or your coaches? And I'm asking that question because out here, you see a lot of coaches just going with zone defenses at an early age. That has a negative impact on the kids' footwork as they get older. So, share with me some of the things you picked up on defensively as you were growing up.
AI: It was always stressed by my coaches growing up. We always played man to man defense. We always did different footwork drills too. My dad didn't have really big influence on the defensive side. He was more focused on helping me develop offensively.
But when I transferred to Greensboro Day, my coach told me, "If you don't play defense, you will not play. I don't care how good you are offensively."
So I had to kind of grind and understand how to get better defensively. And that really helped my defensive ability translate to the college game.
Team Defense
NSN: Thanks for sharing that. It really is a lot of fun watching you guys play team defense. Now, you play a mix of man to man and zone. Is there a particular zone defense that plays to your strengths as a team?
AI: When we do go zone, I would say our "3" defense is more of a 2-3 (NSN note: as opposed to a 3-2, or 1-3-1). And it's big on communication. I feel like our team communication and chemistry is so good, we know where everybody is. We're always calling out the help defense . . . we see a cutter, we communicate that. And it's our energy . . . the fact that we are more active . . . that trips up other teams.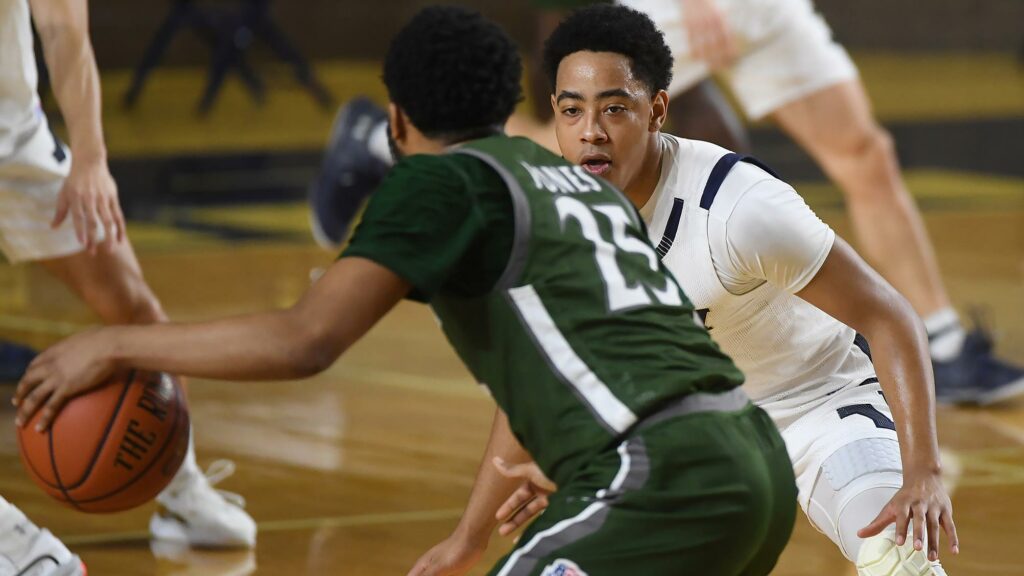 Slides & Shells
NSN: So, staying with the defense discussion. what are some the drills that you do individually and as a team that helps keep the defensive fundamentals sharp?
AI: I would say lane slides with Strength & Conditioning Coach Spayd here, who does a great job. He is big on us staying in our stance. We'll also do the slides with bands on our legs.
Team-wise, I would say the shell drill. This is basically 4 on 4 where you guard your man for a whole shot clock possession. We'll work on different movements, practicing our communication, being in the right spots as well as guarding the ball.
Another drill we do here as well is called 5 on 4 return. This is where we work on our transition defense. And just like the shell drill, it helps your communication on defense.
Communication is big on the defensive end, so that's a big part of the drill, as well as being able to guard the ball, obviously. So those are some good individual and team defensive drills.
Beat Army . . .
NSN: Okay, thanks for sharing that with us. Now let's talk a little bit about the Army game. This was your first time out there. Did that feel any different to you stepping out on the court compared to the other games? Again, I know that there were no fans, but I wanted to get a sense for what you were feeling since that was your first experience.
AI: I would say that I was anxious to get out there because when I went to NAPS, we played them twice. We beat them once, and then we actually lost the Star game at Army. So I was anxious to get out there and play them again and win the Star game for the seniors.
Honestly, it's the same approach when getting ready. But I was a little more excited to play Army compared to any other team.
Game Day Routine
NSN: So with that in mind, do you have anything you do in your pre-game routine that helps keep you on an even keel? I mean, I look at you out there on the court, and you've got pretty much the same expression on your face the whole time . . . you don't ever seem to get rattled. What do you do there to help keep you level set?
AI: So for my game day routine, after we break away from our morning breakfast, I go watch a show or a movie. One of my favorite movies to watch before a game is either The Dark Knight or Good Will Hunting. Then I get to either the gym or Alumni Hall two hours before tip off. Go to the training room, plug in my music, and stretch.
After that, I do some ball handling drills and form shooting . . . lock in mentally. And then when we meet an hour before tip off in the locker room, I'm just ready to go.
NSN: Okay . . . Now you mentioned Good Will Hunting. I mean, you're going back a ways for that movie. (NSN note: 1997) I'm just kind of curious, what is it that you like about it?
AI: It's a classic. At my first high school, I took JROTC and never heard of the movie. My instructor said,"I'm going to play this movie for you all."
I watched it for the first time, and I fell in love with it. Now I watch it probably at least once a month.
NSN: That's pretty cool . . . and it was a really good movie.
First Year Impressions
NSN: So now I want to get your take on your first season at Navy. If you had to sum it up in one word, what would that be?
AI: (Pausing) That's a tough one . . . I would say, fun . . . Being with this group of guys, it makes it easy to work hard. We bond so well off the court that I think it helps us on the court.
And then learning that everything isn't always going to go well. So you just have to embrace the bad and learn from it. That's what makes the process of getting better and winning fun. When you're winning . . . I mean, we had a successful season this year. . . it does make it fun. And being with this coaching staff made it a really positive environment.
Looking Forward
NSN: Okay, lets' talk goals. I'm going to ask you for one . . . no, two goals actually. One basketball goal, and one non-basketball goal as you look towards next year.
AI: One basketball goal – Win the Patriot League and make the NCAA tournament. One non-basketball goal – Get to a 3.5 and even a 4.0 GPA in academics.
NSN: Sounds good. What's your major, by the way.
AI: English
NSN: All right, cool. (NSN note to self: in light of previous answer, triple check this article for typos!)
So Austin, I think that about wraps things up. Thanks again for taking the time to join us. Good luck on your final exams, which are coming up in a couple of weeks.
I wish you the best of success in your basketball career at Navy, and I look forward to watching you play next year.
AI: Thanks again for having me.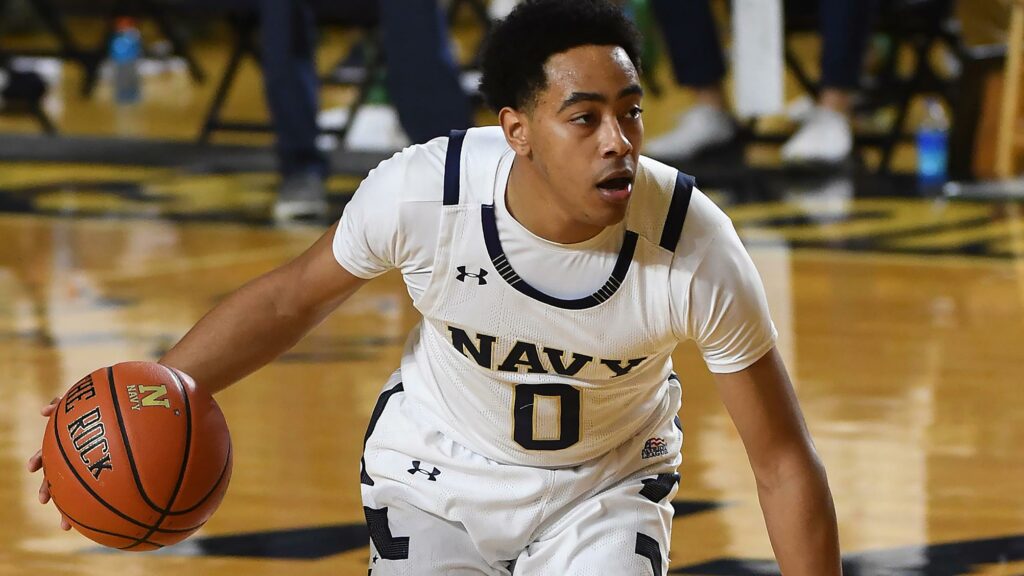 Why Austin Inge Is Such A Great Fit For Navy Basketball
I think he said it best himself. Austin's entire focus on the basketball court centers around energy and effort. Those are the two things that his dad stressed to him before every game.
And now, that mantra is tattooed in his brain. Remember what he said? Those two words have stuck with him ever since he was about 12 years old for every game, every practice and every workout.
And I think it's this mindset that got the attention of the coaching staff early. Austin began getting double digit minutes starting with the second game of the year against Maryland. He went on to average over 19 minutes a game for the season. That's a pretty good number for a first year player.
The other thing worth mentioning is that this "energy and effort" mindset results in a lot of positive outcomes on the court that don't always show up on the stat sheet. And here's one example for you: pass deflections.
It's too bad pass deflections aren't recorded in the regular game statistics. If they were, I'm pretty sure Austin Inge would be among the team leaders. He is as tenacious a perimeter defender as I've seen.
I lost track of how many pass deflections he had last season due to his active hands. At the very least, they disrupted the opposing team's offense. And at most, they resulted in a steal and an extra possession for the Mids.
Speaking of steals, Austin ranked fourth on the team overall for the year. But when you look at steals compared to minutes played, he was actually the most efficient. Now, to be fair, steals per minutes played is not currently a statistic. But I think it's one good way to measure defensive efficiency. There's one for the suggestion box.
Some Final Thoughts
I'm really excited for Navy Basketball's prospects next year. And Austin Inge is one of the reasons why. He is a tough, tough defender, and he's just starting to scratch the surface offensively.
Cam Davis will be graduating, so Inge could possibly be asked to pick up a little of that offensive slack along with John Carter Jr. and Greg Summers out on the perimeter. Basically, he's got a boatload of upside potential over the next three years.
There is another point I wanted to make. When I spoke with Austin Inge, the one thing that was crystal clear to me is that he is a well-grounded young man. You don't have to look any further than his parents to figure out why, either. Anthony and Jackie Inge can be justifiably proud of what their son has accomplished so far. And something tells me Austin isn't even close to being finished.
Until next time . . .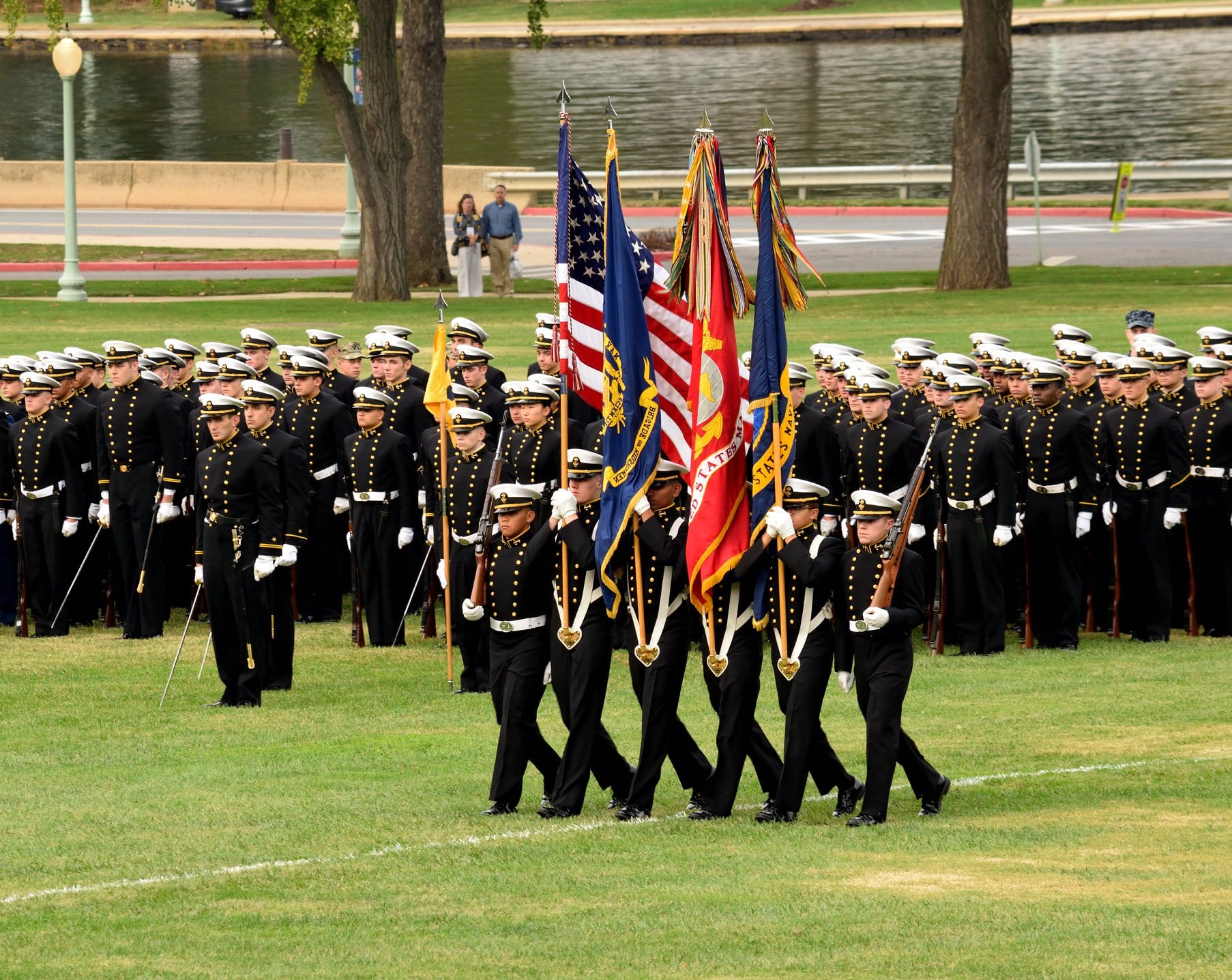 My sincere thanks to Scott Strasemeier, Senior Associate AD for Sports Information at the U.S. Naval Academy for granting permission to use images and video from the Navy Athletics media library. All photos used from this source will be properly credited in the caption. The only exception would be if the photo is used as a feature image where no caption is visible.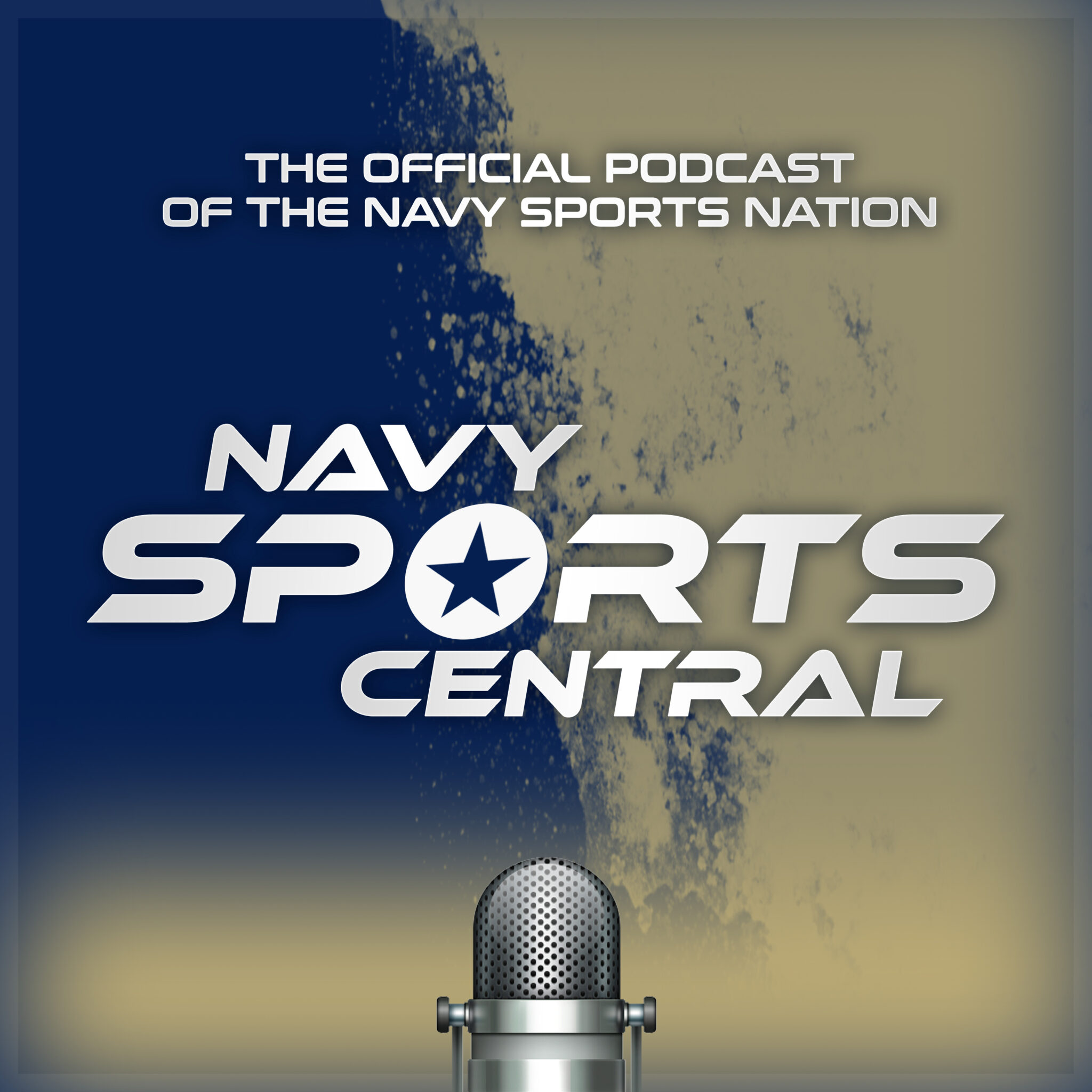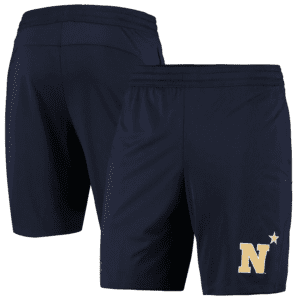 As an affiliate partner, Fanatics shares a small percentage of each sale through these links with the Navy Sports Nation which will be used to maintain the website. Thanks for your support!
Navy and St.Mary's are the only two rugby  programs in the country that have produced two Rudy Scholz Award winners. The award for the collegiate rugby player of the year was first given out in 2016.
Connor McNerney was the Naval Academy's first recipient in 2018. This year, Lewis Gray earned that honor. It was a fitting end to his outstanding career.
Click on the images to buy these two "must have" books for all Navy football fans. As an Amazon associate, I earn from qualifying purchases.
cRA Div. 1 National Championship Highlights
Karl Darden
I am a Navy veteran and a graduate of the U.S. Naval Academy. The idea to start this blog actually came from my classmates. I hope you enjoy reading this content as much as I enjoy writing it. Go Navy!! Beat Army!!