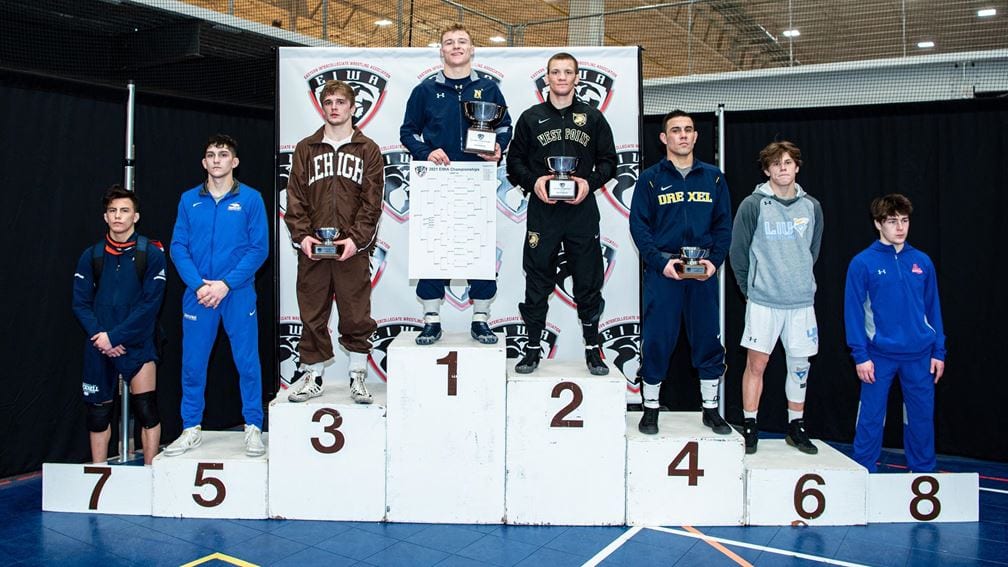 Serving Notice – Cary Kolat Delivers Big Time In His First Year As Navy's Wrestling Coach
It's been nearly a year since Cary Kolat took over the Navy Wrestling program as its head coach. Prior to his arrival, it had been stuck in a serious rut. But in just his first year at the controls, Coach Kolat has delivered in a big way. And Navy wrestling fans couldn't be happier.
The Mids finished the season with a 5-1 record in dual meets. The fact that they completed that many was a small miracle considering the pandemic still hasn't quite loosened its grip on college sports. And the team's performance in the EIWA Championships served to validate their accomplishments this season. So let's take a closer look to see how everything unfolded.
Recapping the Season
One quick thing before we get started. For those of you who are unfamiliar with Cary Kolat, you can take a few minutes to read my post from last summer. It will tell you a little bit more about him and his coaching philosophy.
Anyway, walking into this new coaching position at Navy was challenging enough without having to deal with all the craziness the pandemic brought with it. For example, coaching "hands on" in wrestling means just that. The staff literally has to put their hands on their wrestlers to demonstrate different techniques.
But Coach Kolat and his staff couldn't even do that until December. Their first dual meet against Pitt was scheduled for January 3rd, so that only gave the Mids about a month to get ready for the 14th ranked Panthers. They made the most of their time though. Now it was all about making it happen on the mat.
Great Start . . . Tough Finish
Navy didn't waste anytime getting started. Led by Logan Treaster and defending EIWA Champion Cody Trybus, they won three of the first four matches. But I don't think anyone was ready for what happened in the fifth one.
Freshman Andrew Cerniglia had exactly zero college wrestling experience when he stepped on the mat on that day. But you'd have never known it. The Nazareth, PA native put on an absolute clinic at 157 lbs. He totally dismantled his opponent, scoring a 16-1 decision in wrestling's version of the mercy rule. Cerniglia put the guy out of his misery less than 10 seconds into the 2nd period.
It was a terrific win that definitely made other wrestlers in his weight class sit up and take notice. The victory also gave the Mids a 14-3 lead over the Panthers. Two more wins in the remaining 5 matches would have likely sealed the deal.
Unfortunately, they came up empty each time. Two tough losses at 165 and 174 took away Navy's momentum. From there, the Pitt went on to win the remaining three matches to rally and take the dual, 22-14.
Coach Kolat knew that it was a winnable match. So in that sense, it had to sting a little. After all, he's as intense a competitor as I've ever seen.
That said, he did stress in his press conference that this was a very coachable squad. He stated, "They listen, and we will . . . continue to get better." Boy, was he right about that.
Taming the Mountain Hawks
After rolling Clarion by a 41-3 score, the Mids returned home to take on Lehigh. The Mountain Hawks were the three-time defending EIWA champions. On top of that, Navy had not beaten them in 10 years. But that was then, and this is now.
Though they stumbled out of the gate by dropping two very close matches to start, the team quickly recovered. Cody Trybus did what captains do. He led by example and got the Mids on the board with a solid win.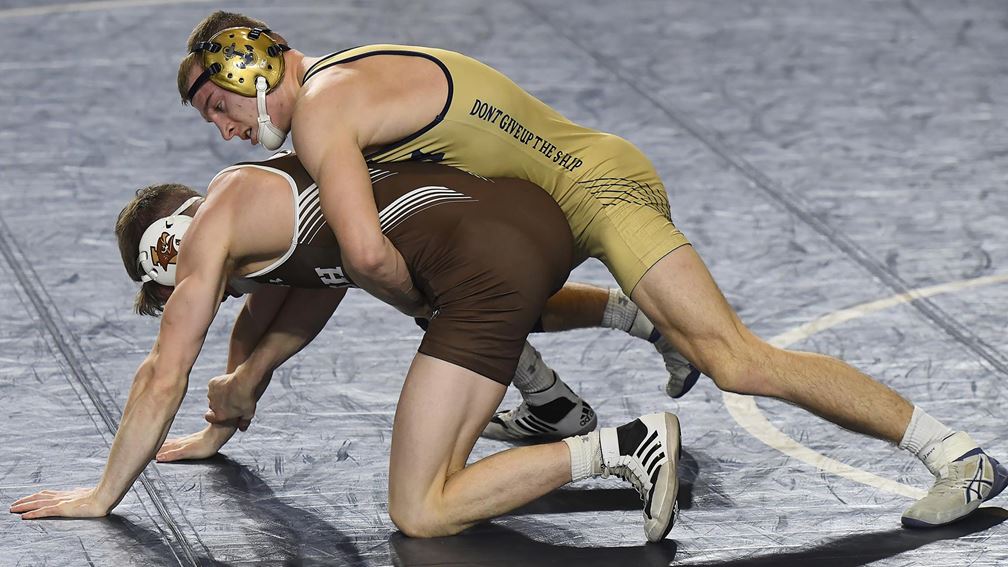 Three more victories followed (Casey Cobb at 149, Cerniglia at 157, and Tanner Skidgel at 165). That staked Navy to a 12-6 lead, and they never looked back. They closed out the meet with three consecutive wins to defeat Lehigh 21-9.
It was the first of what figure to be many big moments in Coach Kolat's career at Navy. The best part of the entire day was the post match press conference. It's really good, and you get really good idea of who Kolat is and what he's about.
He was completely transparent about what his guys need to do to get better. He also identified the things that they did well to secure the win. But his best answer was when he responded to a question asking him what it meant to beat Lehigh. The Mountain Hawks are a perennial power in the conference who have owned the Mids in recent years.
I'm not going to spoil it for you. So, go to the 8:28 mark of the press conference to hear Coach Kolat's response. I totally cracked up, while thinking to myself, "I really like this guy."
Now, the Mids were riding a wave of momentum. And over the next month, it proceeded to grow into a tsunami.
Taking Care of Business
In their next two meets, Coach Kolat's crew defeated their opponents (Cleveland State and George Mason) by a combined score of 81-0. They threw a 37-0 shutout at the Vikings and followed that up with a 41-0 whitewash of the Patriots.
The Mids had won their fourth straight dual and were looking stronger with each outing. But Cleveland State and George Mason were not Army. Everyone knew that they were both preludes to the only match that really mattered. The team headed north on Feb. 5th to take on the Black Knights And it was time for a much needed course correction.
Setting Things Straight
As expected, it was a tightly contested match. ESPN+ had the live stream. The only negative was having to listen to the Army announcers. I get that there's going to be a little home team bias that's a part of every telecast, but these guys were over the top in my book. It really made me appreciate the great job Pete Medhurst does when he covers all the different Navy sports.
But I'm getting a little off topic. The Mids split the first four matches with the Black Knights. Skidgel (165) and David Key (184) got the team going. Then, with the score knotted at 7-7, the meet swung in Navy's direction in the heavyweight match in pretty dramatic fashion.
Sophomore John Birchmeier had dug himself out of a 3-1 hole early the 3rd period and momentarily took the lead in his match. But he gave up an escape and score was tied with less than a minute to go.
Birchmeier didn't let up though. And he wound up scoring a takedown with three seconds to go to nail down the win. The Mids fed off that to take two of the next three matches. Logan Treaster took care of his man at 125 by a 6-2 score. Later Cody Trybus decisioned his opponent, 5-1.
Navy led 16-10, but Army would not go away. A win at 149 closed the gap to 16-13. That meant the outcome of the meet rested on Cerniglia's shoulders at 157. He was supposed to go up against junior Markus Hartman, who was ranked 18th nationally. But he was injured and sophomore Christian Hunt took his place.
Cerniglia was all over him from the start. His aggressiveness got him out to a 10-0 lead on his way to a convincing 14-3 victory. That iced the 20-13 win, and Mids sang second for the first time in five years.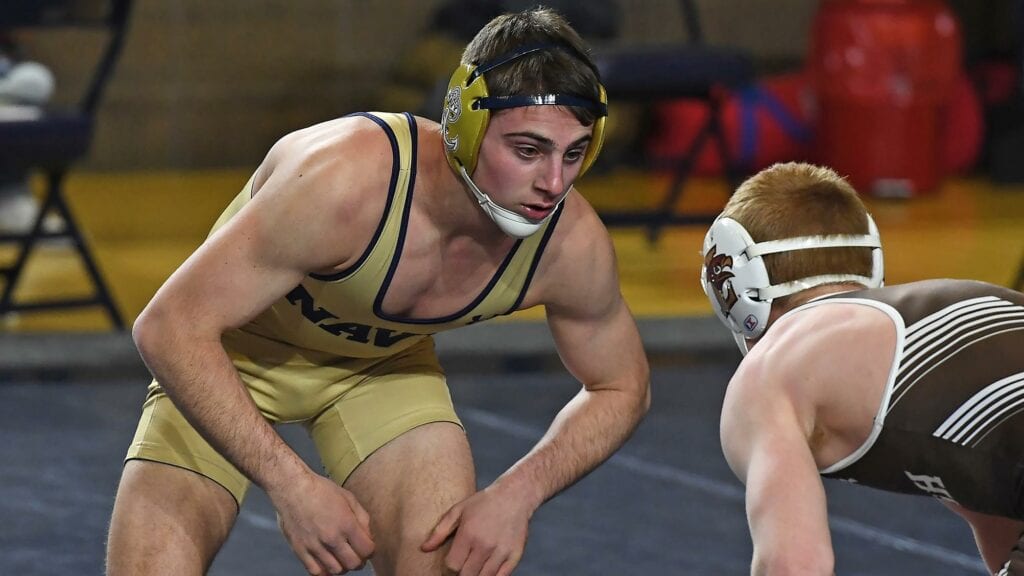 Next Stop – EIWA Championships
Coach Kolat had the team firing on all cylinders going into the conference championships. Navy had seven wrestlers seeded in the top three across all weight divisions. They only had a total of nine entrants, but seven of them made it to the semi-finals and five got to the finals.
Lehigh returned to form to win their 4th straight league crown. But the Mids used their depth to fight their way to a second place finish in the team standings.
Cody Trybus won his second consecutive championship at 141 lbs. Logan Treaster (125), Jacob Allen (133), Tanner Skidgel (165) and David Key (184) came through with 2nd place finishes. Andrew Cerniglia (157) and Jacob Kosar earned the third spot on the podium to round out the bulk of the scoring.
That was just part of the story. Wrestlers finishing among the top three spots automatically qualified for the NCAA Championships scheduled for March 18th – 20th. So all of the Mids previously mentioned have punched their ticket for St. Louis. Then the NCAA Div. 1 Wrestling Committee released their list of at-large qualifers. Both Casey Cobb and John Birchmeier will be joining their teammates.
So the Navy is sending a total of nine, (yes, that's right, nine) wrestlers to the NCAA Championships. In case you're wondering, that's only happened two other times. And you'd have to go back over 50 years to find out when. The Mids qualified nine in 1969 and 11 in 1968.
That's pretty impressive stuff. It's even more remarkable considering this is Cary Kolat's first year as the Navy Wrestling Coach. And I found myself wondering, what's this guy's superpower anyway? What chord has he struck that his predecessor could not?
Coach Kolat's Impact
Shortly after the season began, Navy wrestlers commented that practices were actually fun again. This speaks to the fact that the team really was in a rut as I mentioned before. Coach Kolat was successful in getting buy in from his team early. And it was largely because of the credibility he brought with him.
In an interview with Pete Medhurst after the Lehigh match, Navy senior Tanner Skidgel shared that Kolat is a true technician. And being an Olympian, he'd obviously competed at an elite level. So when the opportunity to learn from a coach with that background comes, up, wrestlers intent on getting to the next level will absorb as much as they can.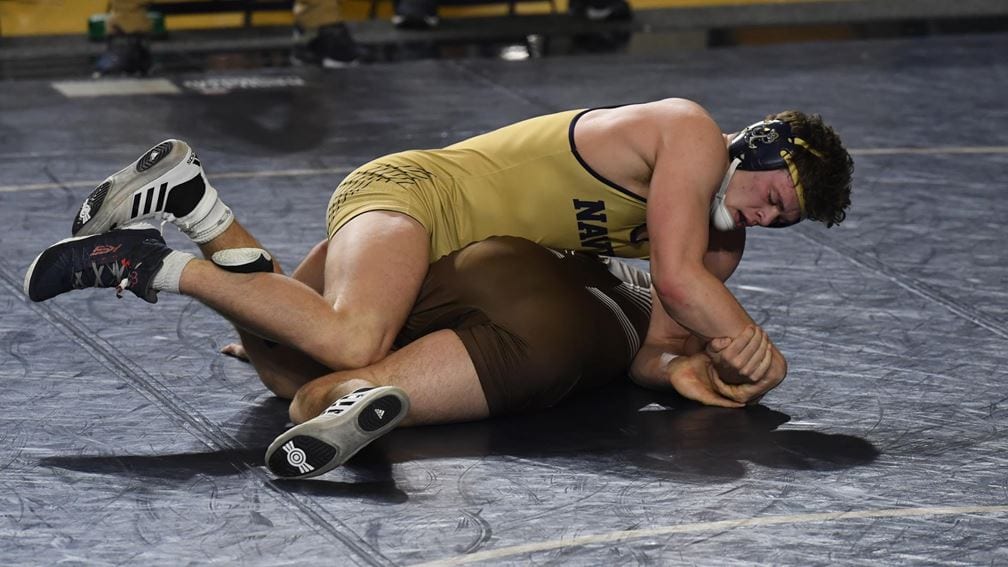 Recall Coach Kolat's remarks earlier about how coachable his team is. I suspect it goes beyond that though. No doubt, it must be awesome to learn wrestling technique from one of the best collegiate wrestlers to ever step on the mat. But as I discussed in the feature published last summer, the Navy coach has something else going for him.
A Master Motivator
Cary Kolat knows how to connect with his wrestlers and create a tight team environment in what's largely viewed as an individual sport. Tanner Skidgel talked about this in his interview with Medhurst.
For example, when addressing the question of building momentum during a dual meet, Coach Kolat has ingrained a specific mindset. Each wrestler's job when they get out on the mat is to get the next guy ready to compete. That means going at it hard for seven minutes and executing to the best of their ability. Having the next guy up watch his teammate before him wrestle a great match gets him motivated to do the same thing.
The team really bought into this concept. In each of their dual meets, they strung together at least two consecutive wins on eight different occasions. In fact, in dominating Cleveland State and George Mason, they won 20 straight matches. That's what I call some serious momentum.
But that's not all. Coach Kolat has also been successful getting his guys to buy into another important concept.
A More Open Wrestling Style
In the interview after the Lehigh win, Cary Kolat spoke to having his wrestlers commit to a more open style of wrestling. Defense is important, but in wrestling, being constantly on the attack typically yields good results.
The coach stated, "When you're competing, you have to be all offensive, and defensive wrestling is muscle memory. If a mistake happens and a guy touches my legs, then my hips come into play."
Put another way, Coach Kolat wants his guys constantly on the attack. It's basically a numbers game. The more shots they take at an opponents legs, the more chances they have to be successful at scoring a takedown. And defense needs to be instinctive whenever they get into trouble as opposed to wrestling defensively.
It makes total sense. If a wrestler is always on the defensive trying to avoid a guy getting into his legs, there are fewer chances for him to score points. It can be both frustrating and tiring. Sooner or later he's going to wear down against a relentless, aggressive opponent. And that's exactly what Coach Kolat wants.
Some Final Thoughts
When Chet Gladchuk hired Cary Kolat last spring, I spent quite a bit of time learning more about his background and his coaching philosophy. And if there is a more ideal coach to lead the Navy Wrestling team, I'd like to meet him.
Coach Kolat and his staff have brought a new energy and intensity to the program. And trust me, it couldn't have come at a better time.
For decades, Navy Wrestling has been one of the more elite programs on the east coast. They routinely qualified wrestlers for the NCAA tournament, and a win over Army every year was practically a given.
But the team seemed to have hit a plateau over the last six or seven years. Before anyone knew it they had lost to the Black Knights four years in a row. That's when Chet Gladchuk decided he has seen just about enough.
For my money, Cary Kolat ranks as one of the Navy AD's best hires during his tenure. It's right there with Paul Johnson and Ken Niumatalolo in football, Cindy Timchal in women's lacrosse, and Carin Gabarra in women's soccer.
In coaching circles, people often speak of "destination jobs." These are positions that coaches see as places where they can be for the long term. Schools like Alabama, Clemson, and Notre Dame come to mind when talking about football. In basketball, it's Duke, UNC, and even Villanova.
By the way, it's worth noting that two of Navy's most successful wrestling coaches were Ed Peery and Bruce Burnett. And for them, it was a destination job. I can't speak for anyone else, but I'd be thrilled if Cary Kolat saw the Navy job the same way and decided that Annapolis is where he wants to stay.
Until next time . . .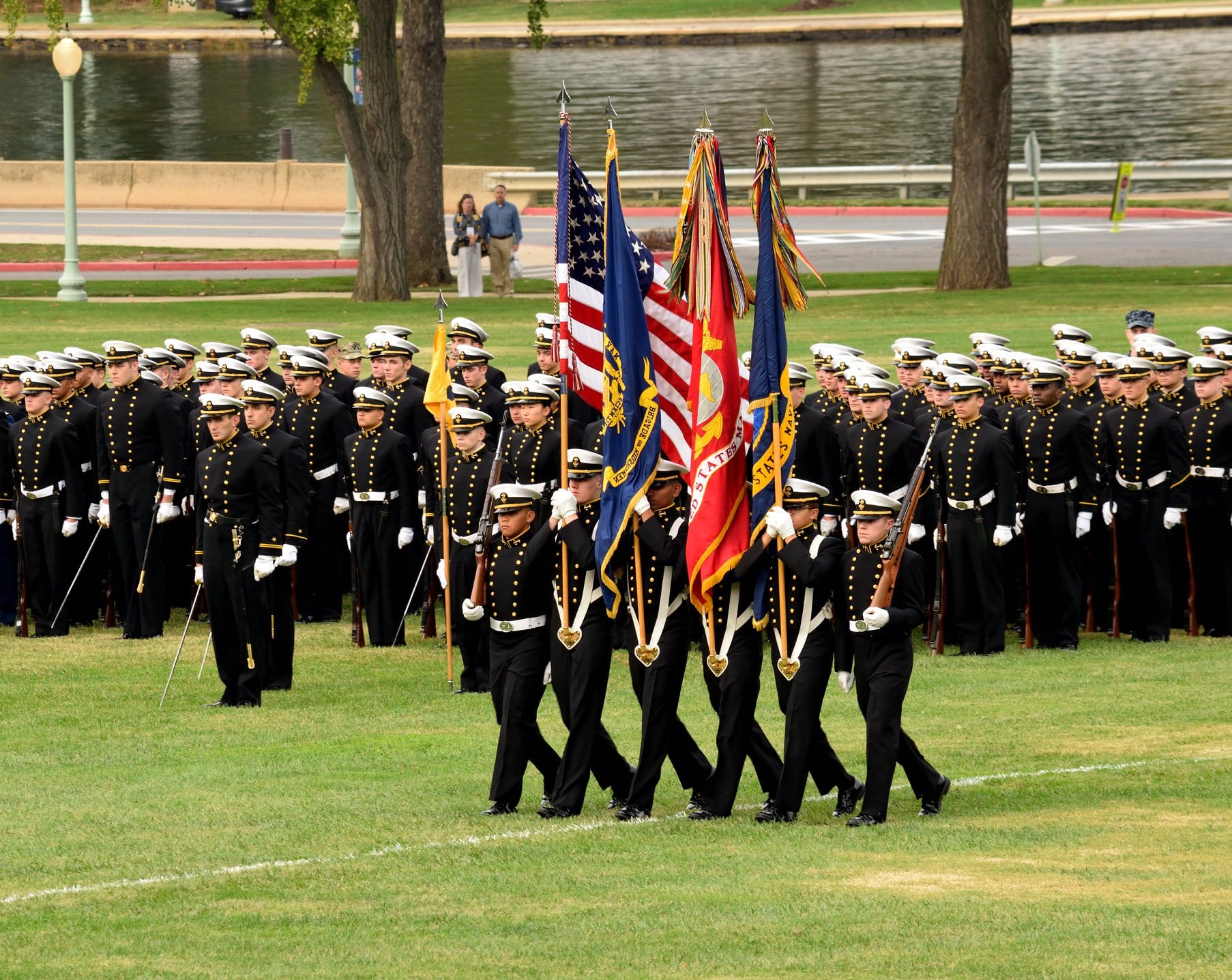 My sincere thanks to Scott Strasemeier, Senior Associate AD for Sports Information at the U.S. Naval Academy for granting permission to use images and video from the Navy Athletics media library. All photos used from this source will be properly credited in the caption. The only exception would be if the photo is used as a feature image where no caption is visible.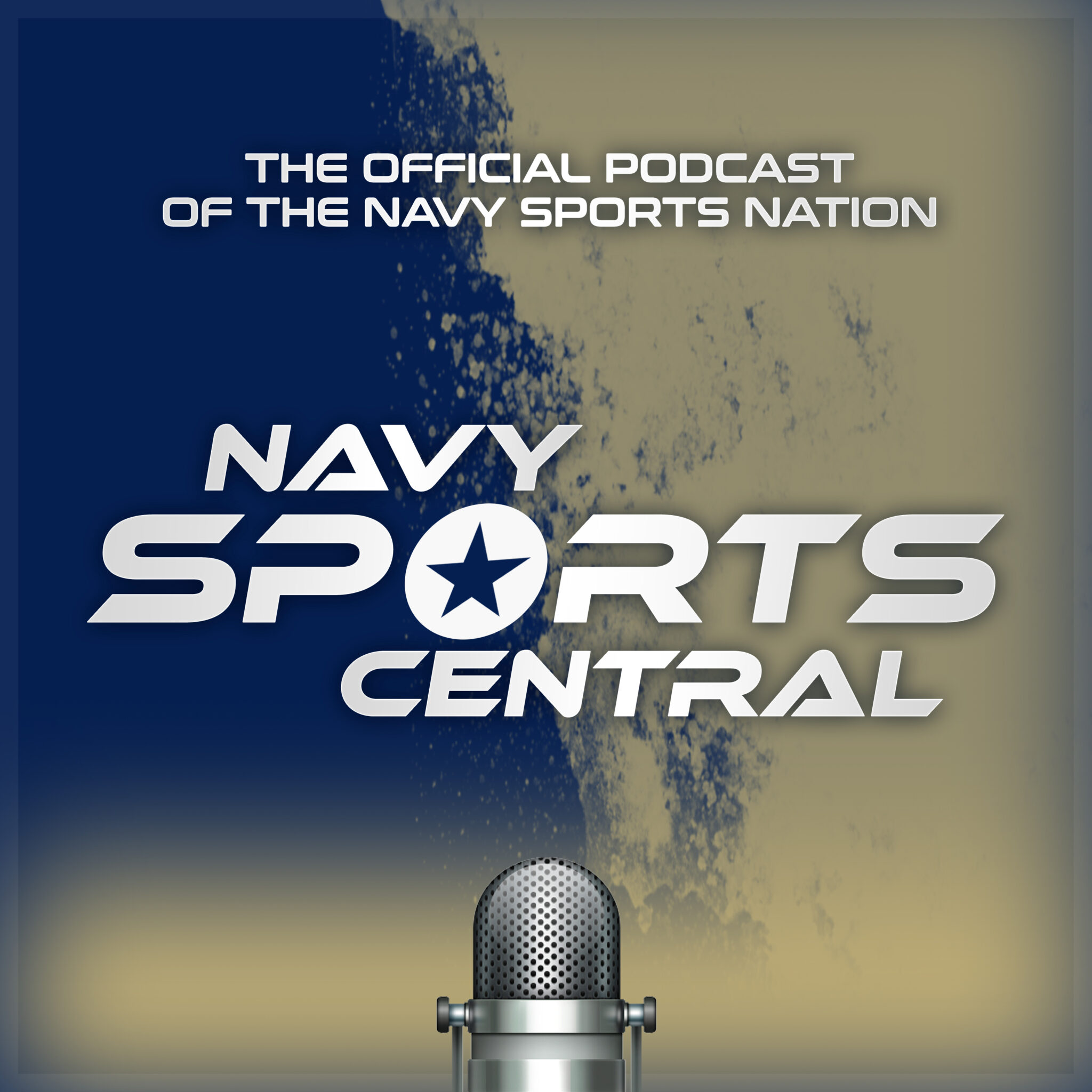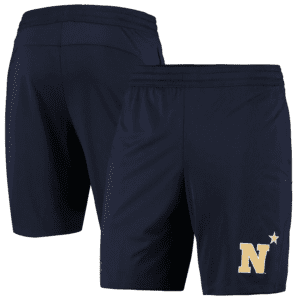 As an affiliate partner, Fanatics shares a small percentage of each sale through these links with the Navy Sports Nation which will be used to maintain the website. Thanks for your support!
Navy and St.Mary's are the only two rugby  programs in the country that have produced two Rudy Scholz Award winners. The award for the collegiate rugby player of the year was first given out in 2016.
Connor McNerney was the Naval Academy's first recipient in 2018. This year, Lewis Gray earned that honor. It was a fitting end to his outstanding career.
Click on the images to buy these two "must have" books for all Navy football fans. As an Amazon associate, I earn from qualifying purchases.
cRA Div. 1 National Championship Highlights
Karl Darden
I am a Navy veteran and a graduate of the U.S. Naval Academy. The idea to start this blog actually came from my classmates. I hope you enjoy reading this content as much as I enjoy writing it. Go Navy!! Beat Army!!