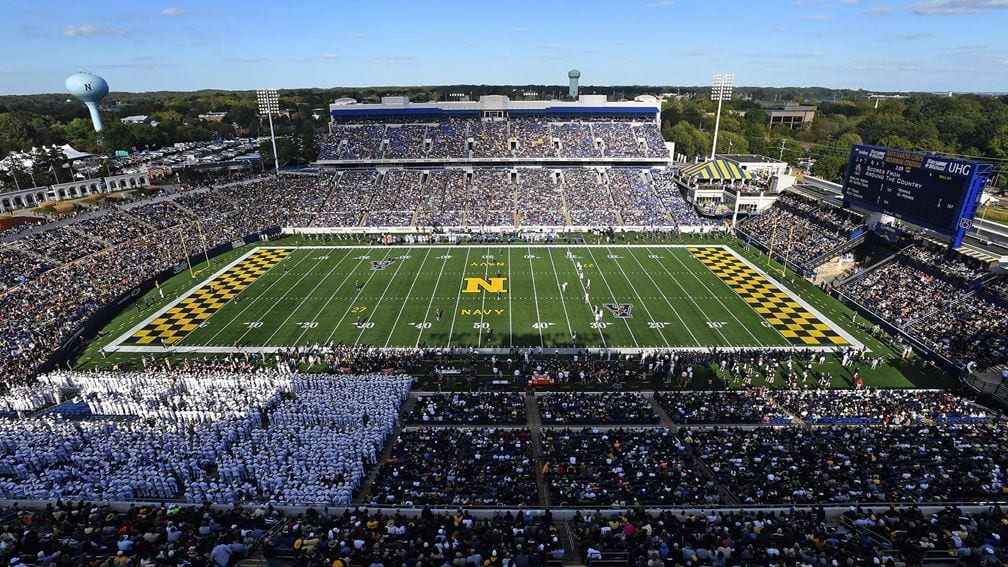 How To Be A Great College Football Fan Without Driving Everyone Else Crazy
We've all heard this phrase dozens of times: "fan" is short for "fanatic". And while that's pretty true, having to deal with some fan(atic)s isn't always easy. So today, in the Navy Sports Nation, we're going to talk about this. Specifically, we'll focus on how to be a great college football fan without driving everyone else crazy.
The back drop for this discussion will be Navy's first football game of the season against Brigham Young University. And trust me, I don't particularly want to relive that carnage. But it works for what I want to cover.
The Cougars absolutely crushed the Mids in a game that was basically over by halftime. The final score was 55-3; the worst defeat Ken Niumatalolo has suffered as he enters is 13th season with the Mids.
It was an ugly game in every respect. And true to his character, Coach Ken immediately took full responsibility for not having the team prepared. The current pandemic prompted him to err on the side of player safety and go primarily with non-contact drills to get ready for the Cougars.
The decision was made with good intentions, but clearly, it didn't work out. Before the game was even over, I could feel the stress levels of Navy fans every where increase by about a factor of ten.
But relax. Help is on the way. So for the sake of your sanity, here are the five Navy Sports Nation's rules for being a great college football fan.
Rule #1: Never Set Your Expectations Higher Than The Coaching Staff
Years ago, I determined that for me, a successful Navy season includes the following: 1.) Beating Army (of course) 2.) Winning the CinC trophy and 3.) Finishing with a winning season. Anything beyond that, such as a bowl win or a conference championship is a bonus, and it's of great benefit on the recruiting trail.
Now, I get the fact that the team goes out expecting to win every game. That's the mindset they need to have. And I do believe the Mids are capable of beating anyone on their schedule on any given day.
But the reality is that against most opponents, the Mids need to play near flawless football to win, and that's not going to happen every time out. So I am not about to start saying that anything short of double digit wins would be a disappointing year.
It turns out that my criteria for a successful season lines up pretty well with what the coaching staff has established as their success measures. The Navy coaches have well over 100 years of collective experience between them. So why on earth should my expectations be higher than theirs?
In a nutshell, setting the right expectations can go a long way towards reducing stress levels during the season. It's that simple. Now let's check out our next rule for being e a great college football fan.
Rule #2: Be An Optimist & A Realist, Not A Pessimist
Look, pessimism and negativity sucks. Besides, there are way more important things to worry about in this world than how your team does this year. So if you want to maintain good cardiac health, being an optimist and a realist is a must. There's no doubt that sports fans will endure games where their blood pressure goes on some pretty wild excursions.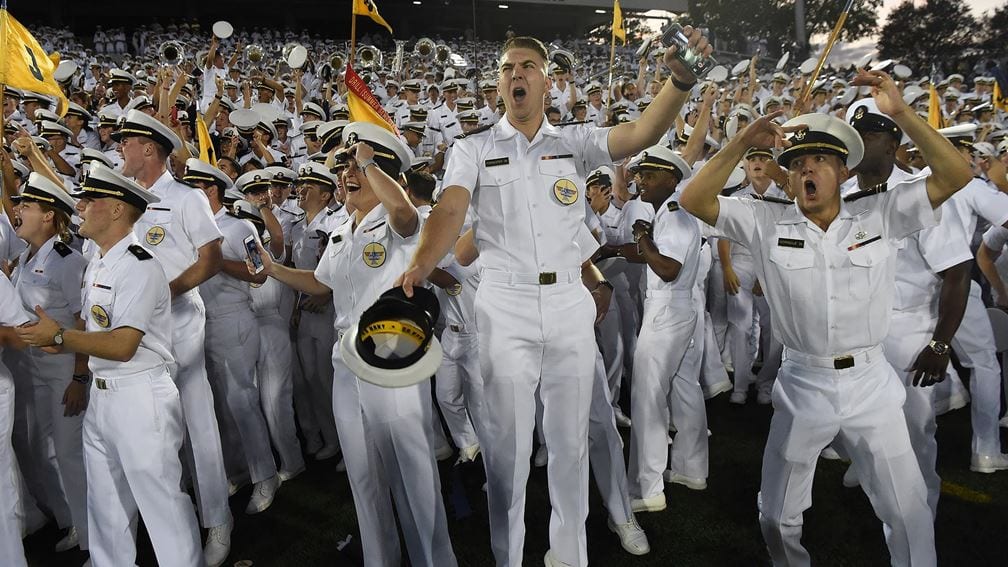 But the trick to keeping it from spiraling out of control is to be an optimist while staying grounded in reality at the same time. To do this, you have to recognize each situation for what it is.
Let's take the Navy-BYU game for example. It's true that there weren't that many positives that came out of it. But I can name a couple.
First, I saw that senior quarterback Dalen Morris has a pretty good arm, and he is accurate when throwing on the run. The biggest challenge he had to deal with was the offensive line getting beat off the snap. That caused a major disruption in timing and brought the triple option attack to a grinding halt.
Secondly, Morris earned the starting job because he showed Coach Jasper that he had the ability to make the correct reads at the line. The main thing that interfered with the execution was likely the offensive line being about a step behind. That is fixable. No doubt about it.
Let's Be Real . . .
So there's the optimist in me talking. Now for the realist. Aside from this game result being an ugly blot on the 2020 schedule, it was basically meaningless.
Because it was a non-conference game, it won't impact where Navy winds up in the AAC standings at all. And most importantly, it has no bearing on the Commander-In-Chief trophy competition, which as we stated earlier is a key measure of a season's success.
So if we're all square on that, let's see what else we can do to practice being a great college football fan. Avoid this trap as much as possible.
Rule #3: Don't Use the Team's Performance in the First Couple Games to Predict the Whole Season
I am an evidenced based guy. And I subscribe to the theory that one game is not enough of a sample size to determine how any season will go. In some cases, not even two or three is enough.
In 2012, the Mids stumbled to a 1-3 start and were within one quarter of falling to 1-4. But Keenan Reynolds led the Mids to a comeback win against Air Force. The team went on to win six of their last eight games while taking home the CinC trophy.
By contrast in 2017, the Mids began the year 5-0 after a stirring win against Air Force. Double digit wins appeared to be a dead lock. But after that, they only won two of their last eight and missed out on winning back the CinC trophy. That's because a last second field goal against Army went wide in a game played in a driving snow storm.
So a horrific opening game loss doesn't mean a team is in for a disastrous season any more than destroying an opponent means that they will go undefeated. Things have away of gravitating back to the norm, whatever it happens to be for that season. I expect that to be the case this year as well.
This next rule to keep in mind in becoming a great college football fan may strike a nerve with some. But trust me. If you follow it, you'll save yourself a boatload of stress.
Rule #4: Leave the Play Calling to the Coaches
This is a sentiment I've held for a long time. But I think Navy wide receiver Mychal Cooper (@Cooop22 on Twitter) said it best.
Here is his direct quote from a tweet the day after the game: "Every time we lose, all the 'fans' turn into D1 football coaches." It made me laugh, but he was also 100% right.
It's Not About The Play Calling . . .
I've just never understood how fans can jump in and start criticizing play calling if they have never coached the triple option on any level. I maintain that unless they have either played in that scheme or coached it in college, the critiques don't carry any real weight.
Prior to starting this blog, I would break down the football games on our class Facebook page. And our classmates who engaged in those discussions can tell you that I never once criticized play calling in my analysis.
There is a simple reason for that. I've never been a football coach. And the fact is I don't believe I have the standing to critique a coach's play calling. Now, other fans are perfectly within their rights to do so. It's a free country.
But think about it for a minute. You're basically criticizing someone else for how they do their job when you have zero experience in that job.
Here's a good analogy for you. I flew helicopters when I was on active duty. And as far as I was concerned, the only people qualified to tell me what I needed to do better when it came to my flying skills were other pilots. Anyone else would be dismissed with a polite smile.
The same thing applies here. So save yourself a huge amount of stress and leave the play calling to the coaches. They are the best qualified to handle the job, and the only ones qualified to critique their play calling. Besides, there is usually another reason why a play didn't work.
It's About the Execution
When I look at a game, I focus on play execution. Let's say Coach Jasper sends in a play for the offense. It's based on the formation he is seeing on defense.
From there, it's up to the quarterback to make the right read. If everyone does his job, the odds are the play will work. So I spend my time analyzing why a play worked or why it didn't.
I'll point out things like how the play developed and why it went for a big gain. Or, I might see what a defender did to keep a big play from happening.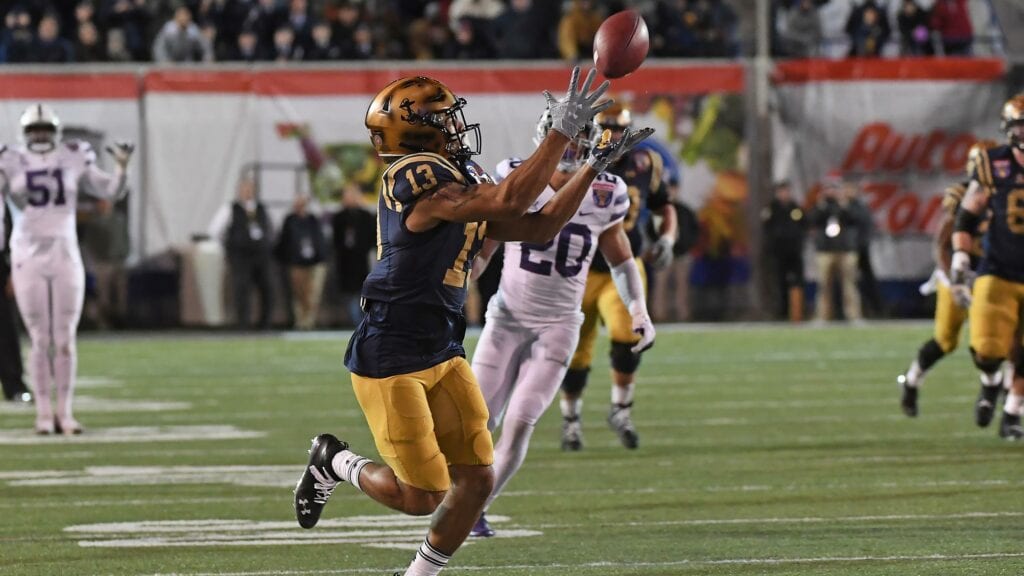 For example, in second quarter of the BYU game, Dalen Morris took the snap, and his read told him to keep the ball instead of giving it to the fullback. Then he started down the line to his right and saw the opportunity to pitch to Chance Warren.
Warren had all kinds of running room in front of him, but he never got the ball. The BYU defender coming from the right side of the line was quick off the snap, got some penetration, and tripped up Morris before he could make the pitch. He wisely hung on to it rather than wildly tossing it out there hoping Warren could reel it in.
This was just a question of execution. The offensive line was a step behind for most of the game, and in this case, there was no chance to execute the pitch.
Again, this is totally correctable. I'm confident that in a similar situation against Tulane, that play goes for a good chunk of yardage.
Only one more rule to go. And for my money, it's probably the most important one of all when it comes to being a great college football fan.
Rule #5: Before You Break Out the Pitchforks, Remember the Coach's Body of Work
One thing that never ceases to amaze me is how quickly some fans will turn on a coach the instant a team hits a rough stretch of road. I've got two examples with Coach Niumatalolo that perfectly illustrate this.
I visited the Academy in the summer of 2012 for some refresher training in connection with my volunteer work as a Naval Academy Information Officer. One afternoon, I was at lunch with other members in my group, and the conversation turned to football.
It Helps To Know Your Facts
Coach Ken had completed his fourth year as head coach. Unfortunately the Mids finished 5-7. And the truth was that they were only about three or four plays away from being 7-5.
Anyway this one alum from the class of '60-something chimed in and said that he believed Navy would slide back into mediocrity since Paul Johnson was not the head coach any more.
I reminded him that since Johnson's departure, the Mids had beaten Army four straight years and won the CinC trophy twice. They also beat Notre Dame twice, and crushed a heavily favored Missouri team in the 2009 Texas Bowl.
So then he comes back with the line that many fans like to toss out there to show off their football IQ. He said, "Yeah, but Niumatalolo did all of that with Coach Johnson's recruits."
I could feel my blood pressure rising. But I quickly regained my composure and replied, "Maybe you'd have a point if Coach Niumatalolo had come from another school. But he coached the offensive line under Coach Johnson for six years. Who do you think was recruiting those linemen that were behind Navy finishing at or near the top in the Division 1 team rushing rankings?"
I went on to say that it was only a few unfortunate plays that kept the Mids from finishing the year with a winning record, not an exodus of talent. He didn't have much to add after that. Four years later, Coach Ken had surpassed George Welsh for most career wins at Navy and led the Mids to their first 11 win season in nearly a century.
Trust the System
But it was during the 2018 season where the torches and pitchforks really came out. We Navy faithful were discussing another lopsided defeat on our class page. And then one of my classmates said Niumatalolo should be fired.
I thought my hearing had suddenly gone bad. When, I asked him why, he said that other teams in the conference had figured out the triple option and it was time to go to something else. That's when I reminded him that Air Force had been in a conference for over 30 years and they had always been competitive with their version of the triple option. They even played for a couple of conference titles.
Then the guy went off on me for reasons I still can't explain. I asked him more than once what system he thought the Mids could run and achieve the same level of success. He never came up with one.
I could tell I wasn't getting anywhere with him. So I just said that if he really wanted to see another style of football, he might want to start following another team in addition to Navy. Because the odds on them going to another system were less than zero.
His response caught me totally off guard. The rant so bad that I had to block the guy from my feed. I wonder what he was saying last season when Navy used the triple option to post their second 11-win season in five years.
Some Final Thoughts
As fans, it's great to be along for the ride when our team is doing well. But we need to be ready to hang on whenever they veer off the road.
I would say the BYU game was the equivalent of driving off into a ditch. But there was only minor damage that can easily be fixed. So I think the Mids will be ready to take on Tulane next week.
It's not going to be an easy game by any stretch. I saw the two teams play live last year when I was back for reunion weekend, and it went right down to the wire. Bijan Nichols kicked the game-winning field goal as time expired.
But whatever the outcome, I would refer you to Rule #3 for being a great college football fan. Follow all these rules as much as possible. You'll probably reduce the stress in your life significantly. And if you don't, you'll just wind up being angry while driving everyone else around you crazy.
Until next time . . .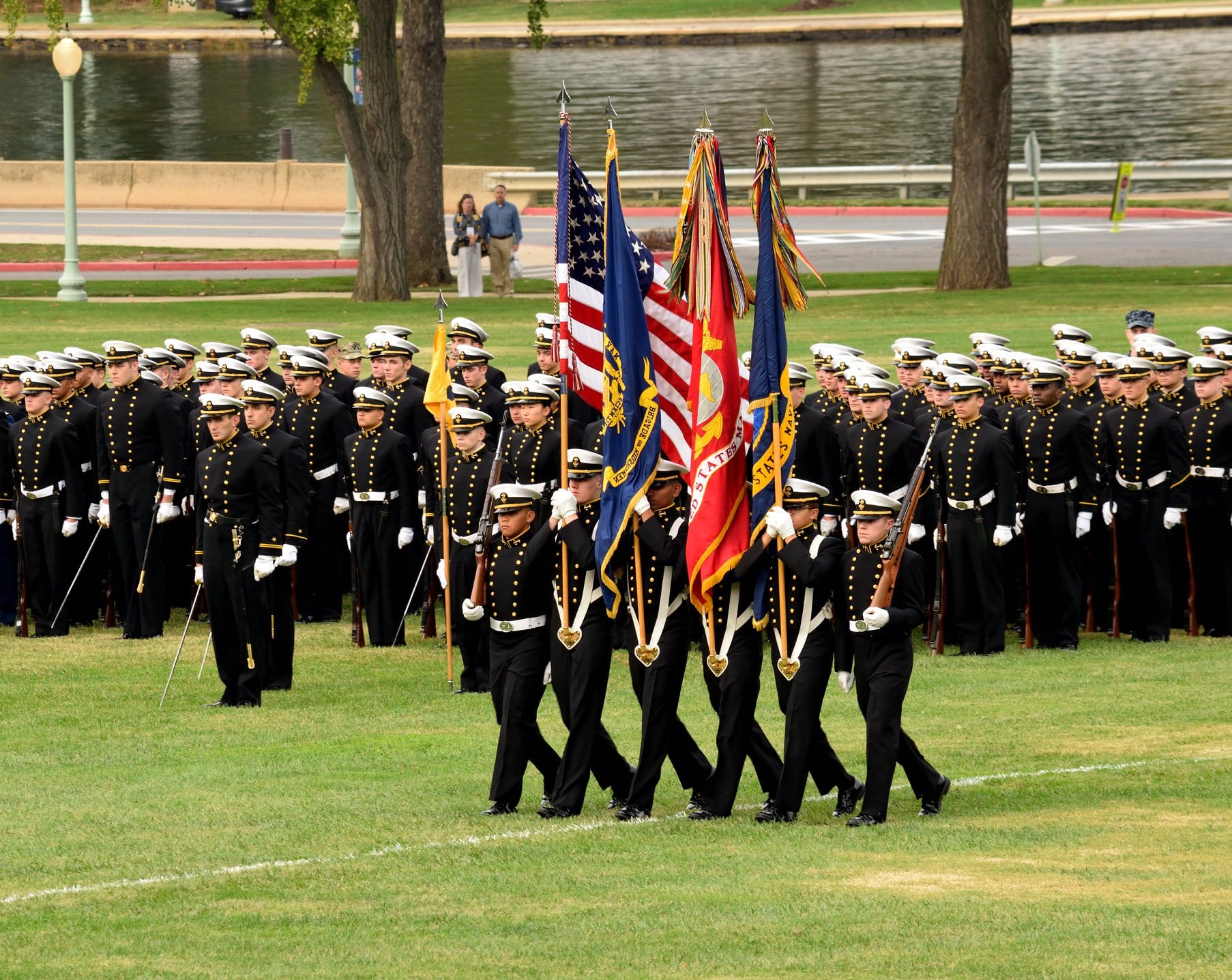 My sincere thanks to Scott Strasemeier, Senior Associate AD for Sports Information at the U.S. Naval Academy for granting permission to use images and video from the Navy Athletics media library. All photos used from this source will be properly credited in the caption. The only exception would be if the photo is used as a feature image where no caption is visible.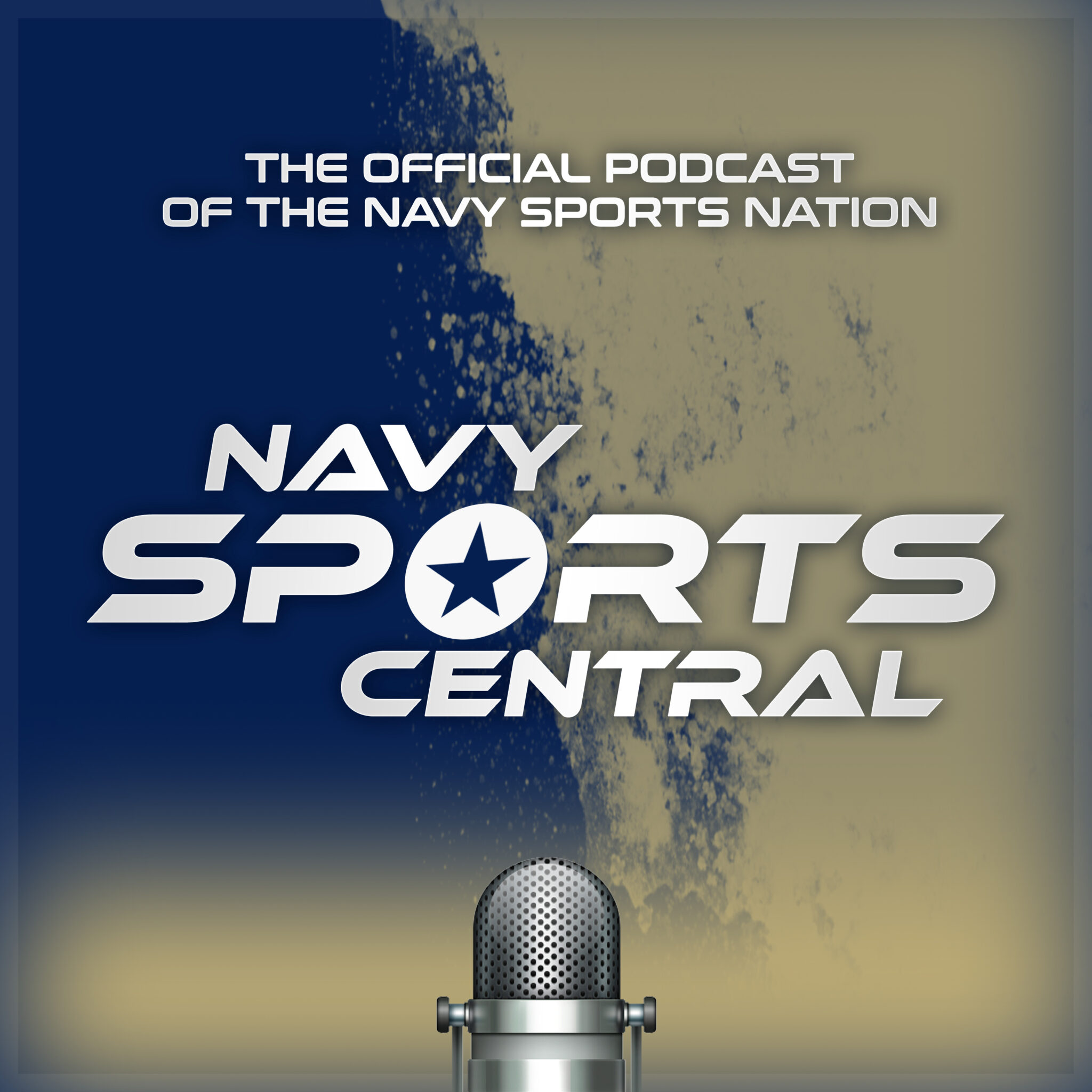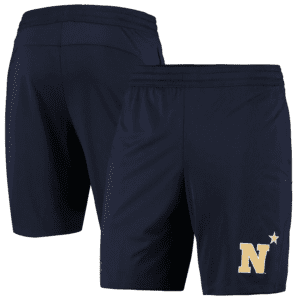 As an affiliate partner, Fanatics shares a small percentage of each sale through these links with the Navy Sports Nation which will be used to maintain the website. Thanks for your support!
Navy and St.Mary's are the only two rugby  programs in the country that have produced two Rudy Scholz Award winners. The award for the collegiate rugby player of the year was first given out in 2016.
Connor McNerney was the Naval Academy's first recipient in 2018. This year, Lewis Gray earned that honor. It was a fitting end to his outstanding career.
Click on the images to buy these two "must have" books for all Navy football fans. As an Amazon associate, I earn from qualifying purchases.
cRA Div. 1 National Championship Highlights
Karl Darden
I am a Navy veteran and a graduate of the U.S. Naval Academy. The idea to start this blog actually came from my classmates. I hope you enjoy reading this content as much as I enjoy writing it. Go Navy!! Beat Army!!