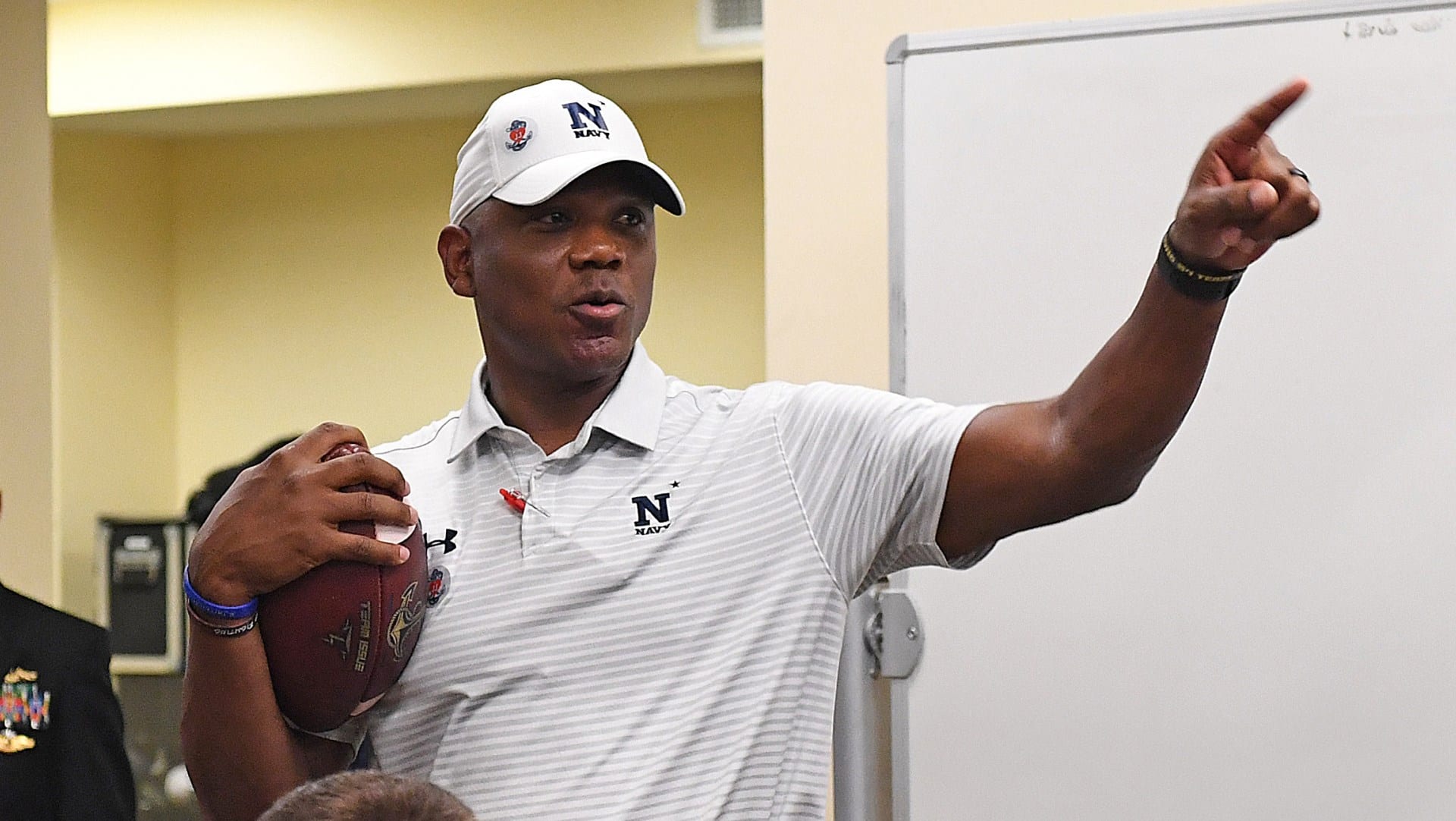 Meet the Most Underrated Offensive Coordinator in All of College Football
It was a record setting year for the Navy offense this past season. But that didn't get as much play as I thought it would. As fans, we've come to expect the triple option to ring up 300+ rushing yards and 30 or more points per game every time the Mids take the field. And for the last 12 years, they've met that standard pretty consistently because of one man in particular: offensive coordinator Ivin Jasper. So let's take some time to learn a little more about him. And when we're finished, you're going to see why he is the most underrated offensive coordinator in all of college football.
Coaching Beginnings
I don't want to spend a ton of time going over Coach Jasper's biography and resume. The last thing I want to do is turn this into a Wikipedia page. Still, it doesn't hurt to have a thumbnail sketch of how he got his start coaching.
Ivin Jasper played quarterback at the University of Hawaii from 1991-93. His offensive coordinator was Paul Johnson. After graduating, Jasper began his coaching career under Johnson. He was the running backs and quarterbacks coach at Navy when Johnson was the offensive coordinator in '95 – '96. Jasper filled the same role for his mentor while at Georgia Southern from '99 – '01. During that time, the Eagles won two 1-AA National Championships.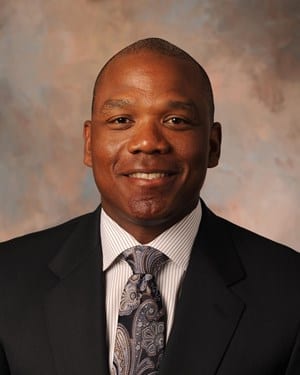 When Chet Gladchuk brought in Paul Johnson to resurrect the Navy program after the '01 season, Ivin Jasper came with him as the quarterbacks coach. He's been at Annapolis ever since. When Ken Niumatalolo took over after Coach Johnson moved on the Georgia Tech, he promoted Jasper to offensive coordinator. He also continued on as the quarterbacks coach.
So that pretty much gets you up to speed. The triple option has been part of Coach Jasper's DNA since his playing days at Hawaii. And for the last 12 seasons as offensive coordinator, he's put together some of the most dynamic and productive rushing attacks college football has ever seen.
Still Getting Overlooked
When researching this feature, I spent quite a bit of time pulling up different top offensive coordinator rankings. None of them listed Coach Jasper. And believe me, I checked a bunch of sources. The most recent ranking I dug up from the Bleacher Report was from five years ago. Nothing. Yardbarker posted one two years ago listing their top 25 coordinators. Still, nothing. It actually put Charlie Weis Jr. at #25. And it lost all credibility with me based on that. At the time the list was published, this guy had been offensive coordinator for all of one season. Clearly, he made the list partly because his name.
To be fair, Weis Jr. did wind up doing a good enough job at Florida Atlantic to get hired at USF. So I guess Navy fans will get to see just how good he is this season. But as far as I'm concerned he hasn't coached long enough to make a list of top coordinators. The body of work just isn't there.
The bottom line is that those who claim to know something about college football consistently overlook Coach Jasper on the national level. Many of these lists concentrate on the Power 5 schools. That's a pretty weak play in my book. The Yardbarker list had 24 OCs from Power 5 teams. Weis Jr. was the only one not from a Power 5 conference. No way he should be on that list at the expense of Coach Jasper. And I think I can make a pretty compelling case for why Navy's OC should be on it. So let's get started.
The Accountability Factor
Ivin Jasper is everything you want in a coach when it comes to analyzing his own performance. In fact, both he and Coach Niumatalolo are alike in one respect. They shoulder the blame when the team does not play up to standards, and they deflect credit onto the players when they perform well.
In 2016, the Mids came into Colorado Springs to play Air Force. They won their first three games with Will Worth at quarterback. He took over for starter Tago Smith, who suffered a season-ending injury the opening game.
The Falcons wound up completely shutting down the Navy rushing attack on their way to a 28-14 win. They bottled up the fullback dive and took away the perimeter also. Coach Jasper credited Air Force with devising a good game plan. He took full responsibility for not having the right scheme to counter what the offense was seeing. By taking the burden off the team, he made it easier for them to put that game behind them and prepare for the next one. So the Mids did just that and turned their focus to #6 ranked Houston.
Taking Down the Cougars
The Cougars came to Annapolis supremely confident. Their 5-0 record included a big win over #3 Oklahoma in their first game. And the truth was the Sooners were never really in that contest. So Houston had no reason to think that they would have any problem dealing with the Mids; especially when Air Force handcuffed them so effectively the previous week.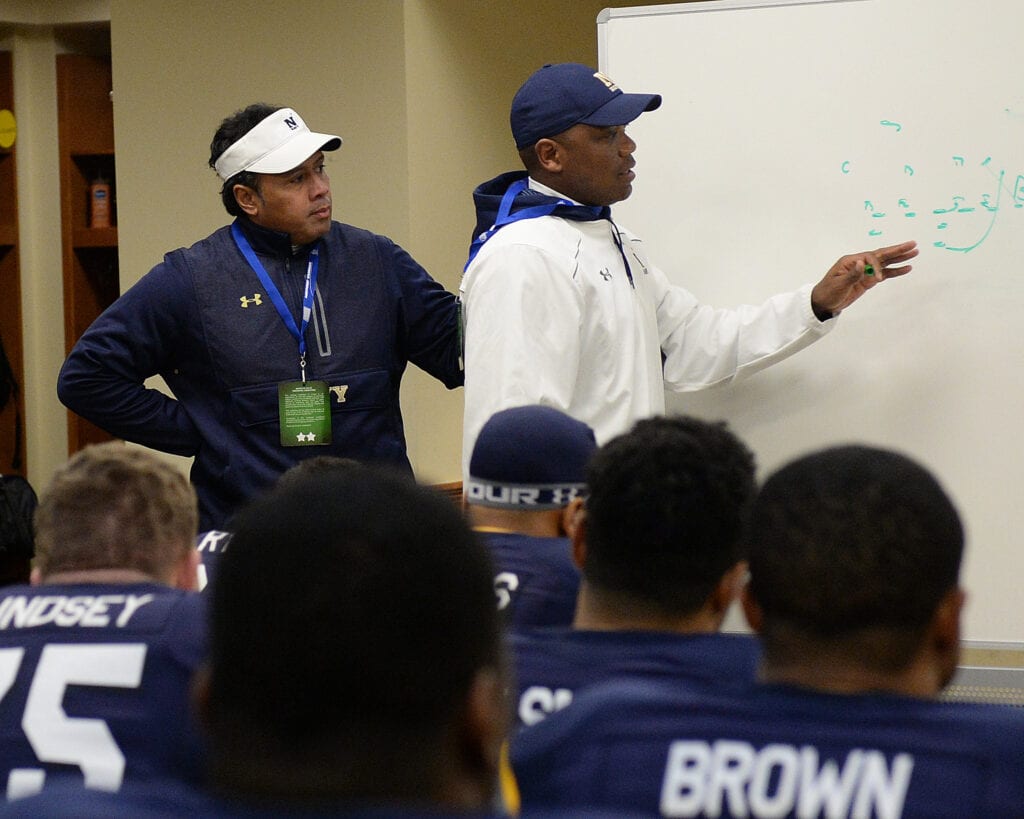 Coach Jasper had the team ready though. The Cougars had no answer for the triple option. Navy only punted twice the entire game: on their first and last possessions. The two teams went into halftime tied 20-20. Then the Mids took control of the game in the third quarter. They put up 21 points including a defensive score on their way to a 46-40 upset. It was their first win over a top ten ranked team in over 30 years.
Coach Jasper called an outstanding game. The Navy offense went on to complete another strong year. They made it all the way to the AAC Championship before injuries finally caught with them. Will Worth had a monster season, but he suffered a broken foot against Temple in the championship game. He doesn't go down, there is no doubt in my mind that Navy's winning streak against Army would have reached 15 games.
There's no question that Worth's hard work was critical to the Mids' success offensively. And his productivity can be directly tied to another key skill that makes Coach Jasper such a great offensive coordinator.
Playing to the Strengths
Coach Niumatalolo gave a virtual press conference recently. He fielded many questions including how the Mids were going to replace Malcolm Perry at quarterback. Coach Ken did say that addressing that issue was a top priority. He went on to say that he had the best quarterbacks coach in the country in Coach Jasper, so he felt pretty good about identifying the right QB to lead the Navy attack. I think Coach Ken is right. And we can look at the last dozen years or so as proof.
Ricky Dobbs
After Kaipo-Noa Kaheaku-Enhada graduated, Ricky Dobbs took over as the Navy quarterback. Unlike Kaipo-Noa, he did not come from high school that ran the triple option. So he didn't necessarily have the same instincts. But Dobbs did possess terrific play making ability. Though he didn't have breakaway speed, he could run through tackles because of his strong lower body. As a result, he averaged about four yards per carry for his career.
But Ricky Dobbs true gift was his arm. The kid could sling it better than any Navy quarterback in recent memory. So Coach Jasper made it a point to leverage that strength. And it 2010, Dobbs threw for over 1,500 yards and 13 touchdowns. There were two games in which he passed for more than 200 yards. He also had an absolutely stellar performance against Army, where he went for 186 yards and two touchdowns on just six completions. The two TDs included a 77 yard bomb that hit John Howell perfectly in stride, and 32 yard laser to Brandon Turner. The Mids won 31-17. And two years earlier, Dobbs' arm helped the Mids overcome a 20 point 4th quarter deficit against Temple. It was the largest comeback in the program's history.
Keenan Reynolds
Keenan Reynolds became the starter during his freshman year after leading the Mids to a come from behind win over Air Force. His shiftiness and above average speed gave defenses fits. Reynolds averaged almost five yards per carry for his career and holds FBS record for career touchdowns by a quarterback. He also passed the ball well enough to keep defenses honest.
But Coach Jasper recognized that Keenan Reynolds had a very good understanding of the triple option. That was his strength. So he focused Reynolds' development on building that out. He taught him how to get the offense in the right play whenever a defense made a shift before the ball was snapped. By the time he was a senior, Reynolds had the green light change the play whenever the situation called for it. Jasper said it was like having another coach right there on the field with the offense.
The results speak for themselves. The Mids won 11 games for the first time in program history, scoring nearly 37 points per game. They ranked 3rd in the country in rushing and had only eight turnovers the entire season. It was a true testament to Coach Jasper's skills, but he was far from finished.
Malcolm Perry
Immediately following Navy's third straight loss to Army in 2018, Malcolm Perry sought out Coach Jasper for a conversation. He committed to doing whatever it took to lead the offense the following year. Coach Jasper always believed Perry had the skills. It was just a matter of figuring out the best way to use them.
All through spring and fall practice, Perry worked his tail off getting a better feel for the option. He also worked on his passing skills. By the time the season started, he was fully confident running the offense. And Coach Jasper also introduced little wrinkles to open of up the field so Perry could do his thing.
The Army game serves as a great example. Perry never threw a single pass. But he went back to throw several times. Army had a pretty good secondary, but I found it hard to believe that Navy's talented receivers couldn't at least get open on a short hitch route. Towards the end of the second quarter, I realized what Coach Jasper was doing. He wasn't calling pass plays. They were basically extended quarterback draw plays. And they were designed to get Perry out in space where he was the most dangerous.
One play in particular confirmed this. Perry went back to pass. In the camera shot from behind the line of scrimmage, you could see Jamale Carothers drift about four yards downfield. He was in a perfect position to catch a check down pass. But he never looked for the ball. He was waiting to block someone. Perry then pulled the ball down and took off. Both Carothers and Myles Fells (who was on the right) delivered key blocks that sprung Perry for a 44 yard gain. Go to the 1:05:55 mark in this video and you'll see what I mean. Be sure to watch the replay. The Mids later scored on an option pass to take the lead. And they never looked back.
Coach Jasper had done it again. Navy completed another 11 win season. And Malcolm Perry became the first quarterback in FBS history to rush for over 2,000 yards. Now let's break down a third skill where I believe Coach Jasper has few peers.
Right Adjustments, Right Time
If I look at offensive coordinators as chess players, Ivin Jasper is the equivalent of a grand master. I've watched him call Navy games for the past 12 years. Now, I'll grant you that all OCs need to be good at making in-game adjustments. It comes with the territory. Any coordinator who doesn't become somewhat proficient at this won't last very long. But Coach Jasper is outstanding when it comes to making the right adjustments at the right time. He uses the defense's strengths against them. I could point to dozens of examples, But I'll use the game vs. Kansas State in the Liberty Bowl to illustrate my point.
Those of you who watched the game know it was one, tough knockdown drag out fight. The Wildcats defense was a physical as the Mids had played all year. They were strong and fast. From the start of the game, the K-State defenders did a nice job defending the fullback dive. Jamale Carothers found it to be pretty tough sledding all afternoon. Coach Jasper kept probing enough to keep them honest. But then he began working the perimeter with the slotbacks.
The Mids found some success in the third quarter on a couple of long drives. Makeaku went for 10 yards on one play. C.J. Williams broke a run for 27 yards. And Myles Fells took a pitch around the right corner for 9 yards. Unfortunately the plays on these two possessions did not lead to points (Punt, Missed FG). But Kansas State recognized that the Navy offense was getting some traction on the perimeter. So with a little over five minutes left in a tie game, they came out determined not to let the Mids beat them there.
Checkmate!
The Kansas State defense had been on the field along time in the second half. And they were getting tired. When fatigue sets in, discipline breaks down. This is when strong, fast defenses revert back to their instincts, which makes them vulnerable. With 20 seconds left in the game on 4th and 3 from the Kansas State 46 yard line, Coach Jasper made his move.
Perry took the snap, started left and pitched immediately to C.J. Williams going right. It looked like the same play Chance Warren had scored on early in the 3rd quarter. Kansas State defensive back Wayne Jones saw the play developing and quickly moved up to fill the gap where Williams would be coming. But this is where the fatigue factor affected his discipline. Jones' assignment was Chance Warren, who ran right past him as Williams pulled up and delivered a perfect pass. The 41 yard gain put Navy inside the five yard line. Click here to watch the play. It's at the 1:52:05 mark. Bijan Nichols eventually kicked the field goal to give the Mids a well-earned 20-17 win.
That play was a textbook example of what Ivin Jasper has done for 12 years as Navy's offensive coordinator. He probes for weaknesses and eventually finds one. Many times, he may not choose to exploit it right away. But sooner or later, he's going to drop the hammer; usually with a game-changing result.
Some Final Thoughts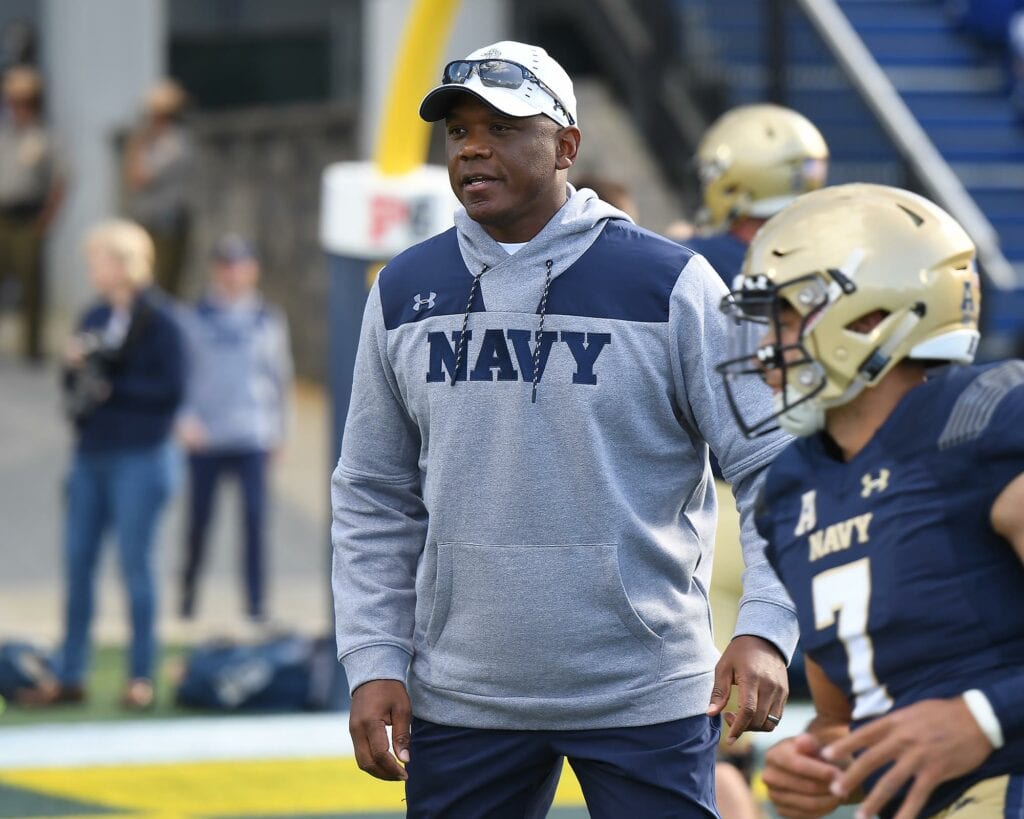 So we've discussed one character trait and two skill sets that make Ivin Jasper an exceptional offensive coordinator. Coach Jasper holds himself accountable for every play he calls. And he's one of the best at developing a game plan that fits his quarterback's strengths. Finally, he often uses the opposing defenses strengths against them when making mid-game adjustments.
I have no doubt that Coach Jasper is highly regarded among his own peers. And I'm sure that's good enough for him. But some of the talking heads out there need to get a clue. Because I don't know of any other OC out there who has been so consistent at the highest level without the benefit of dipping into a five star recruiting pool. That speaks volumes for Ivin Jasper's ability to get the very most out of his quarterbacks. If you can show me another offensive coordinator with the same track record, I'd like to meet him.
Until next time . . .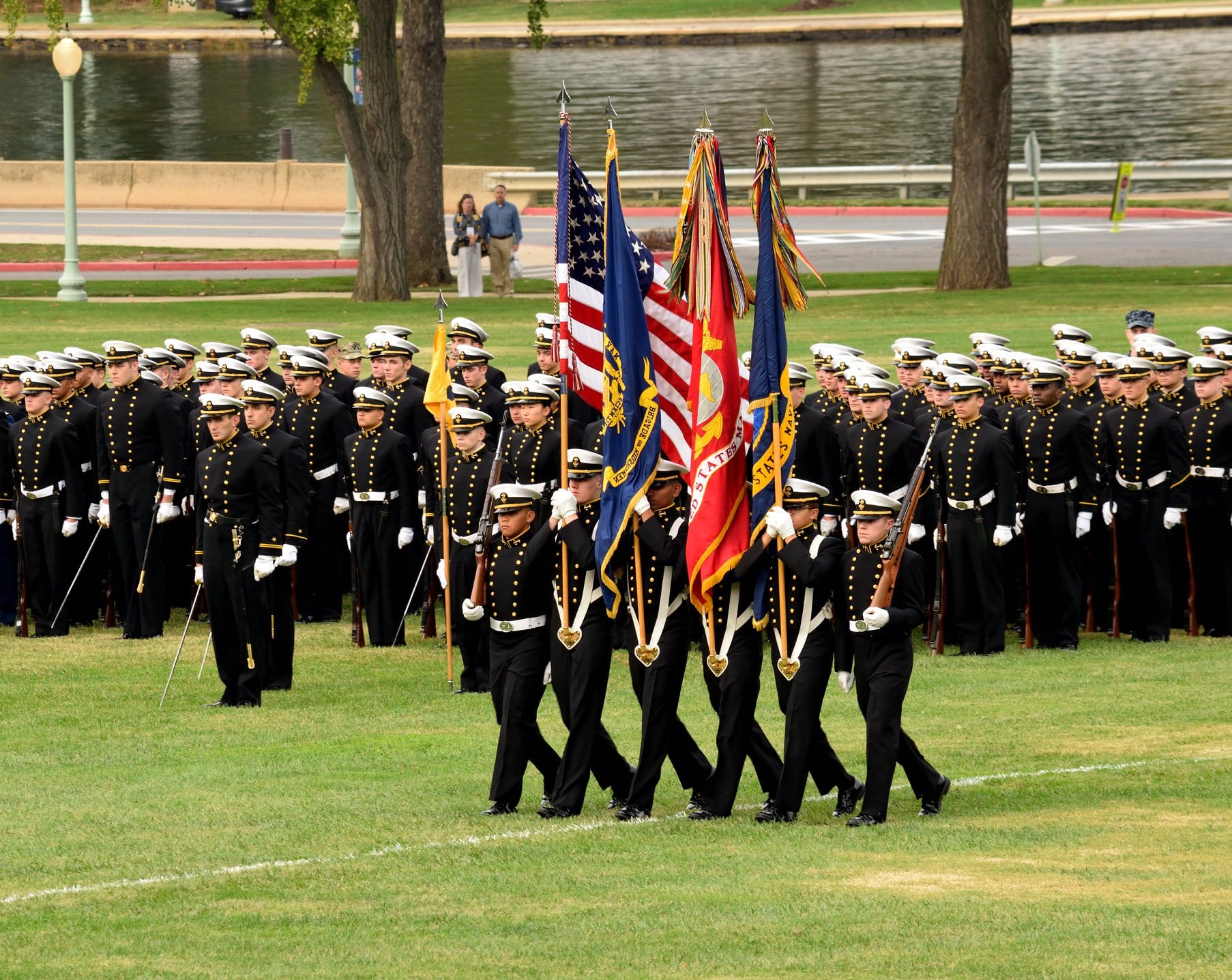 My sincere thanks to Scott Strasemeier, Senior Associate AD for Sports Information at the U.S. Naval Academy for granting permission to use images and video from the Navy Athletics media library. All photos used from this source will be properly credited in the caption. The only exception would be if the photo is used as a feature image where no caption is visible.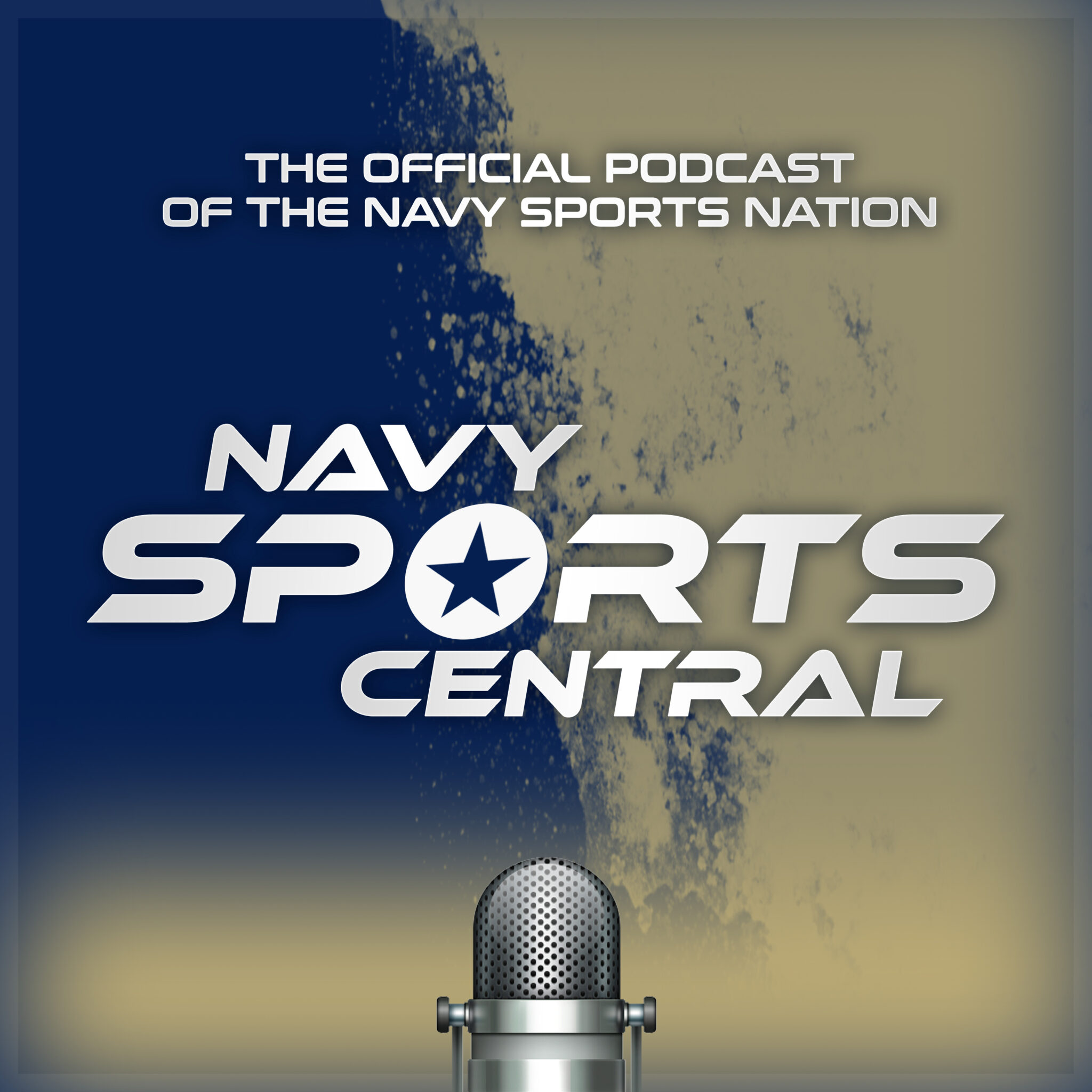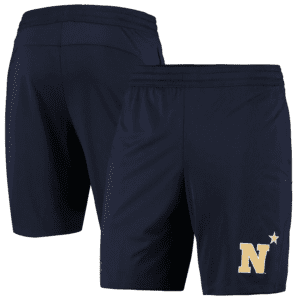 As an affiliate partner, Fanatics shares a small percentage of each sale through these links with the Navy Sports Nation which will be used to maintain the website. Thanks for your support!
Navy and St.Mary's are the only two rugby  programs in the country that have produced two Rudy Scholz Award winners. The award for the collegiate rugby player of the year was first given out in 2016.
Connor McNerney was the Naval Academy's first recipient in 2018. This year, Lewis Gray earned that honor. It was a fitting end to his outstanding career.
Click on the images to buy these two "must have" books for all Navy football fans. As an Amazon associate, I earn from qualifying purchases.
cRA Div. 1 National Championship Highlights
Karl Darden
I am a Navy veteran and a graduate of the U.S. Naval Academy. The idea to start this blog actually came from my classmates. I hope you enjoy reading this content as much as I enjoy writing it. Go Navy!! Beat Army!!