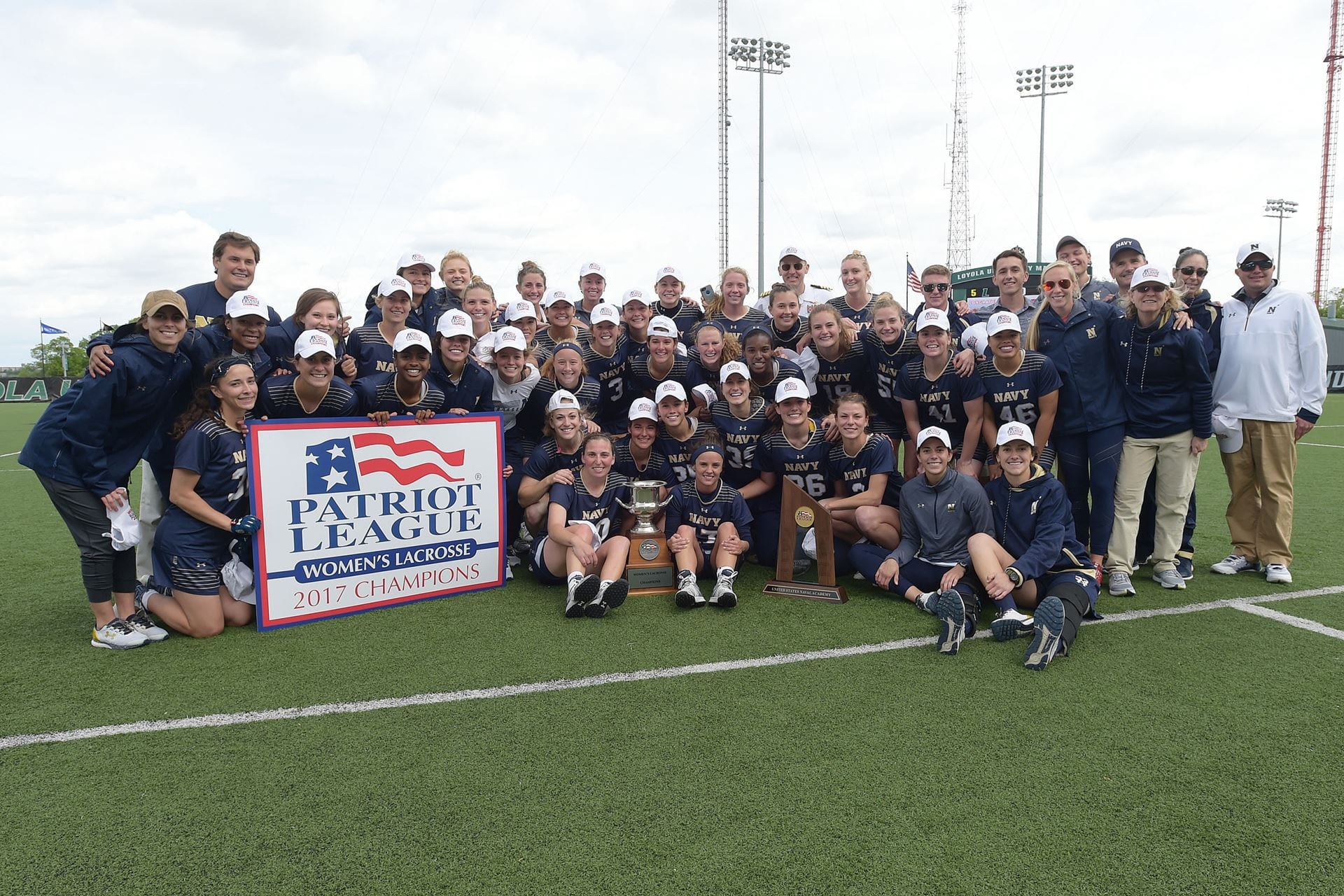 Navy Sports Nation Rewind: The 2017 Navy Women's Lacrosse Team and Their Memorable Run to the Final Four
In 2006, the Naval Academy added lacrosse as its newest women's sport. And it was pretty clear from the very beginning that Athletic Director Chet Gladchuk was going all in with this program. You didn't have to go any further than his choice to coach the team to figure that out. Gladchuk wasn't satisfied with picking just anyone to get things up and running. He went out and hired a legend. And on August 5, 2006 Cindy Timchal became the first head coach of the Navy Women's Lacrosse team.
A Legend Comes To Annapolis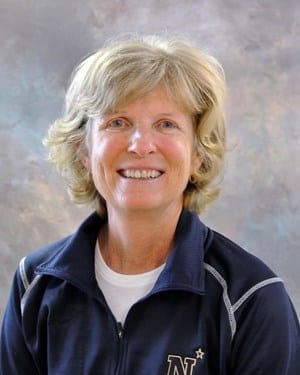 Timchal had previously coached at Northwestern from 1982-1991. From there, she took over the program at Maryland. At both of those stops, she wasted no time in getting the team on a championship footing. Timchal took Northwestern to an NCCA Tournament appearance in just her second year. By the time she left, the Wildcats had made the tournament four more times, and Timchal had compiled an impressive 76-40 record. But she was only just getting started.
It was 1991, and Maryland's lacrosse program needed a jump start in a big way. Their women's team was a recognized powerhouse, but it only had one championship in 1986 to show for it. That changed in a hurry after Timchal arrived. In her very first year as coach, she took the Terps to the NCAA Finals before losing to Virginia. Then in 1992, Maryland won their first of eight NCAA Championships. What followed was just plain ridiculous. The Terps won a remarkable seven titles in a row from 1995 to 2001. And if that wasn't dominating enough, four of those teams went undefeated ('95, '96, '99, and'01). It's no wonder that Gladchuk had Coach Timchal in his sights when he went looking for someone to get Navy's program off the ground. Not only did she get results; she got them very quickly.
The Early Years At Navy
The Mids competed as a club team in 2007 in what was called a transition year. They played a mix of club and Division 1 teams during that season. And on April 3rd, they rung up their first win against a D1 program when they defeated Howard University. The following year, the Navy Women's Lacrosse team finished their first season in Division 1 with a 13-4 record while tying for third in the league. In 2009, they took another step forward by making it to the final of the Patriot League tournament. After that, they were off to the races.
From 2010 to 2013, the Mids won four consecutive Patriot League titles and racked up 69 wins against only 15 losses. In just two seasons, they had made their presence felt across the league. And by the end of their sixth, they were unquestionably its most dominant force. But all that changed when Loyola joined the Patriot League in 2014.
The Greyhounds Take Over
The Loyola coach was Jen Adams, who just happened to play for Timchal when she was at Maryland. Adams represented one of many branches on the Timchal coaching tree. She proved to be a pretty quick learner because as soon as Loyola became part of the Patriot League, they took it over like a bully takes over a school yard.
Loyola won three consecutive PL titles from 2014 – 2016, a run that included an amazing 25 straight victories over league opponents. It's not that the Mids had taken a step back. They won 19 league games over that same stretch. But they just couldn't get past the Greyhounds. So Coach Timchal went looking for answers. It turns out that she didn't have too go far to find one of them. Her name was Kelly Larkin from Alexandria VA, and she was one of the best lacrosse players in the country.
Larkin Leads The Charge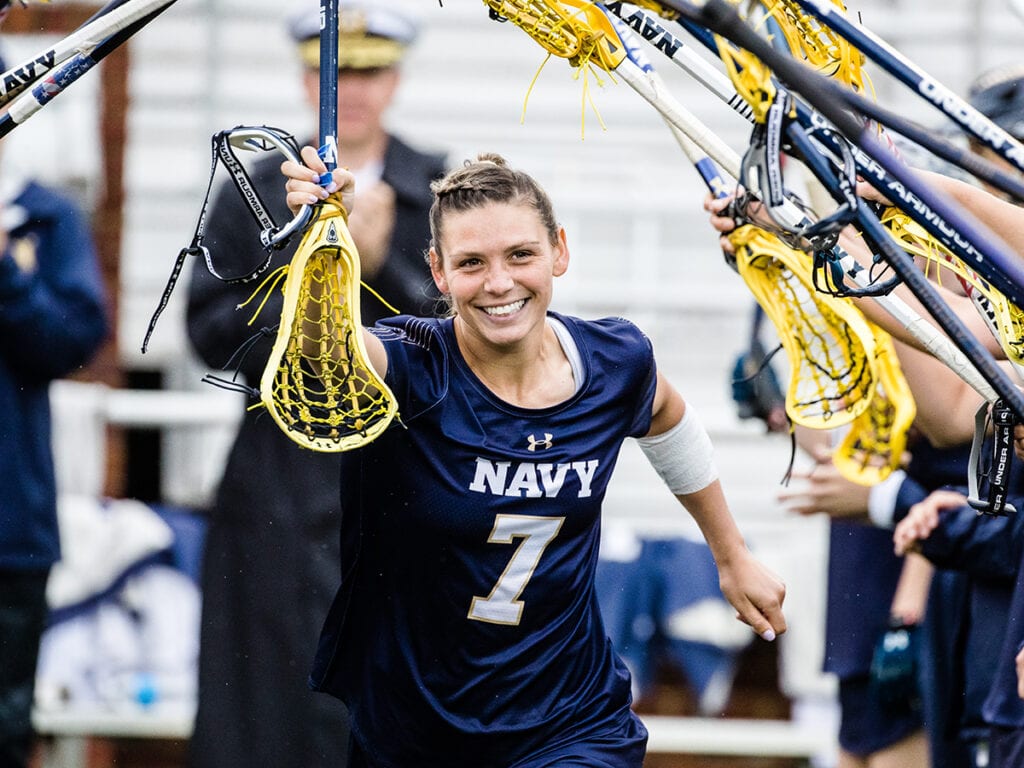 Most freshmen take a little time to work their way into the starting lineup. But Larkin had an immediate impact. She started all 23 games at Attacker, led the team in assists (54) and finished second in goals (54) in her first year. Fellow Attackers Morgan Young (senior), and Julia Collins (junior), Midfielders Kayla Harris (freshman), Meg O'Donnell (sophomore) and Jenna Collins (junior, and Julia's twin sister) played pivotal roles in leading the team to an 8-1 league record.
And guess which team gave them the one loss? That's right: Loyola. The Greyhounds handed the Mids a 13-9 setback on the way to finishing undefeated in the league for the fourth straight year. Navy did beat Lehigh in the Patriot League tournament to make the finals for the third season in a row. But there was three-time defending champion Loyola, waiting for them like a bully in the school yard, ready to take their lunch money again. Only this time, the Mids were having none of it.
The Beat Down In Baltimore
Navy had squared off with the Greyhounds on two previous occasions in the Patriot League Championship and come up short both times. But this game had a different feel from the very beginning. The Mids came out playing very aggressively. They scooped up twice as many ground balls and ended up taking 34 shots compared to just 17 for Loyola. By halftime, they were sitting on a 7-2 advantage. Young, O'Donnell, Larkin and both Collins sisters found the back of the net to stake the team to that five goal lead.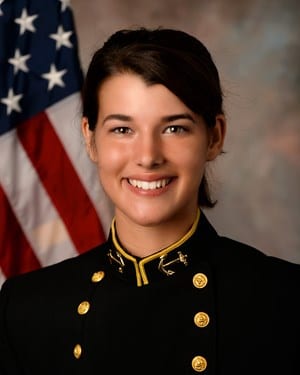 It was more of the same in the second half. The Mids defense forced 8 turnovers and put the clamps on a Greyhounds offense that averaged over 13 goals a game. Jenna Collins finished with 8 points (5 goals, 3 assists) while Larkin was right behind her with 6 (2 goals, and a team leading 4 assists). Navy dominated Loyola in every phase of the game and absolutely beat the brakes off of them by a 15-5 score. In doing so, they snapped the Greyhounds 41 game winning streak against Patriot League opponents and won their 5th championship in 10 years. Now it was on to the NCAA tournament where they faced another new set of challenges.
Navy's Unforgettable Run
Navy took on #7 ranked Penn in the first round. It was a pretty tall order. Though the Mids typically played ranked opponents tough, they had not yet put one in the win column. But things came together against the Quakers. Sophomore Andie O'Sullivan scored four goals, Jenna & Julia Collins combined for five, and Larkin chipped in with one to go along with two assists. The team used a 4-0 run to build a 10-6 lead in the second half and hung on for an 11-10 win to advance to the second round.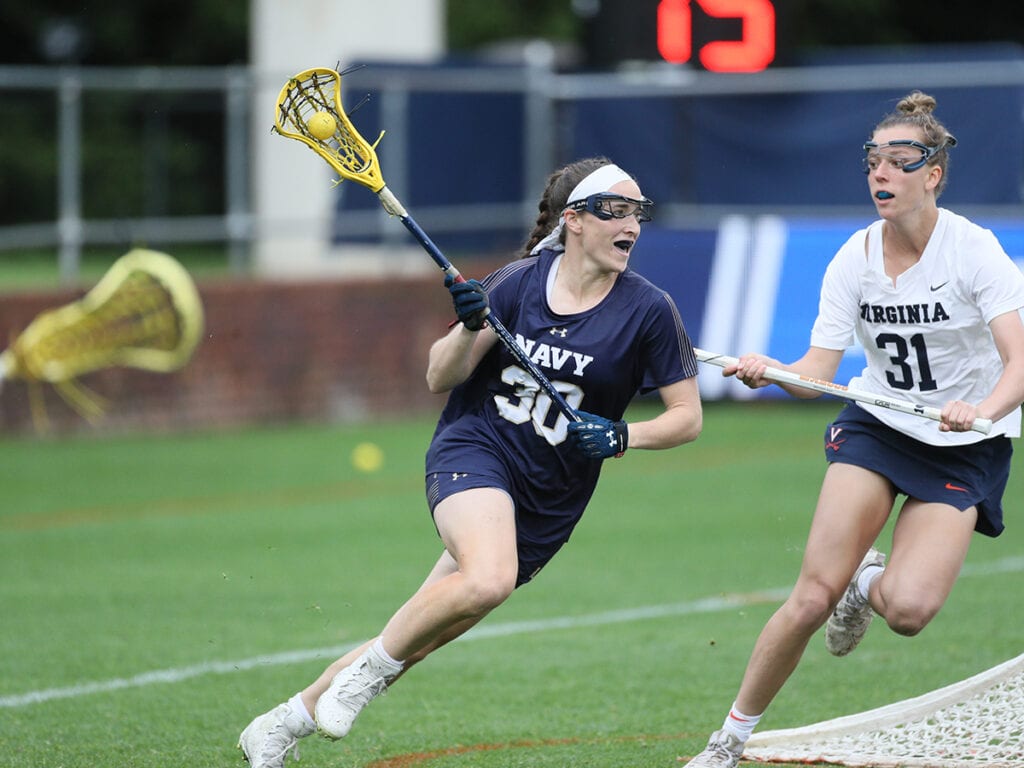 UMass was next. The Mids used the positive momentum from the Penn game to steamroll their way to a 23-11 victory. Five players scored a hat trick, including Larkin. She also tacked on 6 assists to finish with 9 total points. The offense was firing on all cylinders, and the team headed into the quarterfinals with a full head of steam. Coach Timchal credited her coaching staff with what she called a great win for the entire program. But now it was time for rubber to meet the road. That's because Navy's opponent in the Elite 8 would be the #2 ranked and defending champion University of North Carolina Tarheels.
Bound for Tobacco Road
The Mids were clearly in uncharted waters as they prepared for their showdown against UNC in Chapel Hill. It didn't matter though. The team was playing with a lot of confidence, and they had proven themselves to be very resilient all year. Every time a big play was needed, one of the usual suspects stepped up and answered the bell. This game was no exception. Larkin led the way with 6 points (4 goals, 2 assists) and Jenna Collins came through with 5 (3 goals, 2 assists). The game was a battle from the opening draw. The Mids found themselves down 13-10 early in the second half. They rallied to tie the score using goals from Larkin and the Collins sisters, but then fell behind again 14-13 when the Tarheels netted a goal with about 13 minutes to go in the game.
From there, Navy slammed the door. O'Donnell scored with just over six minutes to go to give them the lead that they would never give up. Morgan added an empty net goal, and when the final horn sounded, the Mids had earned a historic, program – defining win, 16-14. They had punched their ticket to the Final Four and a date with Boston College. In doing so, they became the first women's sport at Navy to qualify for an NCAA semi-final. You can read the complete recap of the thrilling win over UNC here.
An Early End to the Dance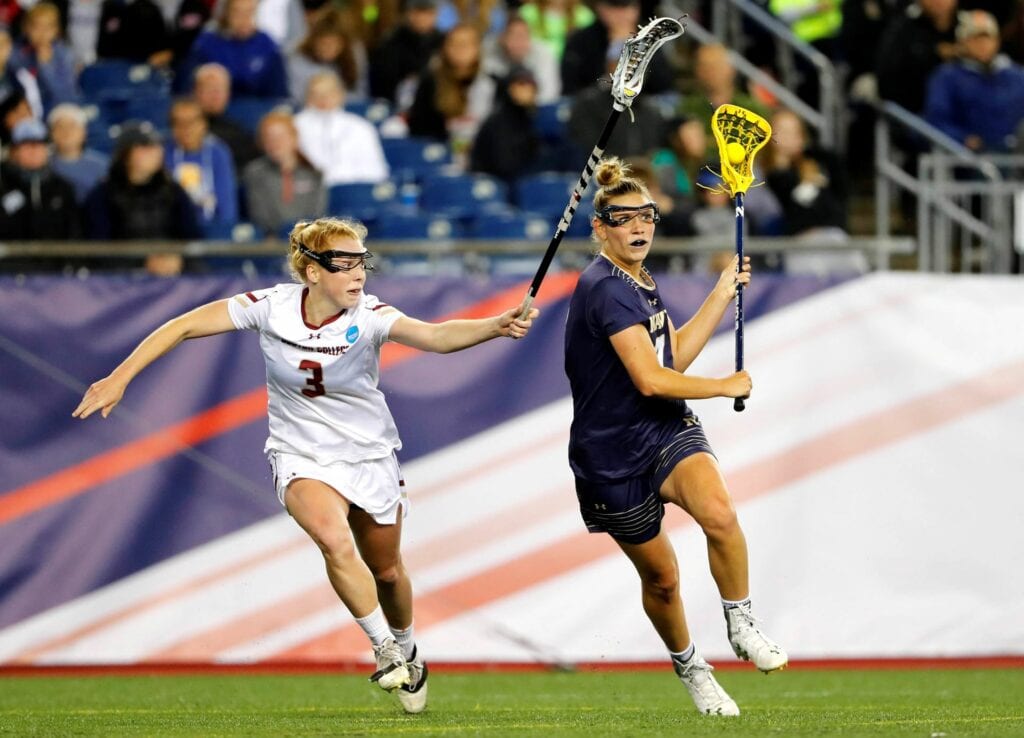 The Mids traveled to Boston the following week for another battle with Boston College. The Eagles had knocked them off earlier in the year by a 20-11 score. But that was nearly three months before. Navy was playing some great lacrosse and showed no signs of letting up. The team came out swinging behind two goals from Larkin and Jenna Collins while Kayla Harris added another. By halftime, they had opened up a 9-6 lead.
But Boston College had just a little too much in the second half. They scored six straight goals to take the lead for good. Jenna Collins did score with a little over a minute left to get the Mids within one at 16-15. But BC won the draw and ran out the clock to secure the win.
A Tough Finish . . .
It wasn't the way they wanted the year to end, but under Coach Timchal and her staff, the Navy Women's Lacrosse team had grabbed some of the national spotlight. They finished the season ranked 6th in the country. Kelly Larkin and Julia Collins were named to the Final Four All Tournament team, and the program was clearly on a strong upward trajectory.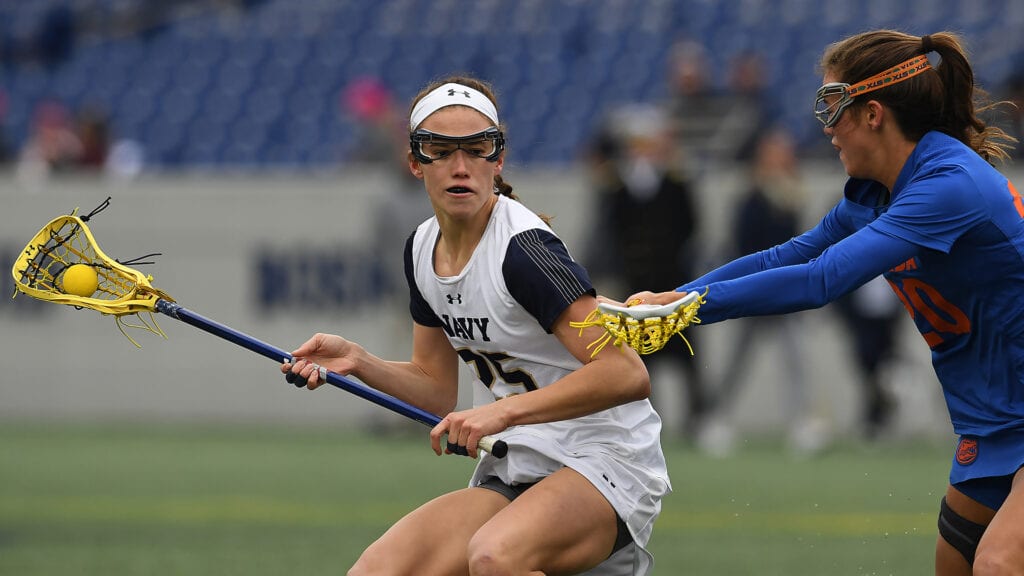 Since that memorable run to the Final Four, the Navy Women continued to excel. They returned to the NCAA Tournament in each of the next two seasons. And this spring, expectations ran high that the Mids would make another deep run. Of course, we all know what happened next.
To that point, I wanted to take a minute to recognize the six seniors from the Class of 2020 who sacrificed so much to keep moving the program forward: Natalie Irwin (Midfielder), Annalise Heyward (Midfielder), Caitlin Blanche (Attacker), Carley Seekamp (Attacker), and of course, Kayla Harris and Kelly Larkin. Had the season not been cut short, Larkin was set to completely re-write the Navy record books. The four time All-American had already set the school and Patriot League records for points (376) and assists (177). And six games into the season, she was on track to become the first player in NCAA history to record four 100 point seasons. But what mattered most was a final season together with her teammates and another potential Final Four run.
. . . But a Bright Future
Just like the Navy Men's Lacrosse team, these women have to deal with the frustration of their season suddenly ending. But these seniors can feel proud of their legacy. Their resume includes three NCAA Tournament appearances and that amazing trip to the Final Four in 2017. They leave behind not just a winning culture, but a championship culture. Coach Timchal continues to attract top flight talent to Annapolis. She believes that there is national championship in Navy's future. And based on her Hall of Fame track record, I'm inclined to think she's right.
Until next time . . .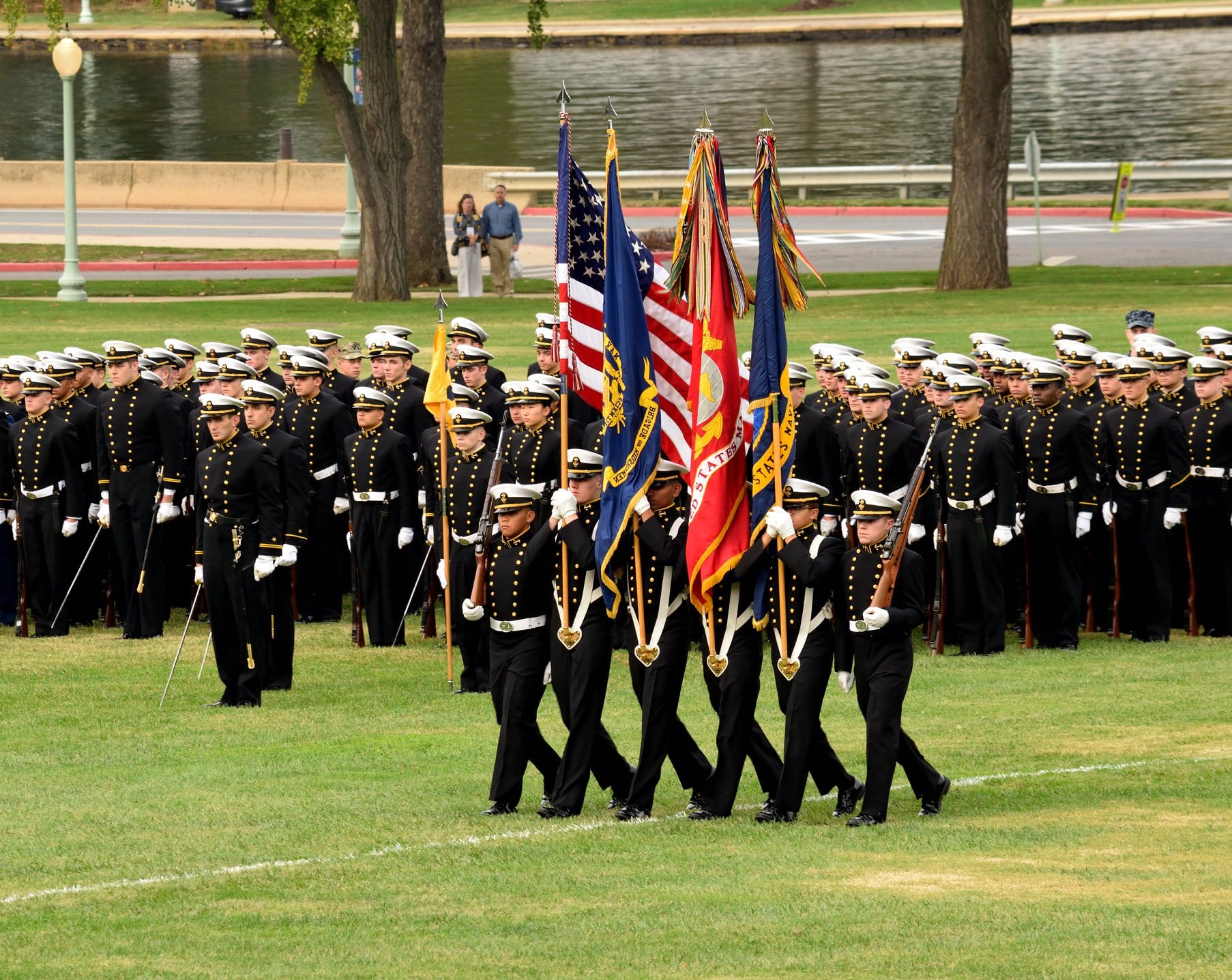 My sincere thanks to Scott Strasemeier, Senior Associate AD for Sports Information at the U.S. Naval Academy for granting permission to use images and video from the Navy Athletics media library. All photos used from this source will be properly credited in the caption. The only exception would be if the photo is used as a feature image where no caption is visible.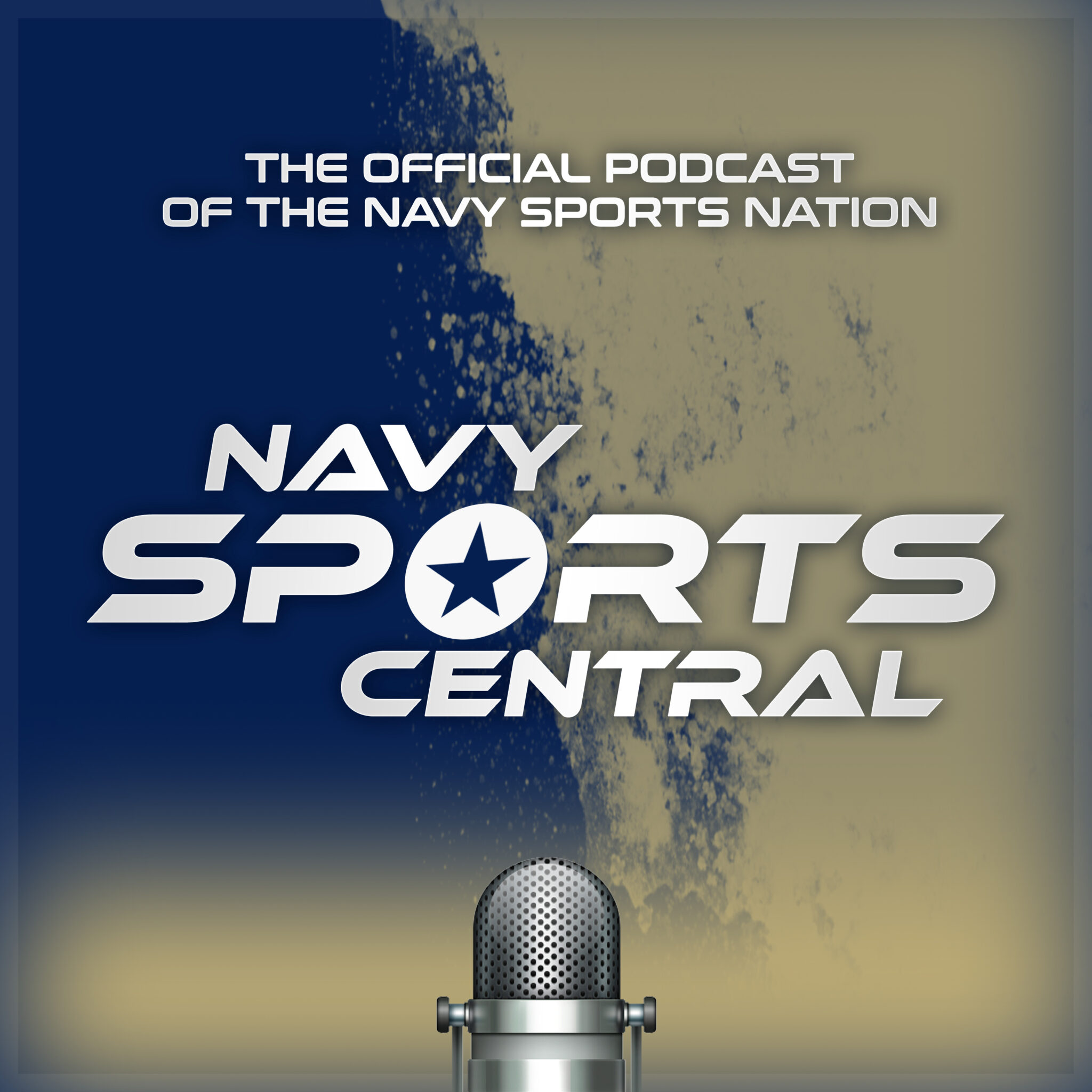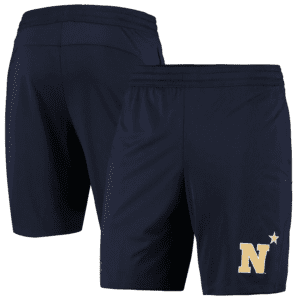 As an affiliate partner, Fanatics shares a small percentage of each sale through these links with the Navy Sports Nation which will be used to maintain the website. Thanks for your support!
Navy and St.Mary's are the only two rugby  programs in the country that have produced two Rudy Scholz Award winners. The award for the collegiate rugby player of the year was first given out in 2016.
Connor McNerney was the Naval Academy's first recipient in 2018. This year, Lewis Gray earned that honor. It was a fitting end to his outstanding career.
Click on the images to buy these two "must have" books for all Navy football fans. As an Amazon associate, I earn from qualifying purchases.
cRA Div. 1 National Championship Highlights
Karl Darden
I am a Navy veteran and a graduate of the U.S. Naval Academy. The idea to start this blog actually came from my classmates. I hope you enjoy reading this content as much as I enjoy writing it. Go Navy!! Beat Army!!