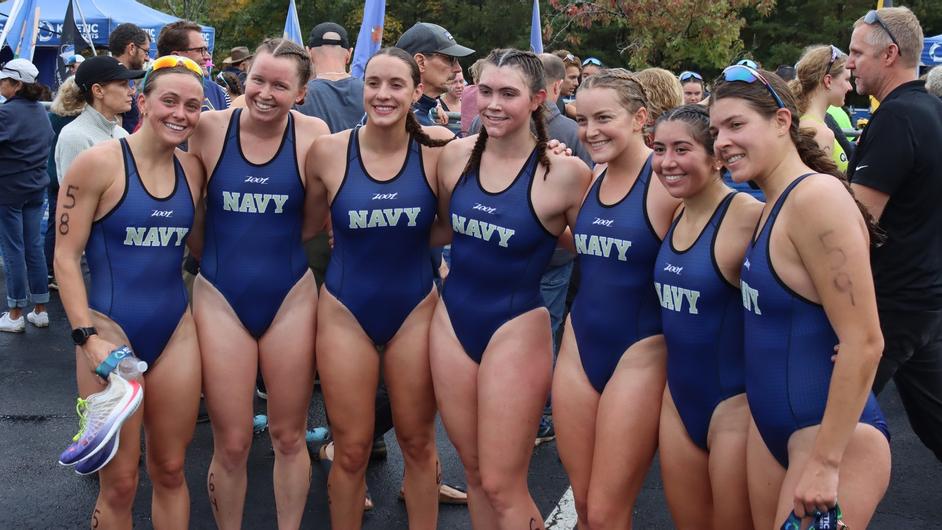 Navy's Magnificent Seven: Behind the Scenes with the Women's Triathlon Team
This past August, coach Billy Edwards of the Navy Women's Triathlon team joined me on the Navy Sports Central podcast. Their sport had just transitioned from club to varsity status, just like rugby did last year. That gave the Naval Academy a total of 36, tying them with Ohio State and Stanford for the most in NCAA Division One.
Coach Edwards and I had a great discussion about how the sport of triathlon has grown in popularity, especially at the collegiate level.  During the course of our conversation, I learned that the NCAA Championships for the sport would take place in Tempe, AZ on the Veteran's Day weekend. Seeing how I lived only 30 minutes across town, I made a note in my calendar to come out and watch.
After a follow up discussion with Coach Edwards, we thought it would be even better to have a conversation with the entire team.  It was a chance to get to know the athletes up close and personal . . . a chance to tell their stories. This is my attempt to do just that.
In the Beginning . . .
Triathlon was not a sport at the Naval Academy when I was there. In fact, I didn't know it had a club team until 10 years ago. My sophomore year roommate invited me to run in a Ragnar Relay up in Seattle, WA. One of the 12 team members was a recent Navy grad. She competed on the club team, which got its start at the Academy in 1992. It was (and still is) co-ed.
From the early '90s through roughly 2012, the sport's popularity grew steadily. After that, it really took off, particularly on the women's side. Major universities like Arizona State, Denver and San Francisco soon made women's triathlon a varsity sport. And with the addition of Navy last March, that number now stands at 42 teams across all three divisions.
Success at the Club Level
Billy Edwards took over as the coach of the club triathlon team in 2007. He graduated from the Naval Academy in 2000, and ran both track and cross country. After serving six years in the Marine Corps, he competed as a professional triathlete for five years while coaching at Annapolis.
During his 15 years coaching the club team, Edwards put together quite an impressive resume. For starters, his teams finished in the top five nationally 14 times. The club also won two overall national championships in 2009 and 2018. Edwards has also won three men's team championships to go along with a women's team title in 2011. Finally, he coached two Mids to individual championships in 2018.
That kind of consistent winning established a strong culture among all the athletes. And it's something the women brought with them when they made the jump to varsity status this year. So even though Coach Edwards began his 16th year heading into uncharted territory, the seven triathletes he selected for Navy's first varsity Women's Triathlon team provided a strong foundation on which to build upon.
Season One Recap
The Mids inaugural season consisted of four events followed by the NCAA East Regional Qualifier. A good result there meant the team had successfully punched their ticket to nationals. After all the preseason preparation, the team headed to North Carolina for their first ever varsity event.
The Wingate Super Sprint Kickoff
Hosted by Wingate University (just outside of Charlotte, NC), this wasn't your standard swim-bike-run triathlon. The event was held on campus on Labor Day Weekend. And there was no lake or anything to do the swimming leg. So the four teams (Wingate, Navy, Emmanuel, and Newberry) went with a run-bike-run format.
The Mids finished a strong second, led by Haley Harris. She earned 21 points to come in 5th overall. Maddie Klippenstein, Sara Jarman and Zoe Adama were right behind her. They posted 6th, 7th, and 8th place finishes, giving the Mids four out of the top 10 spots.
They wouldn't have much time between races though. The next one was in Beaver Falls, PA just six days later.
The Duquesne Collegiate Cup
Duquesne University's women were competing as a varsity program for the first time as well. And they did a nice job as hosts. The only thing they couldn't control was the weather. Rain was a factor, with the wet roads creating some challenging conditions during the bike phase. Emely Vela wound up crashing on the second loop, but battled back to finish 32nd together with Adama (33rd) and sophomore Anna Wekluk (34th).
Harris once again posted the Mids top finish. Her time of 1:05:17 was good for 12th among the 78 triathletes who finished the race. As a team, the Mids came in 5th out of the 13 that entered. So it was a solid showing against some great competition in their first true sprint event of the season.
The Giant Acorn Collegiate Cup
There were 16 teams entered in this race, which took place two weeks later. Coach Edwards noted that the team performed at or very near to their individual potential. It was apparent that they felt more comfortable with each passing event. Haley Harris cracked the top 10 for the first time  in a sprint tri with an 8th place finish. She had the fourth fastest swim and fifth fastest run. Her overall time of 1:12:47 earned the team 83 points.
Sara Jarman put together a strong showing in all three legs to finish 21st overall. A solid 22nd best time in the bike and the run got her there. She picked up 70 points for her efforts.
Anna Wekluk was twelve spots behind Jarman. She turned in very impressive time of 10:28 in the swim (8th overall). Then she battled hard in the bike and run to finish 33rd , adding another 59 points to the Mids total.
Emely Vela (38th /54 points) and Maddie Klippenstein (39th / 53 points) rounded out the scoring for the Mids. They finished a strong 6th out of the 16 teams. A total of 86 triathletes completed the race.
The Waterman Sprint Triathlon
The women's triathlon team finished the regular season strong in Rock Hall, MD. Haley Harris not only made the podium, but finished first overall. She had the fastest swim and run time, while finishing just 9 seconds off the best bike time. That belonged to Anna Wekluk. She came in second overall, and Sara Jarman joined them on the podium in third place.
Maddie Klippenstein and Emely Vela accounted for the rest of the scoring for the Mids, giving them 128 total points. Now the team had some nice momentum going into the all important regional qualifier. For that, they traveled to Huddleston, VA, about 140 miles west of Richmond.
East Regional Qualifier
Collectively, this was the teams strongest effort in terms of overall points. The Mids finished 6th overall in a field of 20 schools. That was one place better than their #7 seed going into the event.
Harris led the way once again. She completed the race in just under an hour, which earned her a 13th place finish. Coach Edwards noted that everyone had a solid swim to get things started. And just about all of them improved on their position in the run.
Jarman (23rd) used a strong swim and an excellent run to make the top 25. Vela also posted a very good run time that helped her finish 31st overall. All told, five team members finished in the top 50. Unfortunately, Reagan Quilty did not finish due to a knee injury she had been dealing with the entire season. And this wasn't just a little sprain. I'm talking about a torn ACL. I'll get back to that later.
Championship Weekend: Meeting the Mids
Based on their score at the regional qualifier, the team earned a trip to the NCAA Championships as a 12th seed.  It also got them the final spot in the faster heat, scheduled to take place at 2:15 PM on Veteran's Day.
Going off of his suggestion when we did the podcast in August. I reached out to Coach Edwards and arranged to sit down with the team as a lead in to the championships. He got back to me, stating that Friday, the 10th at 9:00 AM would be the best time.
During the first two and a half years of hosting the Navy Sports Central podcast, all of my interviews had been conducted remotely. Not only was this my first in person interview, it was also the first time I'd sat down with more than two people.
That meant I needed to add some new audio gear so I could do a quality recording using just my phone. I won't bore you with the details. Suffice it to say that I found what I needed, and it wasn't the least bit complicated to set up.
So at the appointed time, Coach Edwards, Assistant Coach Alli LaRochelle and all seven members of the Navy Women's Triathlon team joined me for a conversation. You can find a link to the episode in the right side bar. I encourage all of you to listen to it. In fact, that is my expectation. These are some outstanding athletes and future leaders and you'd be doing yourselves a disservice if you didn't hear from them directly. Here are some of my key takeaways.
Takeaway #1: They Are Super Passionate About Their Sport
It was pretty clear to me from the outset that this team loves to compete at triathlon. I heard that passion come through in some form throughout our discussion. They aren't out there just to check the box on a workout. They practice with a purpose and no detail is too small. It's no wonder they have taken such a huge leap forward in their first season as a varsity program.
Takeaway #2: They Compete Hard Against Other Teams and Each Other
Haley Harris made it very clear regarding how she and her teammates would handle the competition during the bike phase of the race. These events are draft legal, which means (particularly during the bike), teammates and even competitors can work together to improve their position. Haley was very specific when she described how the team practices drafting scenarios for different situations. I got the sense that if all seven of them finished the swim at roughly the same time, their opponents would be in a world of hurt in the bike phase.
She also spoke to how much the team's internal competitive drive serves to positively motivate each other. One remark I found especially funny was the emergence of a new teammate named "Hanna". If you want to learn what that's all about, you'll have to check out the podcast.
Takeaway #3: They Are An Extremely Close-Knit Group
This didn't come as a big surprise to me. I picked up on that vibe as soon as the team came into the room. Just listening to the banter going back and forth as I was setting up told me that they had a great relationship with each other and their coaches. And when you compete in that kind of environment, it is very rewarding.
Reagan Quilty and Sara Jarman are seniors, so they will be moving on after graduation. But there is no doubt in my mind that the rest of the team will carry on the culture they've established together. More importantly, they'll instill it in the new team members that join them next fall.
Race Day!
I ran a lot of distance races between 2006 and 2013. Make no mistake, I wasn't going to be breaking any age group records. But I did train pretty seriously. Going into every race, I always obsessed over the weather conditions. So that was the first thing I checked the night before the triathlon championships.
It turns out that the temperatures were fairly race friendly . . . in the morning, that is. The forecast showed them staying below 65 degrees up to about 10:00 AM. The only problem was that the Mids were racing in the last heat of the day. The 2:15 start time meant that the mercury would likely be hitting the projected high of 81 degrees by the time the athletes hit the water for the swim.
That was unseasonably warm for November, even in the desert. But it's not something the athletes hadn't dealt with before, so it was just a matter of preparing themselves mentally.
My Race Analyst
After I released the podcast episode with Coach Edwards in August. I got a nice message from Reagan mom, Karen. She and her husband Chris planned to travel to Tempe for the championships and said it would be nice to connect. So we decided on a time and place to meet up before things got started.
This turned out to be a huge bonus. Karen coaches triathletes at the youth level. In fact, she coached Reagan from a very early age all the way through high school. So it was pretty cool getting her perspective throughout the race. She knew the course layout, and walked me through typical strategies in each part of the race. I also got a very detailed breakdown of how much of an impact drafting has when the athletes work together well. These were some terrific insights that I can always think back on when watching future races.
Then Karen shared some news that was very tough to hear. She said Reagan woke up with a temperature of 103 degrees. I couldn't believe it. Whatever bug she picked up came on suddenly because she showed no signs of coming down with anything during our interview.
I was so disappointed for her. She'd managed her way through the season with a torn ACL. Now she had to deal with this body blow. It meant not even getting to the starting line to have  a chance to compete in the championships with her teammates. At least that's what I thought. Karen told me Reagan still planned to give it a shot . . .  which completely blew me away.
The Swim
Most triathlons begin with all the swimmers lined up on the shoreline. When the horn sounds, they all go charging forward and launch themselves into the water. It can get pretty chaotic.
The race officials decided against this kind of start for the championships. This was because the Tempe Town Lake shoreline was very uneven. In one place, it jutted out a good 8-10 yards. This amounted to the swimmers lined up there getting a significant head start. So all the athletes started the swim in the water. They held onto a line and treaded water until the horn sounded. And then off they went.
Haley and Anna both swam very well.  They usually come out of the water in that order, but this time it was the reverse. Anna posted a time of 10:40, which was 26th overall out of the 101 athletes competing in that fastest heat. Haley finished the swim in 11:07 putting her roughly in the middle of the pack heading into the bike transition. After her came Sara, Emely, Maddie, Zoe, and Reagan
The Bike
I was following Karen's lead as far as getting to good places on the course to watch and take photos. And I got a great running commentary on what the athletes were trying to do in the bike phase. For example, she pointed out that lone cyclists would try their best to catch up to even a small pack of riders in front of them. That way, they could pull each other along in an attempt to chase down the leaders.
Karen also mentioned that it was very common for crashes to occur due to how tight things can get. There were more than a couple out on the course. Flat tires were also a problem. Luckily, the team managed to avoid those.
In any case, Anna and Haley continued to lead the team, posting times of 35:57 and 36:05 respectively. And Maddie's time of 36:27 really bumped her up in the overall standings. Sara was just over a minute behind her as she and the rest of the team hit the transition area.
The Run
This was a 5K out and back course consisting of two laps. And it wasn't on the street. It was on a prepared running path that seemed a bit narrow to me. Haley made the biggest move in this part of the race. She tracked down the runners ahead of her one by one, crossing the finish line in 19:03. That was the 14th best run time, and it vaulted her up to 36th place in the overall standings.
Sara also had an excellent run. She came in at 20:34. That was the 49th best run time, and it moved her from the mid-70s up to 60th. Maddie's consistent performance in the bike and the run put her in 68th position. Emely and Anna finished within one minute of her, with Zoe crossing the line a minute after Anna. The team finished 11th overall, which was one spot better than their seed going into the race. It was a terrific showing in their first collegiate championship. But I'm not finished yet. There is still one more story left to tell.
The Warrior
By all rights, Reagan Quilty would have been justified in skipping these championships. Her temperature was high enough to keep any normal person in bed. Going into the race, the plan was for her to get through the swim and try to work with the team during the bike to help move them up. The run was going to be a dicey proposition, given the status of her knee, but Reagan's goal was to somehow finish.
Incredibly, her mindset did not change even after the fever took over. She had  put off surgery and gone through many hours of physical therapy all season to prepare for this moment. Furthermore, she was the captain, and she was committed to being out there with her team.
Now, as in her previous races, Reagan's knee held up well enough during the swim. Though there is kicking involved, swimming isn't a load bearing activity. So although a ligament tear is pretty serious business, the swim and bike phases are at least doable . . . assuming you aren't battling a 103 degree temperature.
Truthfully, I don't know how Reagan made it as far as she did. I saw her pass by me twice on the bike. She was fighting hard, there was no doubt about that. The heat was definitely a factor. Of course, now the athlete's health becomes the main issue. And when the body is trying to ward off an attack, putting it under a lot of physical duress taxes the immune system quite a bit more. So very early in the run, Coach Edwards intervened and Reagan stepped off the course. She had wisely listened to her body, and brought her day to an end.
Final Thoughts
Unfortunately the deck was stacked against her a little too much. But I have to say that I walked away marveling at that young woman's toughness. Interestingly, I just learned that Reagan chose Marine Ground for her service selection. Why am I not surprised?
This concludes the story on the Navy Women's triathlon team's inaugural season. They continued improving with each event. And surely, the best is yet to come.  Congratulations to the entire team on their outstanding effort.
One thing is certain. I will always remember team captain Reagan Quilty's performance at the championships. It was both courageous and inspiring. You might even say . . . magnificent.
Until next time . . .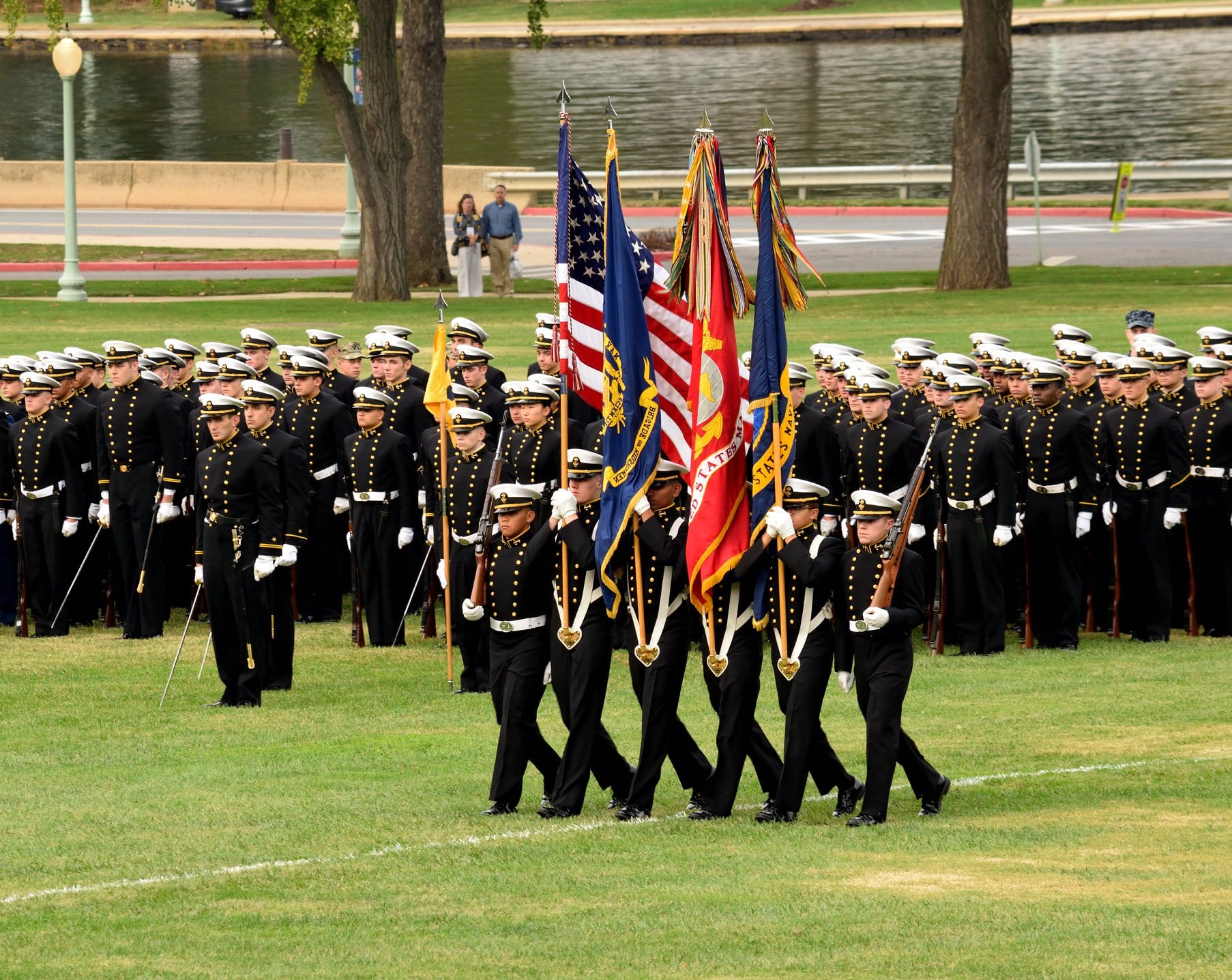 My sincere thanks to Scott Strasemeier, Senior Associate AD for Sports Information at the U.S. Naval Academy for granting permission to use images and video from the Navy Athletics media library. All photos used from this source will be properly credited in the caption. The only exception would be if the photo is used as a feature image where no caption is visible.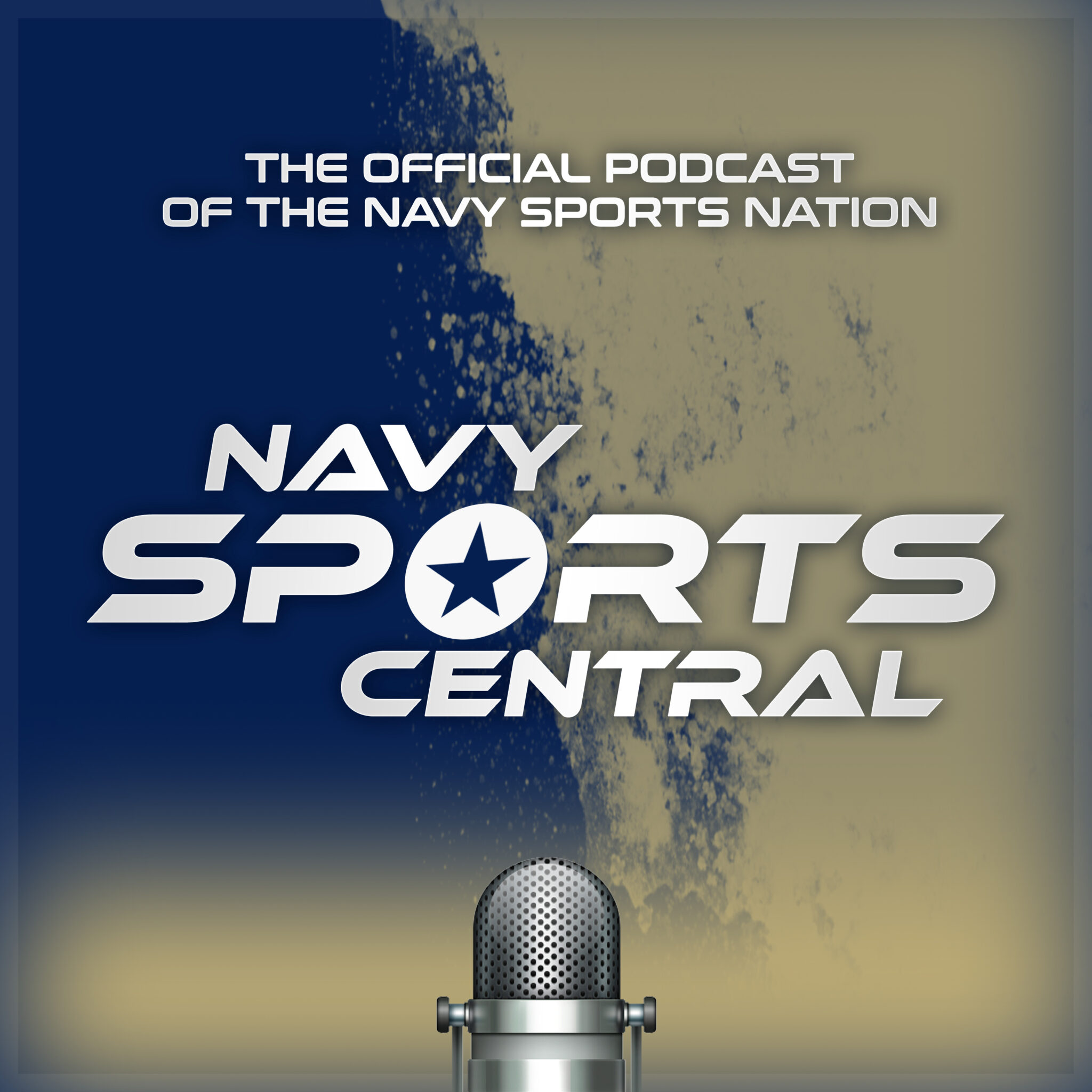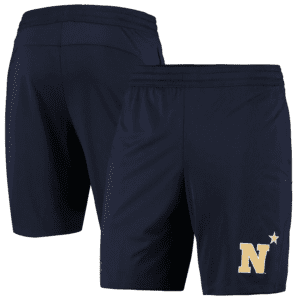 As an affiliate partner, Fanatics shares a small percentage of each sale through these links with the Navy Sports Nation which will be used to maintain the website. Thanks for your support!
Navy and St.Mary's are the only two rugby  programs in the country that have produced two Rudy Scholz Award winners. The award for the collegiate rugby player of the year was first given out in 2016.
Connor McNerney was the Naval Academy's first recipient in 2018. This year, Lewis Gray earned that honor. It was a fitting end to his outstanding career.
Click on the images to buy these two "must have" books for all Navy football fans. As an Amazon associate, I earn from qualifying purchases.
cRA Div. 1 National Championship Highlights
Karl Darden
I am a Navy veteran and a graduate of the U.S. Naval Academy. The idea to start this blog actually came from my classmates. I hope you enjoy reading this content as much as I enjoy writing it. Go Navy!! Beat Army!!