There is a universally accepted principle in basketball: your team needs to have the ball in order to score. The one way to get the ball more often than your opponent is to grab more offensive rebounds. And that's something that the Navy Men's Basketball team has done very well since league play began.
But that's not the only reason why the Mids have jumped out to this impressive 4-0 start in the Patriot League. There are a couple others too. And today we're going to take a really good look at how they've established themselves as legitimate contenders for a league title.
It All Starts With The Buy In
In early December, I featured the Navy Men's Basketball team and talked about three reasons why they would be worth watching this year. So if you haven't had the chance to do that yet, put it on your list in the next couple of weeks. They've gotten off to their best start in quite a while.
To that point, Navy head coach Ed DeChellis recently responded to a question at a post game press conference regarding the Mids' quick start. He said that it all began with the team buying into their game preparation plan. Here's what he meant.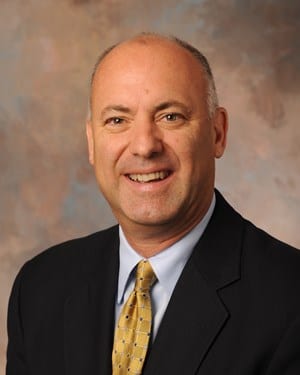 The Patriot League came up with a new schedule that minimized team travel due to the pandemic. I thought it was a good move. The one downside was it meant playing back to back games on the weekends with no real recovery time between them. And that's a pretty big deal at this level of college basketball.
So Coach DeChellis met with his entire staff to put together a detailed plan. It addressed everything from the practice schedule during the week to any kind of treatment for the team members who were a little dinged up. It even got into their daily diet.
DeChellis said that the team has really committed to the plan. But it goes beyond that. To use his words, they are playing with the kind of grit and determination that has come to define Navy Basketball. It's really very simple – outwork the other guy. Now let's see what that looks like.
Offensive Rebounds – It's a Matter of "Want To"
The great John Wooden taught all his great UCLA teams that good rebounding starts with the assumption that all shots are going to miss. That goes for when your team is on offense as well as defense.
This is definitely a "Want To" stat. In other words, good rebounders are the players who go after an offensive rebound (or any rebound for that matter) like it's going to be their last meal for the next two days. If they don't get it, they go hungry.
Different Perspectives
The NBA doesn't value offensive rebounds as much as the college game. The Chicago Bulls led the league in 2011-12 with a 32.1% of their rebounds coming on the offensive end. Last season, the New York Knicks had a league best percentage of 25.8%. So it makes sense to wonder why these numbers are declining.
One key reason is because more NBA coaches (starting with Greg Popovich) espouse giving up the offensive rebound in order to get back on defense to prevent an easy basket. Quite simply, transition defense became the higher priority.
At the NCAA Division 1 level, the drop off in offensive rebounding percentage has only been about half as much over the same period. And it is currently north of 40% so far this year.
Navy's percentage isn't quite that high. But they have enjoyed a significant advantage in offensive rebounds through the first four league games. They have nearly twice as many than their opponents (46-24). In fact, the Mids snagged 14 offensive boards (41 all together) in their most recent win over Lehigh. The Mountain Hawks had 18 total rebounds the entire game.
No one on Navy's team is taller than 6'8″ (Daniel Deaver and Alec Loehr). And the tallest starter is Richard Njoku at 6'7″. So Navy has to be extremely efficient rebounding basketball at all positions. That goes for guards too. Here are ones that are particularly good on the offensive end.
Richard Njoku
This guy gets better with every game. He runs the court extremely well, often beating his defender down the court. The Washington D.C. native is athletic and can use his quickness to beat his opponents to the ball.
Case in point, with Navy leading by two early in the second half, Greg Summers came off a screen for what appeared to be an easy layup. But it came off the glass a little too hard and missed.
The next thing the Mountain Hawks was Njoku flying up high to grab the offensive board and delivering a rim-rocker of a dunk to put the Mids up by four. He currently leads the team with 16 offensive rebounds, and that one was the most spectacular of all so far.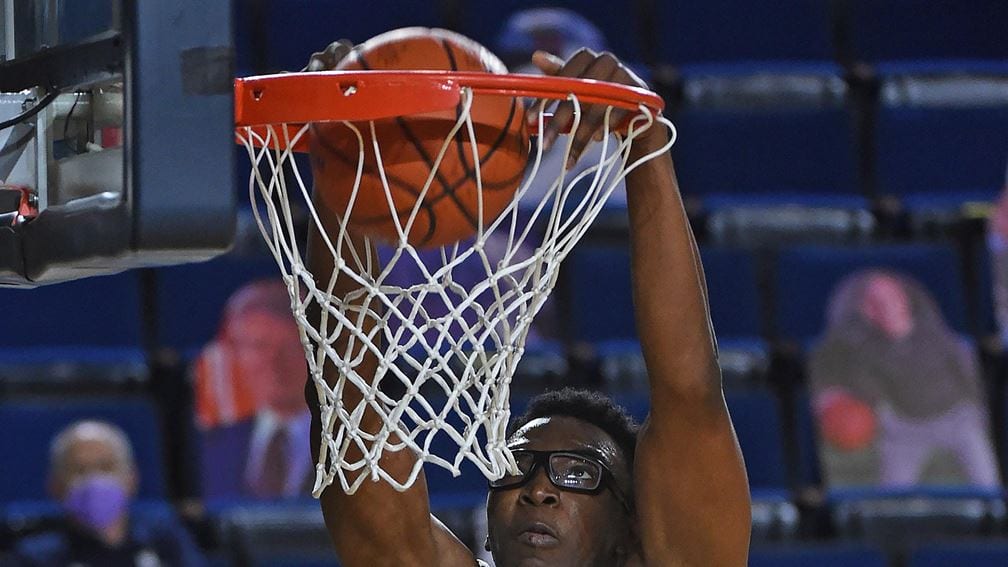 Greg Summers
Listed at 6'4″, Summers led the team in rebounding last season as a sophomore. He has continued to show the way in that category so far this year with 40 boards. And 10 of them are on the offensive end.
All I can say is that not only is Summers quick, he has a real nose for the ball too. He seems to figure out where it's going to be as soon as it leaves the shooter's hand. Then he just uses his skills to get good body position and comes down with the ball. I've been watching games where I've actually caught myself asking "How in the hell did he wind up with that rebound?"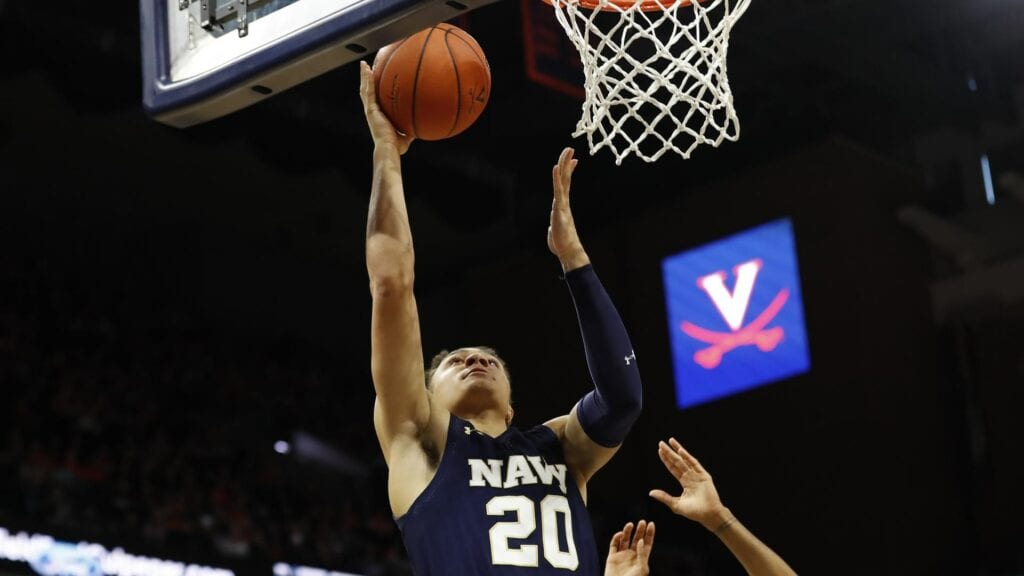 Whenever you watch a Navy game, try to devote some time to watching what's happening away from the ball. I tend to do that a lot when Summers is on the court because of his ability to wind up with so many rebounds.
Daniel Deaver
In last year's game at home against Lehigh, then-freshman Daniel Deaver had a break out game and rung up 25 points and 9 rebounds. This year, he has pulled down 18 so far, but 12 of them are on the offensive glass.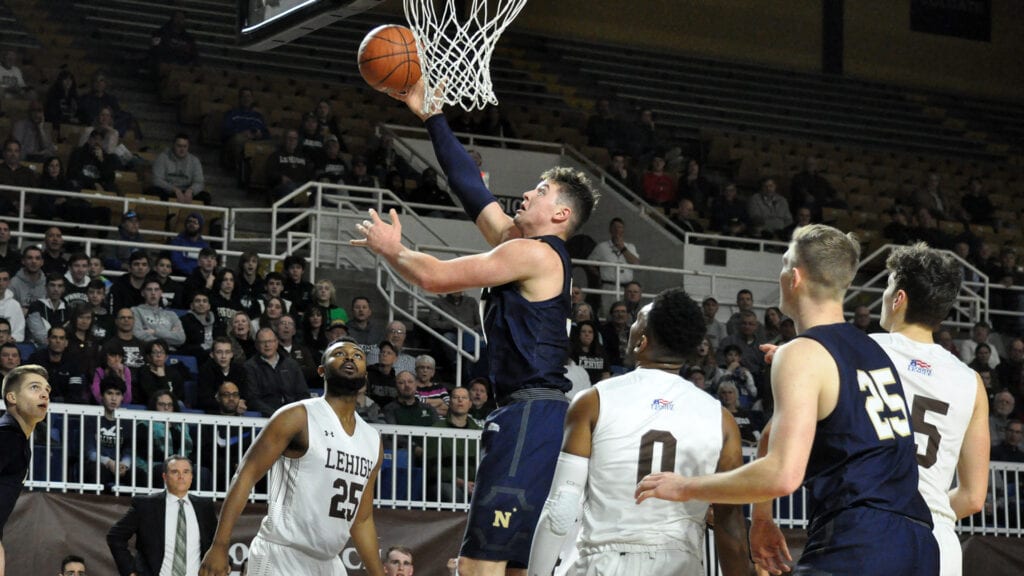 That's really significant because Deaver passes the ball extremely well out of the post. So even if he can't convert on the put back, he's just as good at finding the open man for an open look. Deaver has good footwork down around the basket too. His up and under move is pretty decent.
Tyler Nelson
Here is another one of Navy's high flyers. At 6'6″, Nelson is the fourth Mid with double digit offensive rebounds so far this season with 10. And it was that 10th one that really got my attention.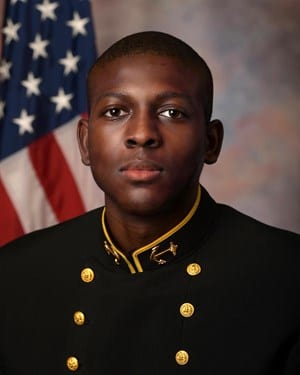 The Mids had just opened up a 12 point lead over Lehigh Sunday and there was just over three and a half minutes to play. The Mountain Hawks had just scored to cut into the lead. They still weren't out of it.
But Tyler Nelson pretty much slammed the door on Navy's next possession. John Carter Jr. just missed on a 3 point attempt, and Nelson came flying down the lane, grabbed the rebound and threw down a monster dunk.
He was coming in so fast that his momentum almost caused him to hit his head on the rim. Lehigh was finished after that. They only scored four more points as Navy posted a 73-58 win.
So yeah, offensive rebounding has been a big reason for the Navy's success so far. And that's because it can lead to an advantage in this second statistic, which we will take a look at now.
Second Chances
Of course, offensive rebounds are meaningless if you don't do anything with them. And in the two most recent games against Lehigh, the Mids turned 14 offensive rebounds into 20 second chance points. Meanwhile, the Mountain Hawks could only muster up 4 off of their 3 offensive boards.
One reason I think the team was so effective was because they showed a lot of patience in their half court set when they did get the ball back. They do a really nice job passing the ball and stretching the defense to create open space.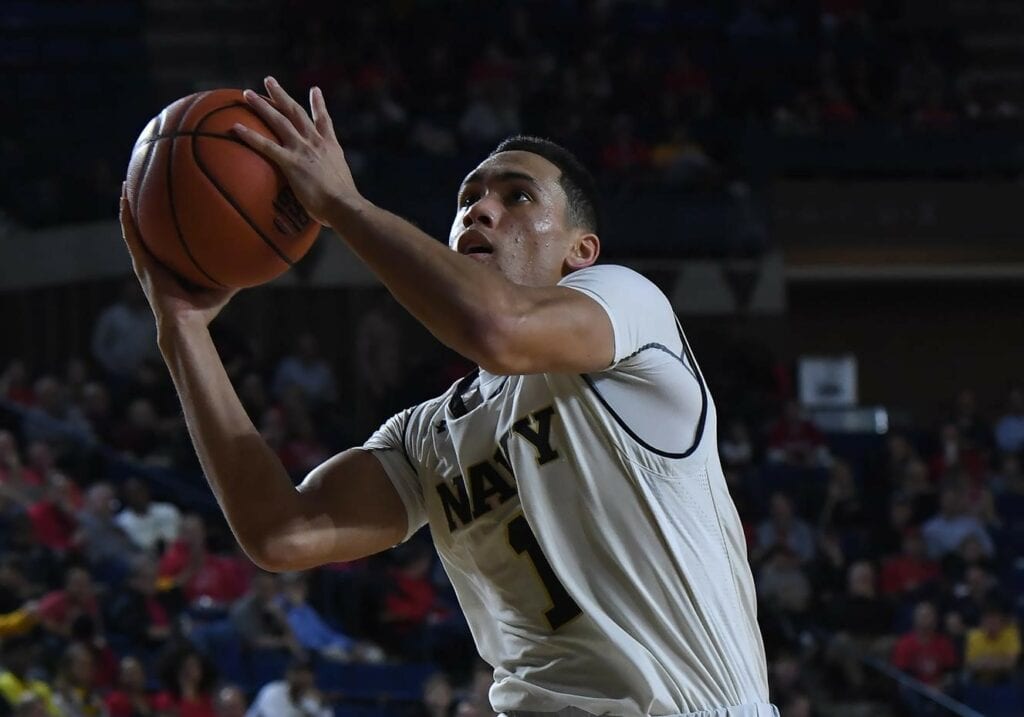 When they are at their best, this efficient ball movement results in guys cutting to the basket and getting easy layups. The other option keeping the ball moving until there is a gap in the defense that results in an open look at a mid-range jumper or a 3 point shot. Being able convert consistently on these opportunities has resulted in a respectable 51.1% effective field goal percentage (a stat that accounts for the three point shot).
So, offensive rebounds can result in second chance points. And there is one more stat that can potentially ring up a few more on the scoreboard while limiting the opponents possessions.
Points Off Turnovers
In the Lehigh game, the Navy had 15 turnovers compared to 9 for the Mountain Hawks. That was about 4 more than their average (11.9). The Mids were particularly loose with the ball in the first half, but they did to better job taking care of it over the last 20 minutes.
Now, here's the interesting thing. Despite the difference in turnovers, Navy took more advantage of their opportunities. They scored 15 points off Lehigh miscues. The Mountain Hawks converted Navy's mistakes into 12 points. So the Mids were way more efficient.
The same was true in Saturday's game. Navy scored 21 points off of Lehigh's 16 turnovers. But the Mountain Hawks could only come up with 12 points off the 11 the Mids got whistled for that afternoon.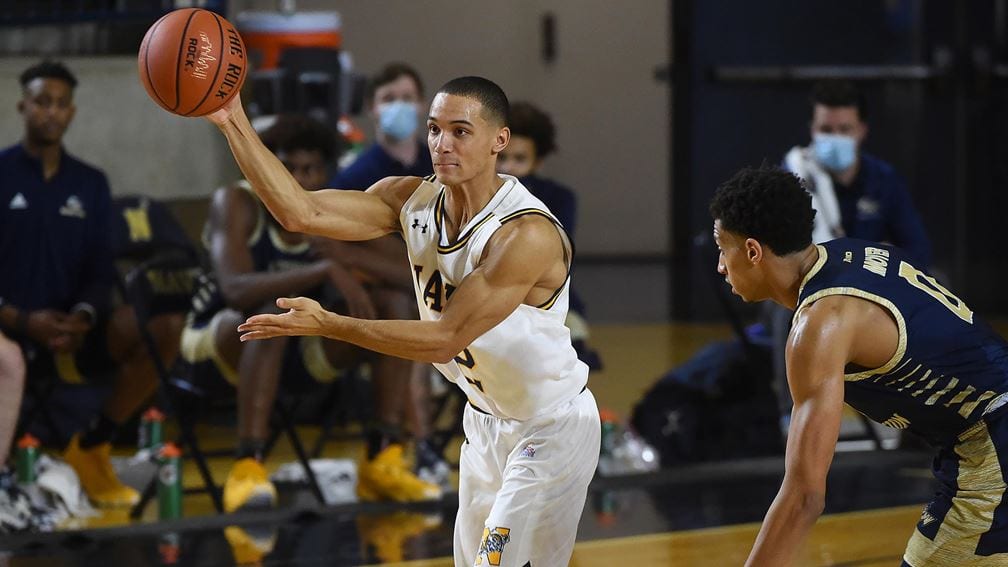 Teams always want to keep their turnovers to a minimum while scoring as many times as possible every time their opponent gives up the ball. Of course, it doesn't always work out that way.
So when a team turns the ball over more, but winds up having more points off turnovers than their opponent, that says a lot about their toughness. They're not hanging their heads. Instead, they're busting their butts getting back on defense to keep the other guys from scoring.
For the year, the Mids are averaging 17.4 points per game off turnovers. That's 5 points better than last year. Their opponents have a 10.4 points per game average, which is roughly 2.5 points less than the 2019-2020 season. That's a nice way to turn things around. And the way the Mids typically play defense, I see this stat playing even more in their favor as the year wears on.
Even Steven
Navy's regular season isn't quite half over, but looking at the overall statistics I noticed some interesting things. On paper, you get the sense that the Mids aren't performing significantly better than their opponents. In fact they are basically even in most categories.
The Question
Navy is shooting slightly less from the field (45.5% vs. 46.1%) and the 3 point shooting percentage is pretty much a push (32.7% vs. 32.9%). And the Mids happen to be about a percentage point higher from the free throw line (71.4% vs. 70.5%).
The fact that they aren't markedly better in these specific offensive categories might make one curious. How are they sitting on a 7-1 record that includes a win over Georgetown in early December?
The Answer
Like Coach DeChellis said in his post game interview, it starts with buying into the plan. Once the team has gotten to that point, they develop a mindset where they do all the little things to the best of their ability in order to win.
That means fighting for every rebound, going to the floor for the loose ball, and hustling back on defense after a turnover. It means making sharp, crisp passes, to stretch the defense, setting solid screens to spring a cutter or execute a pick and roll. And it means seeing the whole court, taking good shots and passing to a teammate who has a better shot.
Right now, the Mids are doing all of these things pretty well. And they also understand that just because one aspect of their game might be off one day, they can still make a difference by picking things up in another area.
Take Cam Davis for example in Saturday's game vs. Lehigh. The Navy captain had to battle constantly against bigger defenders and was often double teamed. He was held to 10 points (almost 9 below his average). But he came up with 4 steals and chipped in a team-leading 5 assists to help keep the Mountain Hawks at arms length. And then when it came to crunch time, he was a perfect 4-4 from the free throw line in the last two minutes to help seal the 69-61 win.
Some Final Thoughts
This Navy team is playing with a lot of confidence right now. They've got about a 9 or 10 player rotation and they are getting contributions at key points in the game from all of them.
This is a resilient team too. John Carter Jr. didn't shoot the ball particularly well in the first two league games against Bucknell. He was shut out in the first game and only put up 10 points in the second. But against Lehigh, he went off for 18 in each game, including a couple of critical 3 pointers that demoralized the Mountain Hawks.
The bottom line is the Mids are doing what it takes to win. They've been pretty unflappable so far in league play. Against Bucknell, they came from 17 points down with 14 minutes left to pull out a 9 point win. The next day they struggled shooting the ball, but put the clamps on the Bison defensively and won by three, 63-60. In the two wins over Lehigh, the team got it done with timely shooting and a really tough defense at key points in the contest to put both games away.
Offensive rebounds, second chance points and points off turnovers. That's been the ticket to Navy's success so far this season. It might not always look pretty, but it works for me. Besides, there's no such thing as style points in college basketball.
Until next time . . .