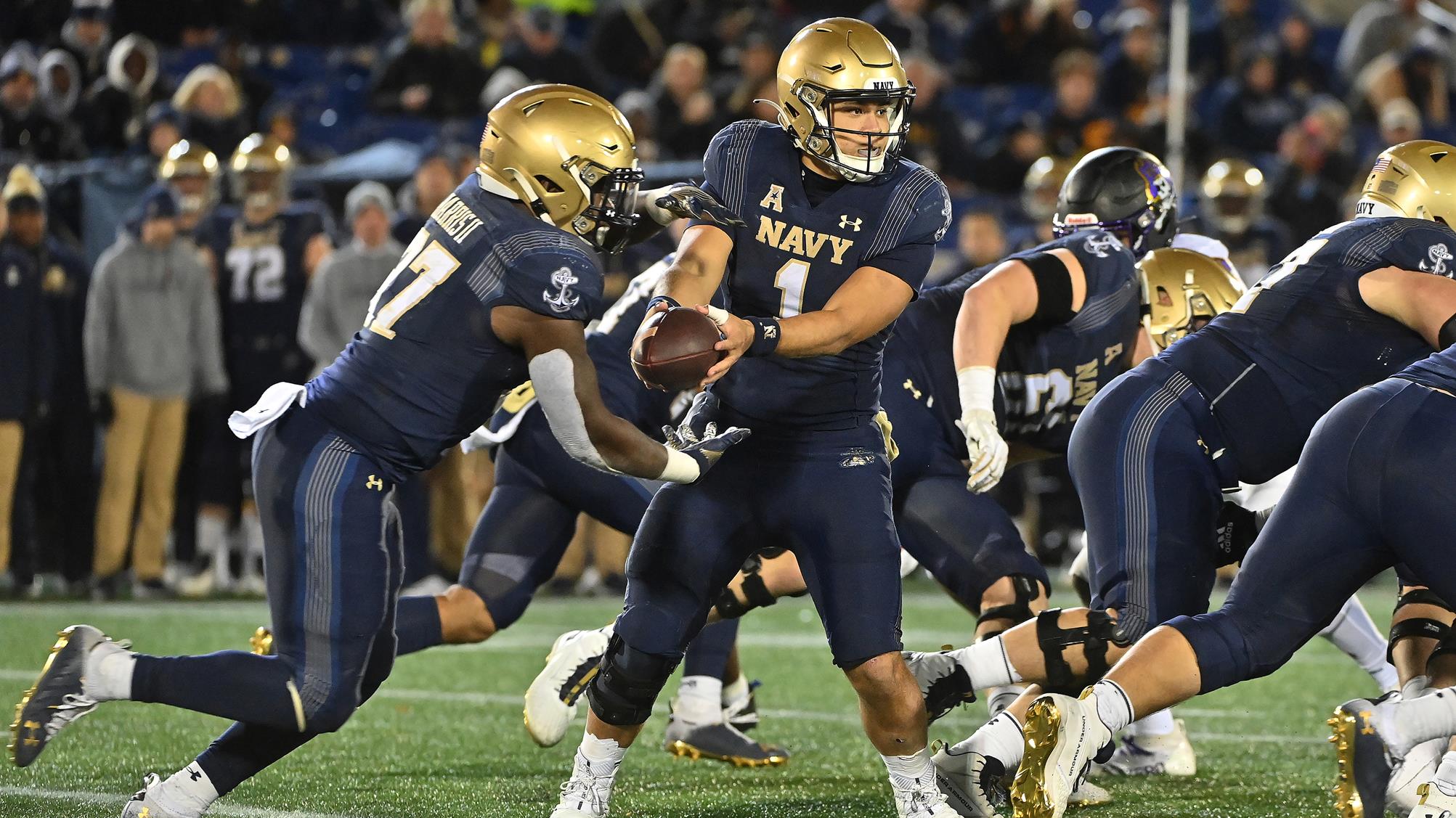 One Mid's Journey: A Look at Navy Quarterback Tai Lavatai's Road to Annapolis
One of the more interesting aspects of shining a light on these amazing student athletes at the Naval Academy is finding out how they wound up on that path to Annapolis. So when I had the chance to learn about Navy quarterback Tai Lavatai's journey, I thought it made perfect sense to feature it in the Navy Sports Nation blog.
When it comes to the Navy Football team, I am really sensitive with respect to their time. They have so many competing demands to manage. The last thing I want to do is pile on one more. And where Tai Lavatai is concerned, I'm sure he is in high enough demand with the local media without having to deal with a blogger clear out in Arizona, even if that guy is a Navy grad.
But lucky for me, I had the good fortune to make the acquaintance of Tai's mom Gina Lavatai last year. That's kind of a funny story itself, so let me share it with you really fast.
Making Connections
When bloggers and podcasters first launch their platforms, their number one priority is finding an audience. One method that works well is building a following on social media. So when I started this blog a little over two years ago, I created a group page on Facebook and invited all the Navy sports fans I knew to join.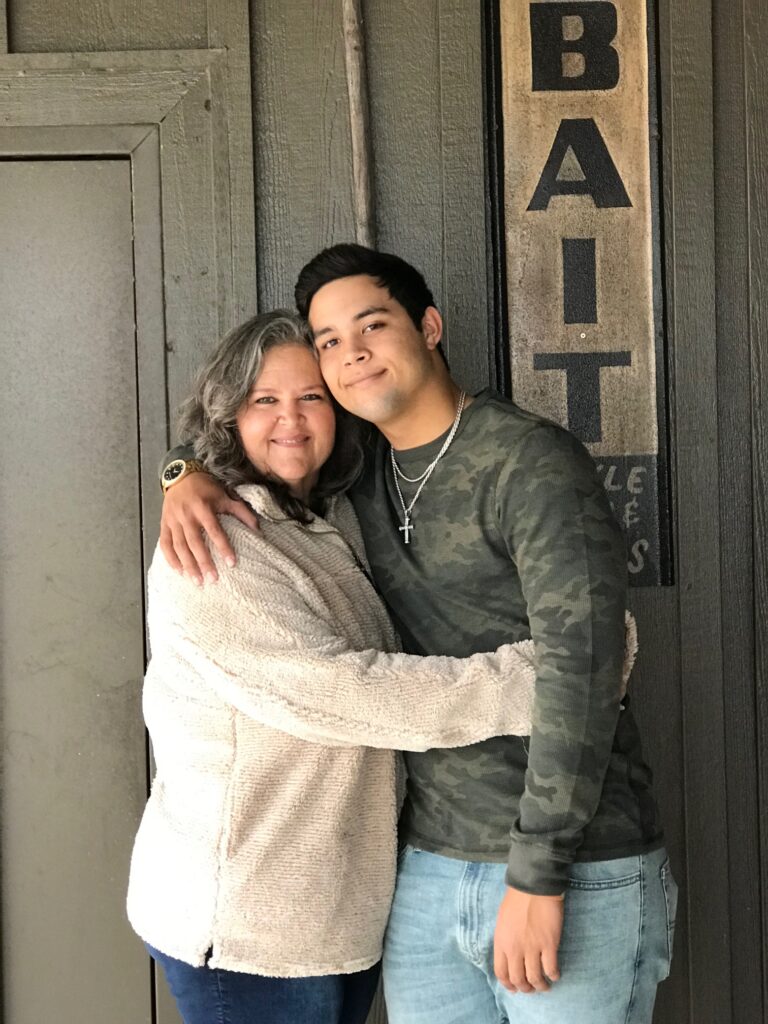 One day, I noticed something interesting. There were more than a few parents of current Mids in the group. Gina Lavatai happened to be one of them. So that is how the connection got established initially.
Last fall, I made the trip back to Annapolis for the the Navy-SMU game. I spent that Saturday morning with Coach Shawn Bagnall and the Lightweight Rowing team. Besides seeing the game, the other priority was gathering content for a feature I planned to do on them. When it came time to head over to Navy-Marine Corps stadium, I just left my car in the Yard and made the 10-15 minute walk.
Once I got there, I began making my way back to our class tailgater. I hadn't been walking for more than a minute before I heard someone call out "Karl?" I turned around, and that's how I met Gina Lavatai, the mother of the Navy quarterback herself, for the first time. I remember her saying she was going to be at the game, but I didn't expect our paths to cross. Then it turns out that she was the very first person I ran into. Pretty crazy.
On With the Story
Now fast forward to last December. Tai Lavatai had just led the Mids to the upset win over Army. That's when I got the idea to reach out to Gina and see if she had any interest in having a conversation about what Tai was like growing up. I thought that seeing him through his mother's lens would provide some great insight.
It took me some time to follow up on my initial request, but Gina was nice enough to sit down and talk with me a couple weeks ago. It was well worth the wait. So now let's learn a little bit more about Navy quarterback Tai Lavatai through his mom's eyes.
Where It All Started
Gina lives in Jacksonville, FL now, but she relocated there from South Florida. In another crazy coincidence, she is originally from Homestead, FL, having moved to the Naranja Lakes area in the early 70's. And as it turns out, my dad was stationed at Homestead AFB at pretty much the same time ('69-'73). Based on my calculations, there was roughly a two year period where we lived within 10 miles of each other.
Anyway, they relocated to a different part of town after Hurricane Andrew hit. But both Tai and his older brother Toa were born down there, and like most young boys they started playing sports at a pretty early age.
In fact, Tai demonstrated above average eye-hand coordination from the time he was three, and he had a very competitive streak to match. At six years old, he started playing both flag and tackle football. And he hasn't looked back since.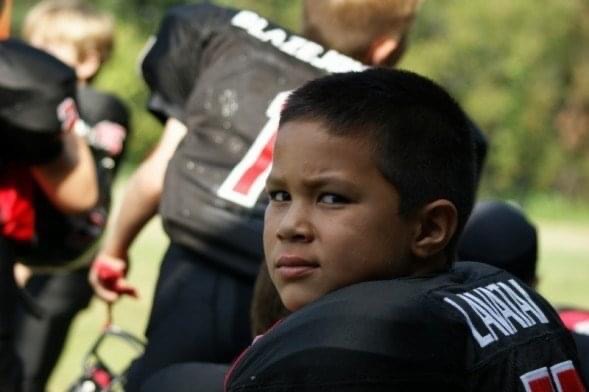 Tai also proved himself to be quite the skilled negotiator. In 2008, Gina was offered a great career opportunity to get a new bank up and running. The only hiccup was that it required her to relocate with her two sons up to Jacksonville, FL. So when she sat them down to talk to about it, Tai says, (and I'm paraphrasing here) "Mom, I'm with you . . . as long as you let me play tackle football." With that deal being sealed, the Lavatai family packed their bags and made the 380 mile move up the Florida coast to Jacksonville.
Early Success
The most interesting thing about Tai's early playing days was that he didn't play quarterback until the 8th grade. Before that, he was linebacker or defensive lineman because of his size. He also got a chance to carry the ball at running back.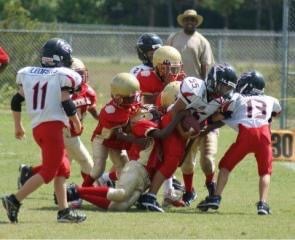 Despite his athletic ability, there were coaches who didn't think Tai could make the move to quarterback. But he quieted those critics in pretty short order by earning the starting job in middle school. He was already a tough runner. And his improving arm strength made him a legitimate threat passing the ball as well.
Most high school football programs these days have close ties with their junior high feeder schools. So the coaches at Creekside High School were familiar with his accomplishments by the time Tai arrived as a freshman.
And sure enough, he earned the starting job two games into his first season. Everything was tracking according to plan . . . until a broken collarbone sidelined him for practically the rest of the year. Tai did manage to make it back before the last game, but now the focus was on getting ready for next year. Unfortunately, here's where the plan began to go off the rails.
Growing Pains
Many of us can relate to the idea of certain uncontrollable factors impacting our lives at some point. One minute, things are going great and the next thing you know, the ground suddenly starts shifting underneath your feet. And it's all you can do to hang on and ride things out.
That's basically what happened to Tai Lavatai during his sophomore year. The Creekside High School football program was in a state of flux. The team was still trying to establish an identity, but didn't appear to have a specific plan in mind.
The coaching staff made wholesale changes anyway. And the first thing they did was go in a different direction at the quarterback position. In the blink of an eye, Tai was bumped down to third string, even though there was no indication that his level of play had dropped off. And his position on the depth chart made it a challenge to further develop since he wasn't getting as many reps. Things weren't looking too good for the future Navy quarterback.
In short, the season was a disaster. Creekside didn't win a single game. Their head coach was let go in the middle of the season. The school's athletic director Guy Harris took over and finished out the year.
Gina shared that Tai struggled with the idea of not being on the field. Up until that point, he was always unquestionably one of the best athletes on the field. But during that nightmarish sophomore season, he began to wonder if he would ever see any significant playing time at quarterback again.
Change Comes to Creekside
Immediately following the season, Guy Harris convinced the offensive coordinator of cross town rival St. Augustine to lead the Creekside Knights football program. His name was Sean McIntyre, and he had four district titles under his belt in the last 12 years as the OC of St. Augustine and Palm Bay Bayside. According to Gina, it was both Coach McIntyre and QB Coach Hunter Evans who had the most impact on Tai in his development as a football player.
The main thing they impressed upon him was that the adversity athletes deal with is one thing. But even more important is how they react to it. As adults, we've learned this through experience, but it's not that obvious to a 16 year-old kid.
It was Evans in particular who formed a strong connection with Tai. The coach told him he needed to look inside himself and determine what it was he wanted. From there, he had to go out and take control of the situation. Tai needed to be the one to decide his path. It was up to him to figure out how he was going to stay on it and not let any potential setback push him off course.
The next season, things began to turn around. Tai got back onto the field and proved to the new coaching staff that he could be the team's starting quarterback. He put up some solid numbers. And that basically set the stage for a record breaking senior year.
A Strong Finish . . .
For any athletic program that is trying to resurrect itself, things usually happen is a particular order. First, it has to undergo a cultural shift. And second, that shift has to be led by the seniors. How quickly that change in culture occurs depends other factors as well. But the bottom line is without that core group of seniors leading the way, having a positive impact on the program's trajectory just isn't going to happen.
That's where the Creekside Knights were when Tai began his final season. Coach McIntyre had taken over a program that was basically rudderless. He made good progress during his first year, but there was still work to do. And he was counting on guys like Tai to keep things moving in the right direction. As it turned out, McIntyre couldn't have asked for a more capable player to set that example
Tai had an outstanding senior year at quarterback. He completed 165 passes for 2,226 yards and 25 touchdowns, which were single season records. He also ran for 404 yards and 9 touchdowns, and his total of 34 TDs set a new school record as well. All that was good enough to earn him 1st Team All District honors.
And a Lasting Legacy
More importantly, it was Tai's mental toughness that had the stronger long term impact on the program. During the season, it was discovered that he played two entire games with a fractured tibia and didn't even know it. He just kept grinding through the practices and workouts, figuring it would get better.
It didn't, so he had the team doctor check him out. That's when he found out he'd been pretty much playing on a broken leg. Now, it's bad enough trying to do anything on a broken leg. But it certainly doesn't help when you're squarely in the sights of linebackers and defensive linemen who are somewhere north of 240 pounds.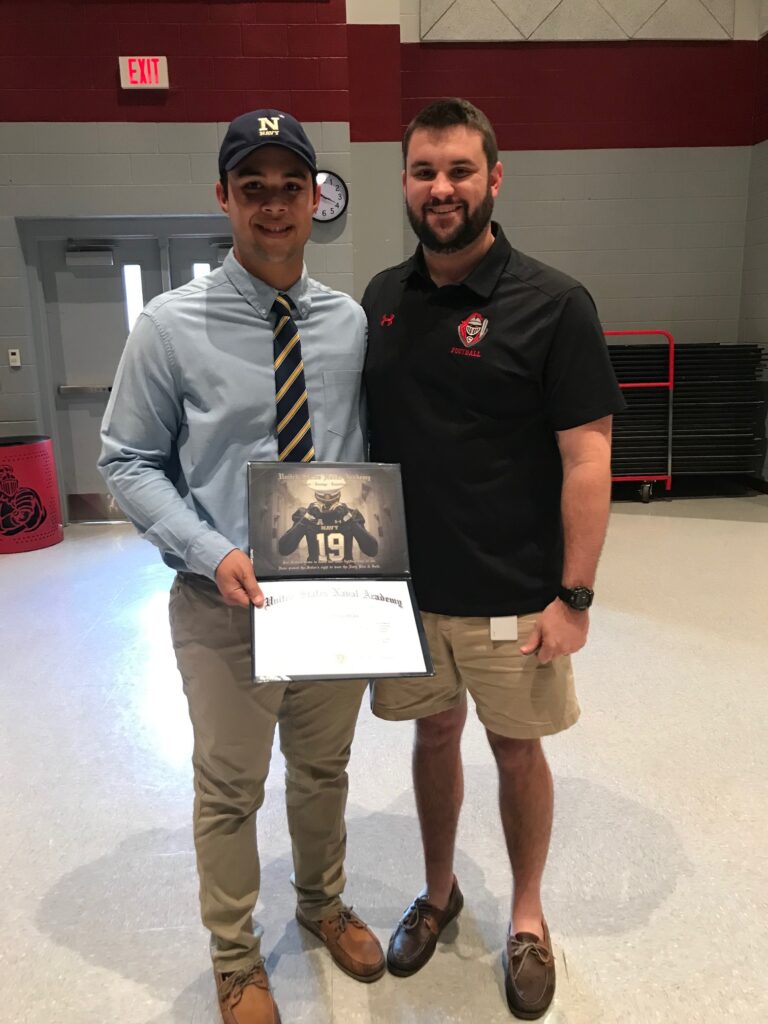 That's just some of the adversity Tai had to deal with his senior year. I think it's fair to say that the way he handled it was a testament to his overall growth as both a person and an athlete. If you don't believe me, you can ask Coach McIntyre. When he recounted that story at the team's awards banquet, it took all he had to keep his emotions under control.
More than anything else, it was the mental toughness Tai displayed during his senior year that clearly embodied the culture McIntyre wanted to establish. Armed with that, the Knights improved steadily every year until they qualified for the playoffs in 2021.
Tai no longer wore a Creekside jersey. But I don't think it's a stretch to say that the team's rise can be partly traced back to how he competed during his senior year. By the way, at the team banquet I mentioned earlier, Coach McIntyre named Tai as a permanent team captain. If that doesn't illustrate the kind of impact he had on the Knights' program, I don't know what does.
Navy Pays a Visit
As the offensive coordinator at Palm Bay Bayside, McIntyre established a connection with Navy Quarterback Coach Ivin Jasper. The Bears had a player the Mids were recruiting at the time. So after he became Creekside's head coach and seeing Tai's potential, McIntyre put in a call to Coach Jasper to invite him down for a look at the young QB.
Tai met the Navy coach for the first time during the summer football camp prior to his junior year. Jasper didn't need to see much more than a handful of practices to decide that Tai could be a good fit for the Mids triple option system.
That's not to say it was going to be easy. For one thing, it meant lining up under center instead of in the shotgun formation. That doesn't sound like a big deal, but ask any Navy quarterback whose made that switch, and they'll tell you how challenging it is.
All that said, there is no coach more qualified to teach quarterbacks the triple option than Ivin Jasper. So when he eventually made the offer to Tai to come play football for the Naval Academy, it was accepted.
After graduating from Creekside High School in the spring of 2019, Tai Lavatai entered the Naval Academy Prep School. And while playing quarterback that fall, he led the team to the win over the Military Academy's Prep School. No doubt this was a huge confidence builder with respect to competing for the starting job at Annapolis the following year. Things were really falling into place.
The Best Laid Plans . . .
When the COVID pandemic shut down college sports in the spring of 2020, I was certain that we'd be back to normal by the time the football season started. We weren't. And since the Naval Academy placed a high priority on every Mids' safety, each athlete was affected in some way.
For Tai and the rest of the incoming freshman football players, it meant not being able to take part in summer practices. With no real way to evaluate what he could do, he got buried on the depth chart again.
Rather than get discouraged, he just put his head down and continued to work harder. By the time spring practice rolled around in 2021, he had caught the Coach Ken Niumatalolo's eye.
I was tracking those practices pretty closely last year. And I remember Coach Ken saying it wasn't so much that Tai lighting things up all over the place. It was the fact that when he was under center, the sticks just kept moving down the field. In the triple option offense, this is even more important since it's not a system that relies heavily on explosive plays.
Tai's improvement continued in summer practices, and Coach Ken named him the starting Navy quarterback before the first game. After shaking off an early season injury, his proficiency in running the offense improved every single week. The Mids beat Central Florida and came close to pulling off a monster upset of #2 ranked Cincinnati.
SMU and East Carolina were tough losses, but the team did finish on a two game winning streak, including that huge win over Army. It was arguably the most complete game Tai had played all year, and it came at just the right time.
The Road Ahead
During the 2022 spring practice sessions, Tai Lavatai once again emerged as the starting Navy quarterback. He continues to sharpen his skills with respect to running the offense. And he figures to play a significant role in the team's overall success.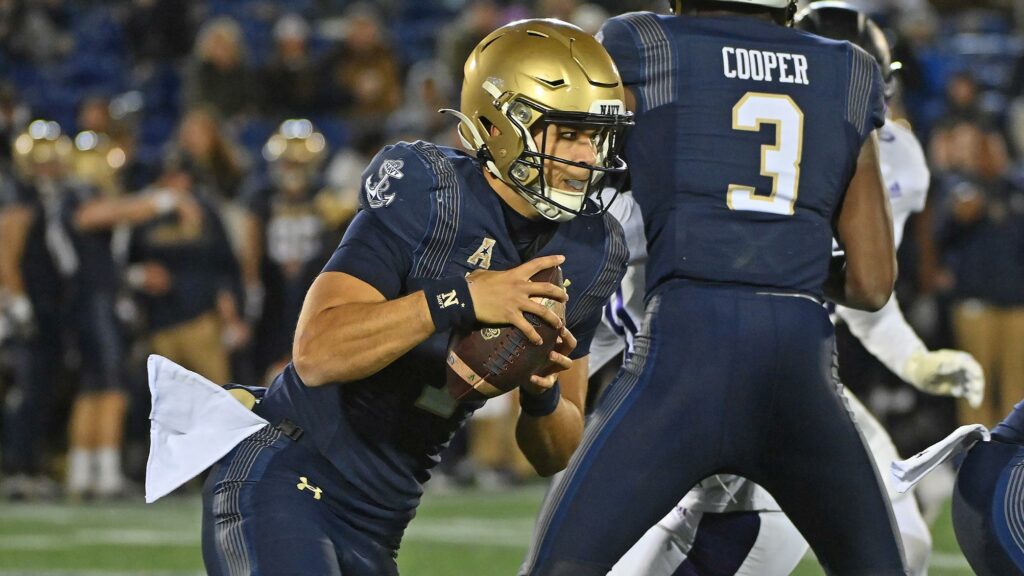 Now, as a football fan, there's nothing I want more than to see Tai Lavatai have a terrific career as a Navy quarterback. But at the end of the day, there's another thing that's even more important. Gina shared with me one of her main sources of pride with it comes to both of her sons. And that is they've grown up to become two fine human beings.
So yeah, speaking as a fan, I wish Tai all the success he has worked so hard to achieve. But I'm even happier about the fact that no matter what happens on the football field, he's already an awesome young man. And speaking as a parent, it doesn't get much better than that.
Until next time . . .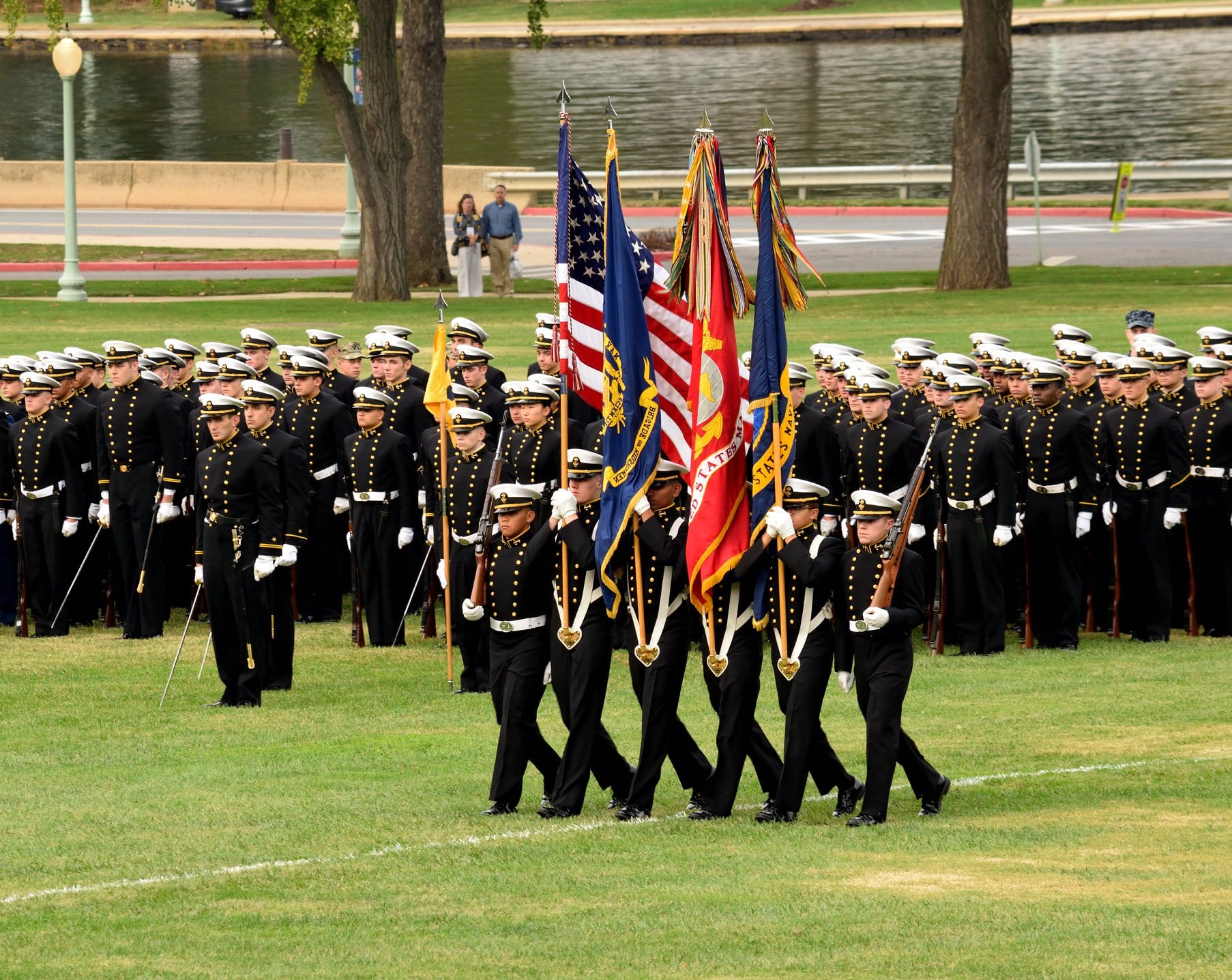 My sincere thanks to Scott Strasemeier, Senior Associate AD for Sports Information at the U.S. Naval Academy for granting permission to use images and video from the Navy Athletics media library. All photos used from this source will be properly credited in the caption. The only exception would be if the photo is used as a feature image where no caption is visible.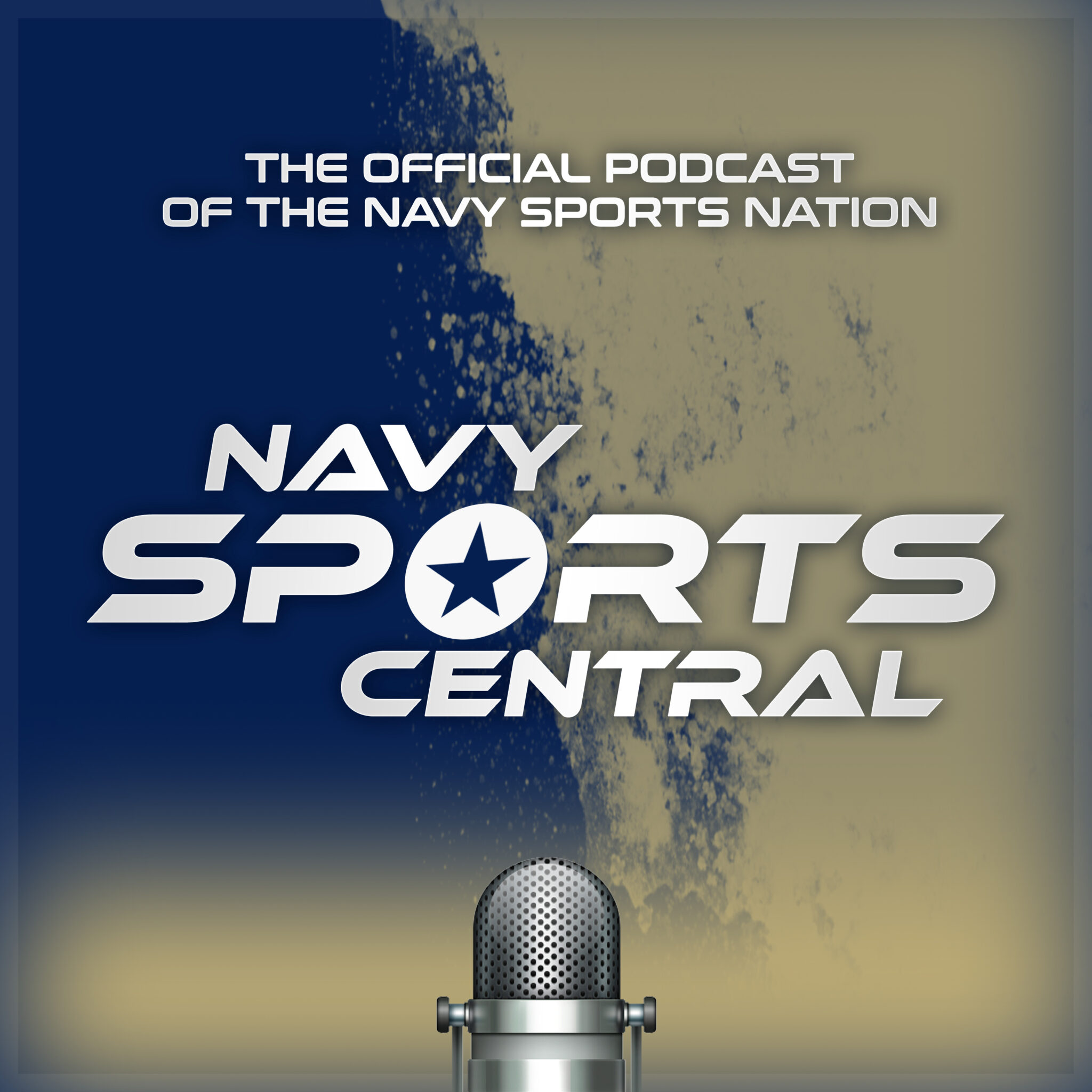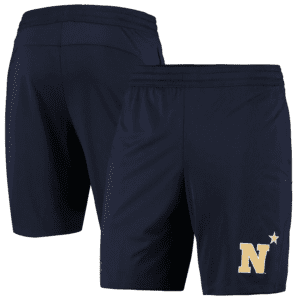 As an affiliate partner, Fanatics shares a small percentage of each sale through these links with the Navy Sports Nation which will be used to maintain the website. Thanks for your support!
Navy and St.Mary's are the only two rugby  programs in the country that have produced two Rudy Scholz Award winners. The award for the collegiate rugby player of the year was first given out in 2016.
Connor McNerney was the Naval Academy's first recipient in 2018. This year, Lewis Gray earned that honor. It was a fitting end to his outstanding career.
Click on the images to buy these two "must have" books for all Navy football fans. As an Amazon associate, I earn from qualifying purchases.
cRA Div. 1 National Championship Highlights
Karl Darden
I am a Navy veteran and a graduate of the U.S. Naval Academy. The idea to start this blog actually came from my classmates. I hope you enjoy reading this content as much as I enjoy writing it. Go Navy!! Beat Army!!