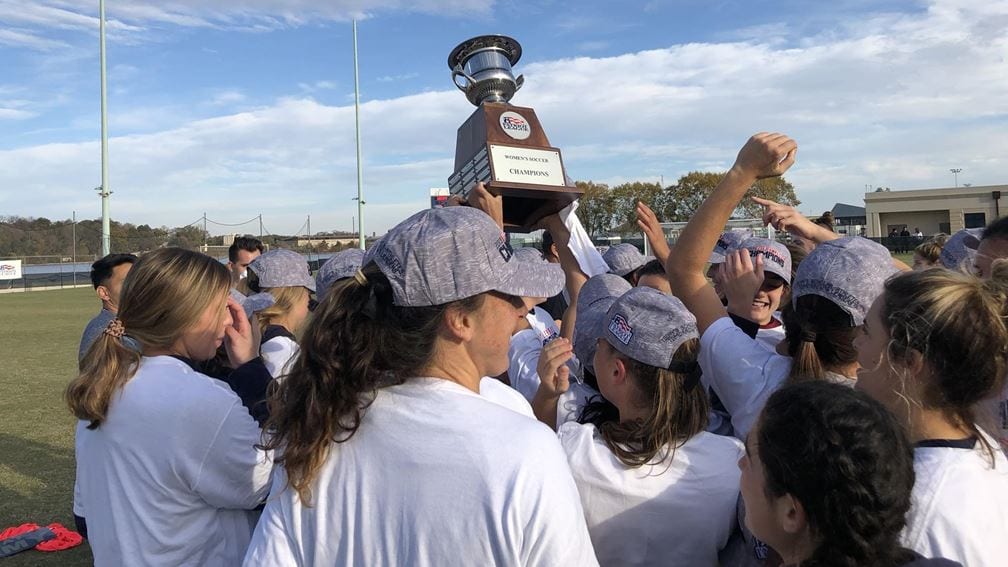 Navy Women's Soccer: 3 Reasons Why They Are the Reigning Patriot League Champions
In case you missed it, there were three women's sports at the Academy that won the Patriot League Championship this past year. The Swimming & Diving and Indoor Track teams got it done in February. But Navy Women's Soccer was the first team to get on the board last fall, and they are the focus today in the Navy Sports Nation.
Before we dive in, I wanted to provide you all with a brief history of the team. This will actually provide a nice lead in to our main discussion. So, here we go . . .
Women's Soccer Comes to Annapolis
There were only eight women's varsity sports at the Academy in 1993. That was the year Navy Women's Soccer was born. Jack Lengyel was the Athletic Director at the time.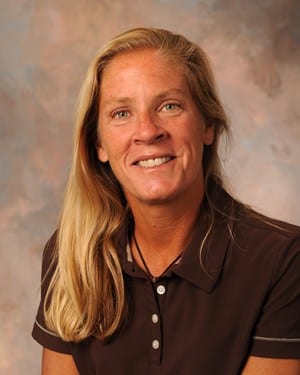 Lengyel believed the best way to get the program off to a fast start was to hire one of the best women to ever play the game. So he convinced U.S. Women's National Team member and 1991 World Cup hero Carin Gabarra to become its first head coach. Her player resume includes an Olympic gold medal ('96) to go along with her World Cup title. She also won the "Golden Ball" as the tournament's most outstanding player at that World Cup event.
So Carin Gabarra arrived in Annapolis start up the program in 1993. She's been here ever since. And to paraphrase D.J. Khaled, Rick Ross and Ludacris, all she does is win.
Okay, kind of a dated reference. I tend gravitate to my workout music, and I like to stick with my favorites. But dated or not, the reference is an accurate one. And it brings us to the first reason why the team currently rules the Patriot League.
#1: Leadership at the Top
Coach Gabarra sports an impressive 353-164-52 record going into her 28th year at Navy. That includes 24 winning seasons and four NCAA tournament appearances. And as we all know, results like that don't just happen in a vacuum.
This is a rock solid program, and it became one because of Gabarra's leadership. There are several factors that fall underneath that umbrella. Chet Gladchuk covered a number of them in a recent interview, but I'm just going to go over the ones that really stood out to me.
Recruiting & Player Development
It's no secret that coaches need to be skilled at evaluating talent to determine who can keep moving the program forward. And I will go even further and say that the really good ones consider how good a fit the student athlete is for the institution as a whole. But there is one thing that sets Coach Gabarra apart from all the others.
She has a gift for identifying those players who are going to have an impact on the program and for recognizing their potential to be future leaders. Then she and her staff go about developing that potential on all levels.
Coach Gabarra understands what it means to recruit to the profile. It's one thing to want to win, but does the recruit place a high priority on academics? Can she adjust to life in Bancroft Hall? These are just a few of the things Gabarra and her staff look for out on the recruiting trail.
Creating a Sense of Family
Gladchuk also made a point of highlighting Coach Gabarra's ability to create a sense of family with her players. That's no easy task considering all the distractions they deal with every day. Gabarra is totally dialed into Naval Academy's mission, and she has found a way to connect with her players to the point where they have all embraced it together.
The women all play for each other. That builds trust, strengthens team unity, and leads to winning on a consistent basis. And Coach Gabarra has been doing that for the better part of a generation.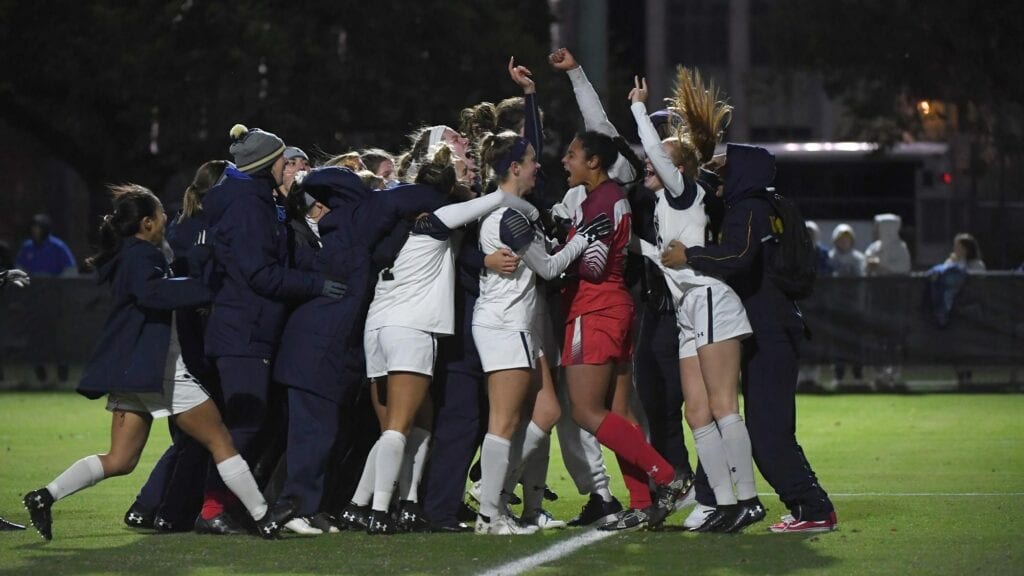 Embracing the Alumni
The sense of family that Coach Gabarra has established doesn't end when her players graduate. These women play a key role in maintaining the long-term success of the Navy Women's Soccer program.
They are invited back to share their experiences in the Navy and Marine Corps with the current players. And in doing so, they help build an expanding network that helps to sustain a championship culture.
Chet Gladchuk made one more point when pointing out the impact Carin Gabarra has had on the Naval Academy. He said when evaluating coaching candidates for positions at Annapolis, she is the benchmark against which the candidates are measured. More to the point she is the living and breathing version of the Naval Academy Coach job description.
Finally, Gladchuk finished his thought by referring to Coach Gabarra as "a star." So, there's your first reason that the Navy Women's Soccer team is the class of the Patriot League. Now we'll look at the team itself to uncover the others.
#2: Defense Wins Championships
We hear that phrase all the time in sports. That's because it's usually always true. And in soccer there is almost no getting around it.
The Navy Women's Soccer team posted a 16-3-3 record in 2019. During that entire stretch, there were only two occasions when opponents managed to score more than one goal against them.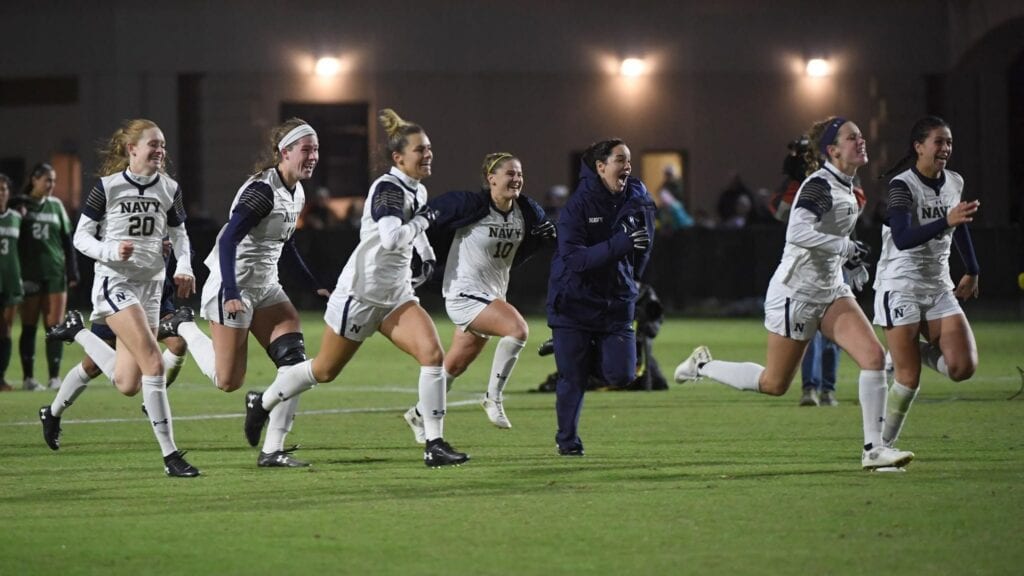 So let's dig into this a little bit more to provide some perspective. The team allowed only 12 goals all year long. Some quick math shows that this works out to an infinitesimal .526 goals against average (13th in the nation).
Here's another way to look at it. In 22 games, the Mids played a total of 2,066 minutes including overtime. That means opposing offenses only managed to score one goal for every 172 minutes of game time.
Teams playing that kind of lock down defense are going to win their share of games. I've watched a ton team sports over the years. And the one inescapable truth is that great defense is the result of good communication and trust.
That's how the Mids played throughout the season. And as a result, they were in just about every game all the way to the end. And that's what brings me to the third reason the Navy Women's Soccer team is wearing the crown as Patriot League champions.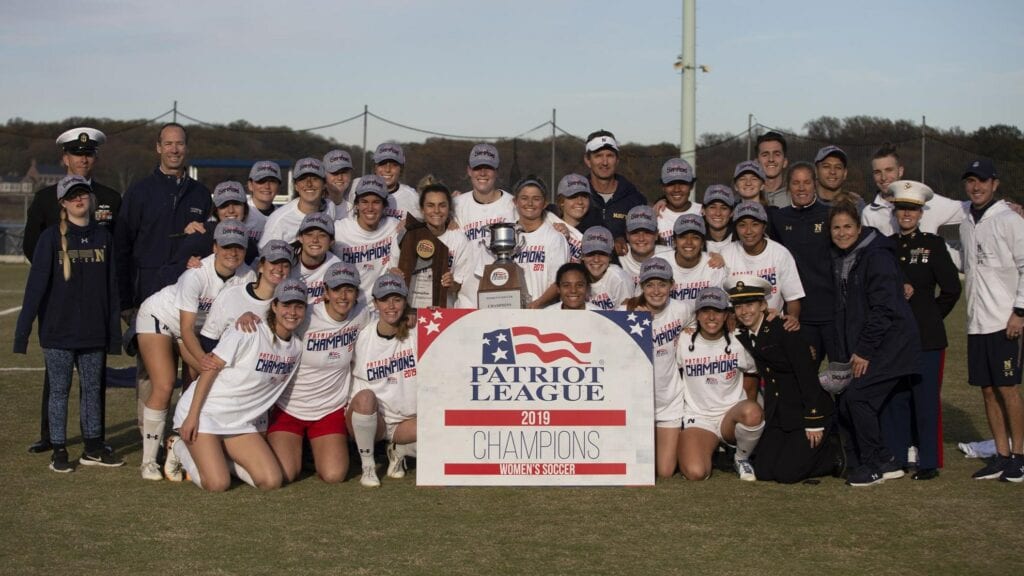 #3: Staying Calm Under Pressure
On September 21st, the Mids defeated Colgate 1-0. That was the first of 12 straight games where the outcome was either decided by one goal or it resulted in a tie. The team went 9-1-2 during that stretch that went all the way through the Patriot League Championship game.
These women are some really cool customers. They simply do not get rattled. And the best example I can give you comes from the league championship game against Army.
Earlier in the season, the Mids beat the Black Knights in their Star Match 1-0. Midfielder Carolyn Mang scored in the 74th minute. That goal stood up, giving Navy the win.
So when Army scored first less than 20 minutes into the championship game, there might have been cause for concern. Past history indicated that goals were at a premium when these two teams got together. Not only could the Mids not afford to give up another goal, they had to figure out a way to score two of their own if they wanted to leave with the trophy.
And they found a way to do it too. It all goes back to that sense of family that Coach Gabarra has created. These players trust and believe in each other. And to quote Gabarra in the post game interview, "Navy women's soccer players never go down without a fight . . . This team is mentally tough . . .and they are all very close."
That toughness was very evident coming out of the half. Navy's defense tightened the screws, and the Black Knights only managed one shot the rest of the way. Then, the offense found it's footing.
The Mids Close the Deal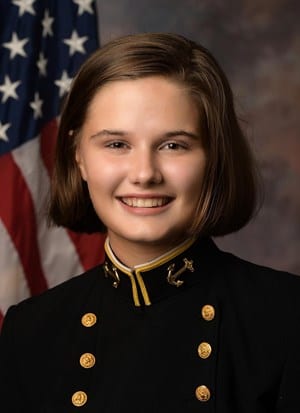 In the 61st minute, Navy took advantage. You can see it in this video starting at the 1:12 mark.
Emily Keast headed a loose ball to Carolyn Mang at the top of the box. Mang played the ball off her chest where it dropped right down in front of her.
It bounced up waist high, but the Navy sophomore calmly bumped it back down with her hip to her left side. In the next motion, Mang swung her left leg through, delivering a low shot to the right side that got underneath the Army goalkeeper's outstretched arms. The game was tied 1-1.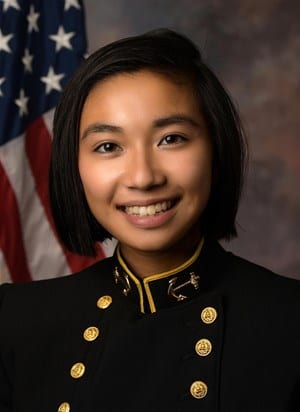 Eighteen minutes later, Victoria Tran untied it. She got control of the ball off of a throw in to the box from Sadie McCaleb. While trying go get some operating room, Tran went down before she could get off a shot.
But she never lost her focus. The ball bounced off a defender and came down in front of her. Tran had landed in a seated position, but had no real angle to shoot because of where her body was facing in relation to the goal.
So without even thinking, she spun herself around from that seated position, which gave her the angle she needed to take a shot. The ball found the back of the net on the far left side. Click here to watch the goal starting at 2:30. The Mids had taken a 2-1 lead on a memorable shot, and they held off Army the rest of the game to claim their fourth Patriot League title.
That Wraps It Up
There are your three reasons why Navy was the league champion in 2019. Coach Carin Gabarra's leadership has established a championship culture at the Academy that is built to last. Everything she does is with an eye towards developing her players and promoting the program to increase its visibility on as many levels as possible.
Specific to the 2019 Navy Women's Soccer team, they used a stifling defense to constantly frustrate their opponents. Holding them to a half goal a game average ensured that the Mids would be competitive in pretty much every game.
Finally, these women always kept their composure. They never panicked. Even if the game wasn't going that great, they believed in each other enough to know that if they just kept getting after it, things would eventually turn around. And they usually did.
One Final Thought
There is one other thing I noticed when putting this feature together. When writing about other teams, I use their respective rosters to find some nice individual action shots for inclusion into the story. For example, since I mentioned Carolyn Mang and Victoria Tran, I wanted to add something other than their formal photo.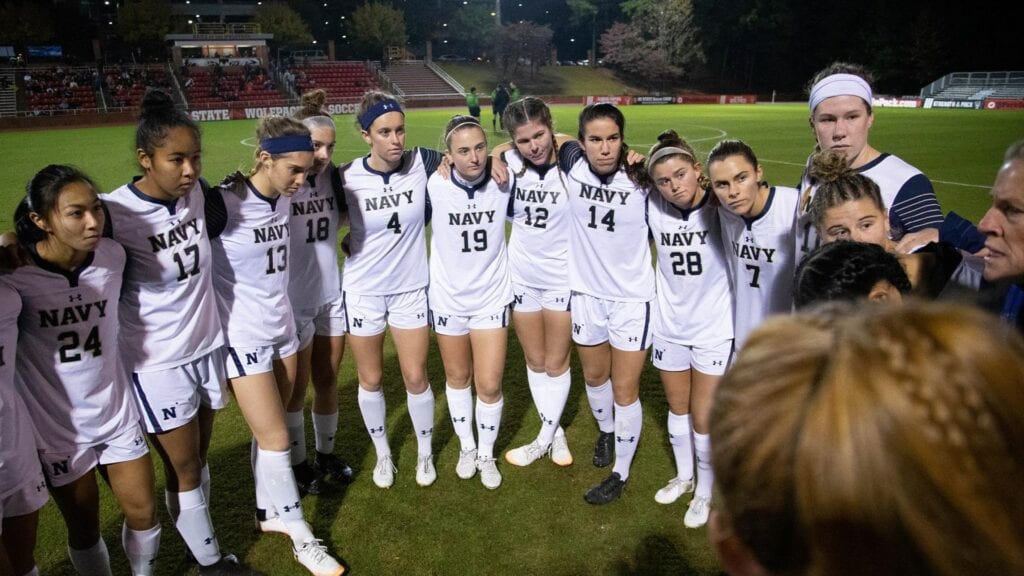 But I couldn't find any individual action shots. I even went through the entire roster (19 players) and couldn't locate a single one. Each player profile had the same group shots of the team.
That's when a thought occurred to me. I figured they had to have dozens of individual shots in their files available to upload. After all, why go shoot photos at a sporting event and not capture some cool ones of the players in action?
Now this is pure speculation, but it makes sense based on what I've learned about the Navy Women's Soccer team. Maybe the decision was made not to go with individual action shots in the roster. Maybe they only wanted those capturing team celebrations.
That totally fits with what these women are all about. They give 100% every game, and they play hard for each other. And all they do is win.
Until next time . . .
** If you enjoy the content you are reading on the Navy Sports Nation blog, spread the word! Use the Facebook and Twitter buttons below to share with your social networks. Thanks for your support! Go Navy!! Beat Army!! **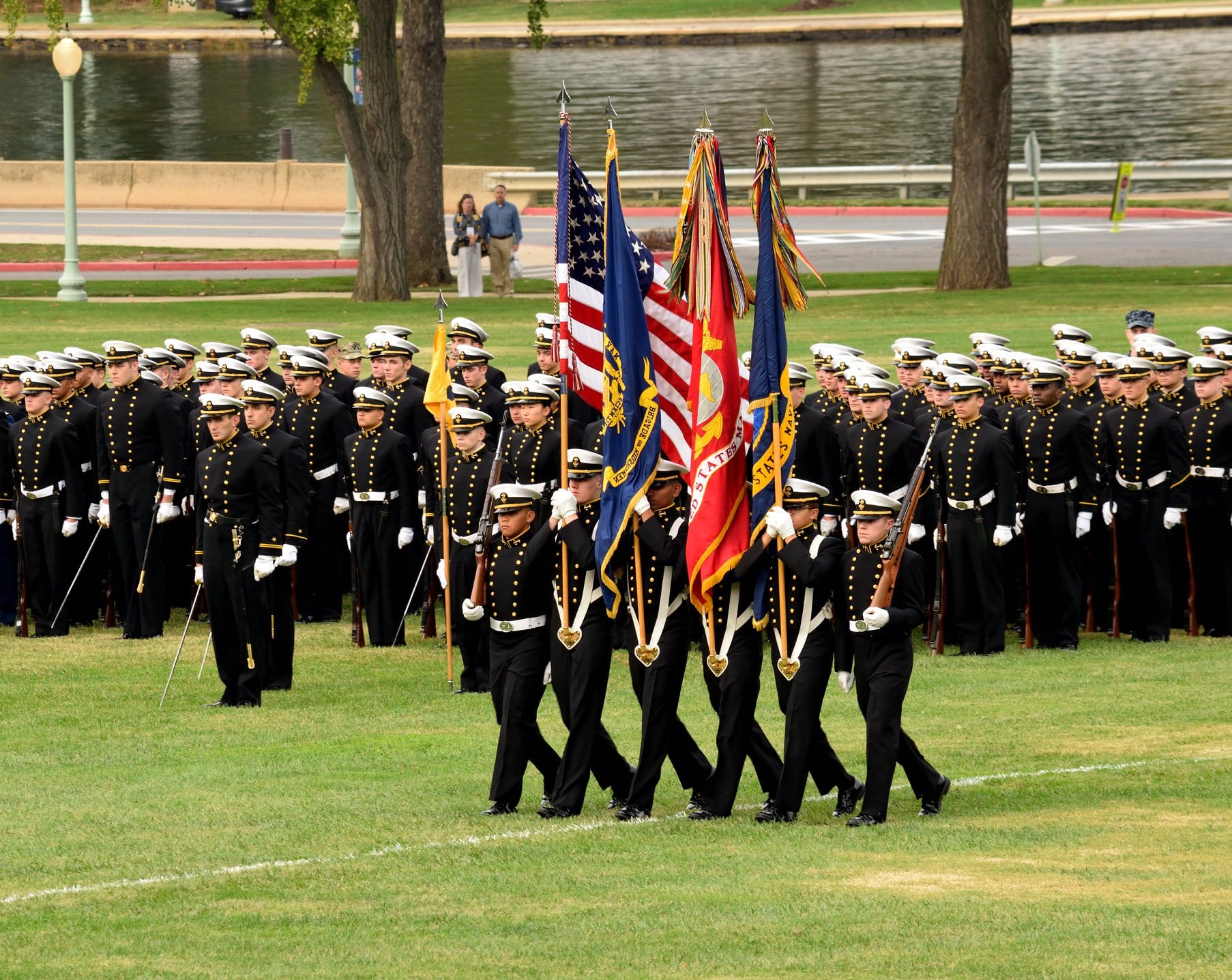 My sincere thanks to Scott Strasemeier, Senior Associate AD for Sports Information at the U.S. Naval Academy for granting permission to use images and video from the Navy Athletics media library. All photos used from this source will be properly credited in the caption. The only exception would be if the photo is used as a feature image where no caption is visible.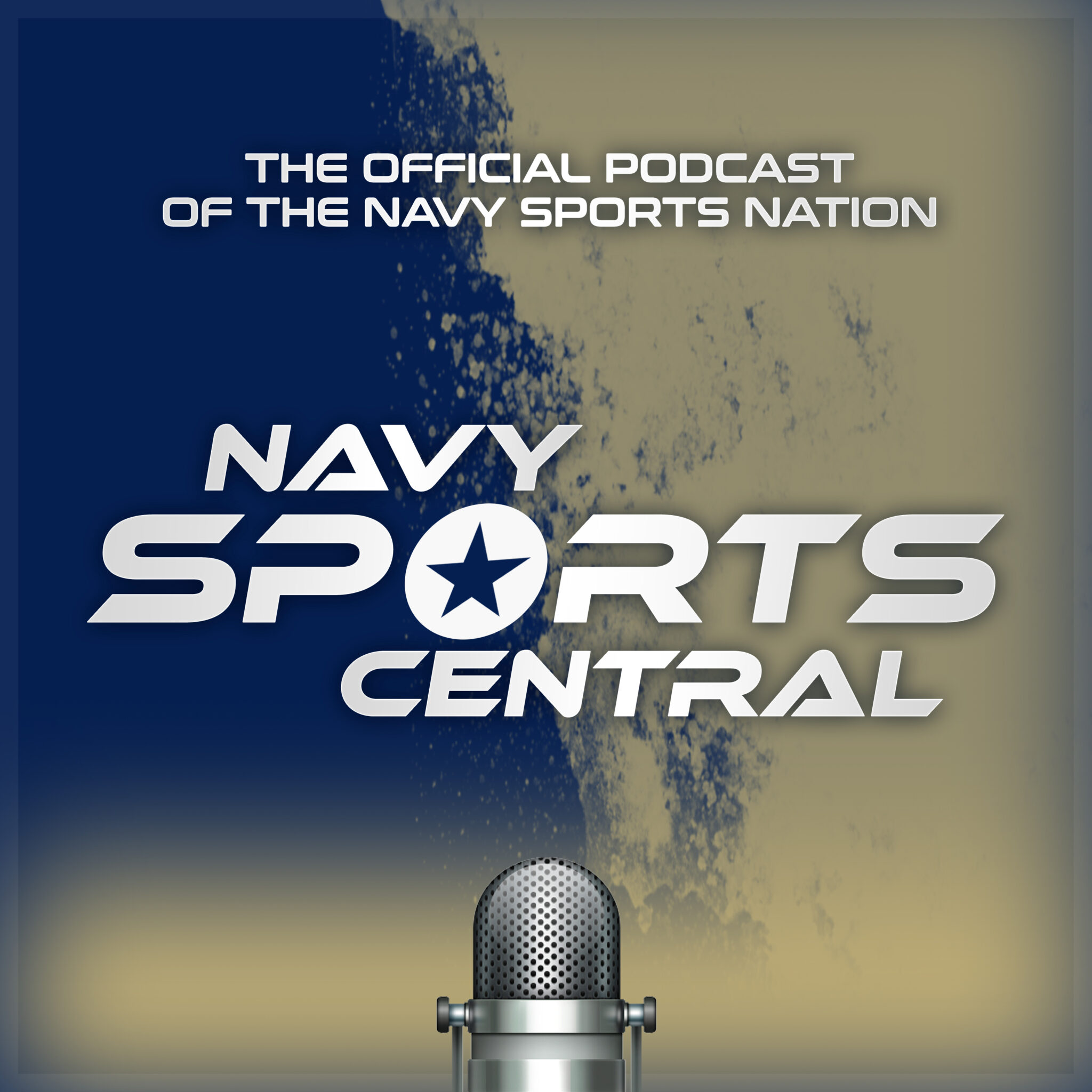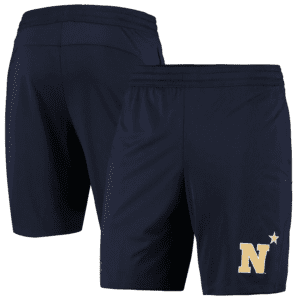 As an affiliate partner, Fanatics shares a small percentage of each sale through these links with the Navy Sports Nation which will be used to maintain the website. Thanks for your support!
Navy and St.Mary's are the only two rugby  programs in the country that have produced two Rudy Scholz Award winners. The award for the collegiate rugby player of the year was first given out in 2016.
Connor McNerney was the Naval Academy's first recipient in 2018. This year, Lewis Gray earned that honor. It was a fitting end to his outstanding career.
Click on the images to buy these two "must have" books for all Navy football fans. As an Amazon associate, I earn from qualifying purchases.
cRA Div. 1 National Championship Highlights
Karl Darden
I am a Navy veteran and a graduate of the U.S. Naval Academy. The idea to start this blog actually came from my classmates. I hope you enjoy reading this content as much as I enjoy writing it. Go Navy!! Beat Army!!