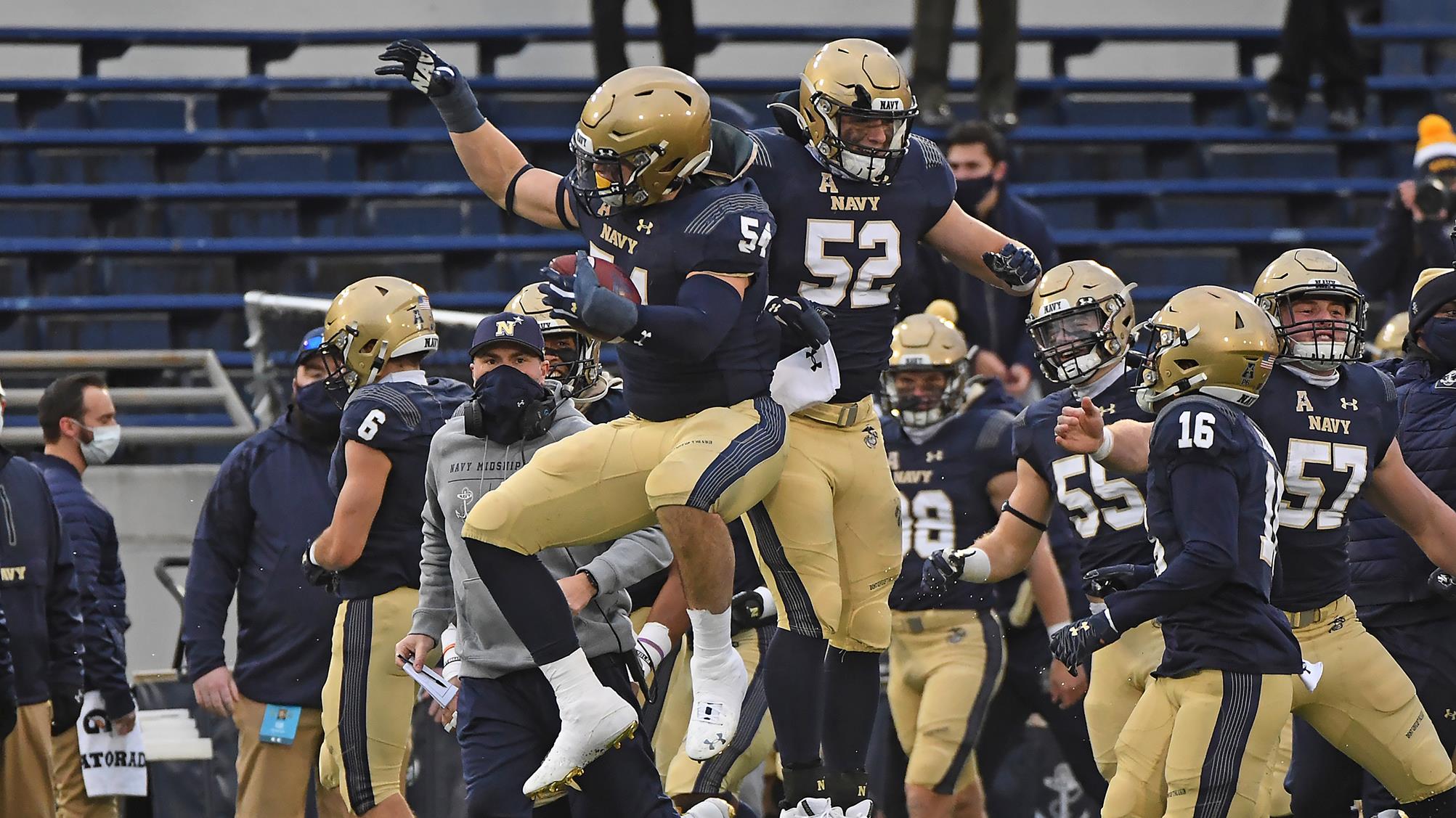 The 2021 Navy Defense: A Closer Look
Our final post of 2020 looks ahead to the 2021 Navy defense. This was one of the bright spots on the team during the last month of the season. Coach Newberry's unit got off to a very rocky start. But they returned to form over the last three games of the season, bringing the same confusion, pressure and chaos they were known for in 2019.
The defense held the high-powered Memphis Tigers to 10 meager points; 21 below their average. Unfortunately the offense could only muster up one touchdown in what turned out to be an extremely frustrating game.
They continued to be stingy with the points against both Tulsa and Army. In both cases, they only surrendered one touchdown. But the inability to generate any kind of sustained offense resulted in two very disappointing losses in games that many viewed as winnable.
That's all in the past now. The good news is that the 2021 Navy defense should be as good or even better based on the players who were key contributors over the last month of the season. So let's begin now with our closer look.
The Defensive Line
Coach Newberry's defense starts with creating doubt in the minds of the opposing offensive lineman. And during the last three games, the Mids did a much better job of that. The defensive line was more effective controlling the line of scrimmage at the point of attack. This resulted in holding teams far below their average in total yards per game. They will be losing some key players in 2021, but this group looks like they will be in pretty good shape overall.
Defensive End
Jackson Perkins will be graduating, so the Mids will need to fill his very capable shoes. The Barrington, IL native started all 10 games and registered 3.5 tackles for a loss (-14 yards).
Deondrae Williams figures to be one player ready to step in. He's got some good experience, seeing action in nine games this past season. Williams also played in eight games as a sophomore, chipping in with 10 tackles for the year (including a sack) and a forced fumble.
Williams was listed second on the depth chart prior to the Army game, so it's fair to conclude that he is the leading candidate to replace Perkins going into spring practice.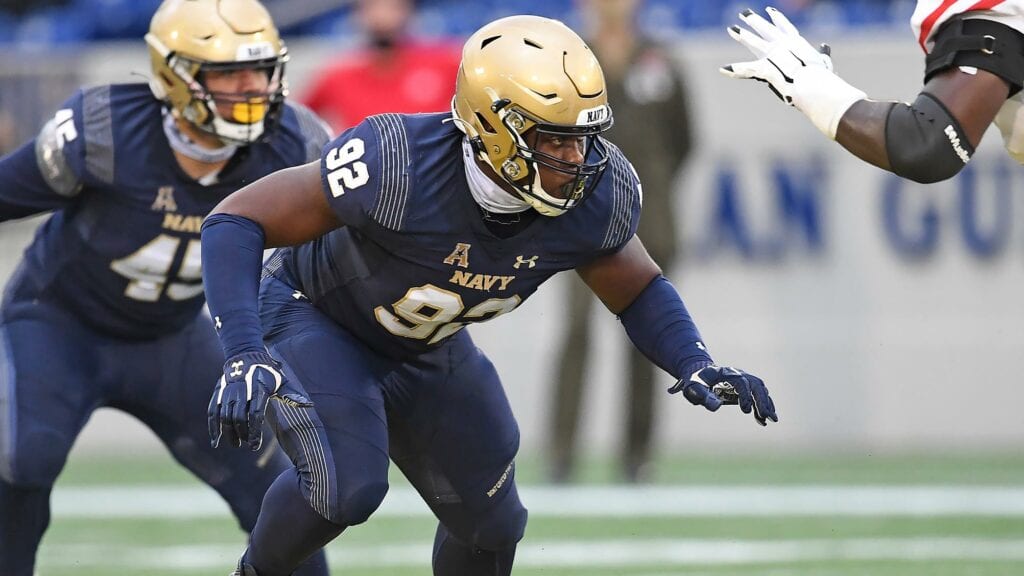 Defensive Tackle
Tobe Okafor will also be graduating. He played in all ten games also, coming through with 17 total tackles including two tackles for a loss and one sack at defensive tackle.
The guy stepping into that starting position could very well be J'arius Warren. He finished the season with 33 tackles (3 TFL, 1 Sack) and a forced fumble. Warren started the first four games of the season before giving way to Okefor.
But he did return to start the Army game, and turned in a strong effort. Matching his performance from last year, Warren had 14 tackles against the Black Knights. So at first glance, the defensive tackle position looks to be in pretty good hands.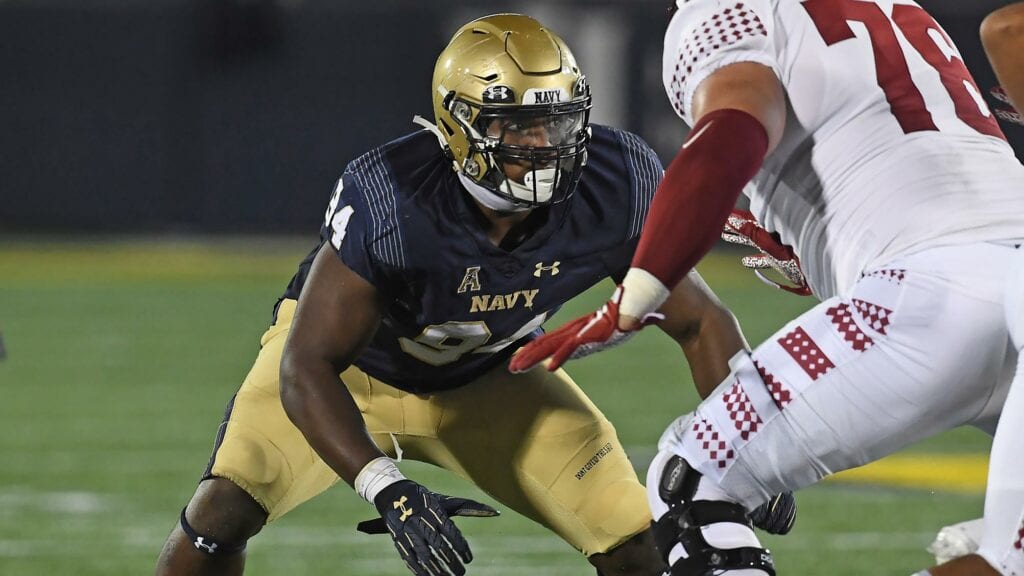 Nose Guard
This is arguably the most thankless job in Navy's 3-4 alignment. The nose guard is responsible for clogging up the middle to negate the inside running game. Any kind of a push he can produce to get the center back on his heels really gives the defense an edge.
In 2019, the Mids had Jackson Perkins. He dominated opposing centers throughout the year. This season, Donald Berniard Jr. emerged as the defense's potential answer to Perkins for the long term.
Listed at 280 lbs., Berniard gives up some size, but he simply does not stop until the whistle blows. He impressed Coach Newberry by being able to hold his own against bigger offensive linemen using excellent technique.
Here is the good news. Berniard did all of this as a freshman. So keep an eye on him. He could wind up joining Pittman and Bernie Sarra ('16) as one of the best nose guards in Navy history.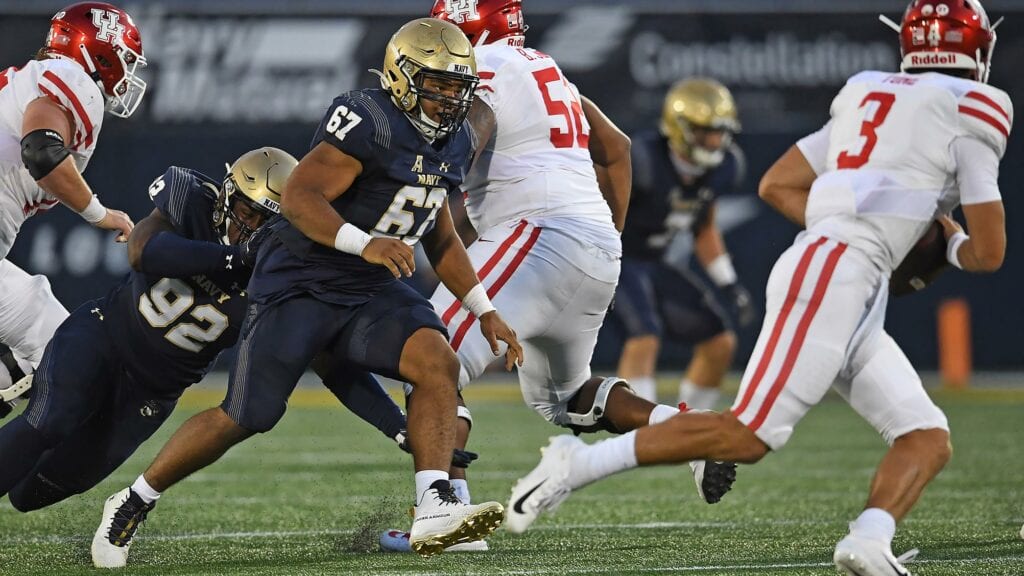 There's no doubt that everything starts with the defensive line in Coach Newberry's scheme. Controlling the line of scrimmage is key. But it's this next group that wreaks most of the havoc when the everything is clicking. So we'll take a look at them next in this preview of the 2021 Navy defense.
Navy Linebackers Return Four Starters
The linebackers play the critical role in Navy's scheme. When they are all on the same page playing with one heartbeat, it is really fun to watch. The Mids return a very deep linebacking corps in 2021. So let's take a look at each position.
Mike
We'll start with the heart and soul of Navy defense. Diego Fagot led the team in tackles for the second straight season. He finished with 72 (11 TFL, 3 Sacks), and chalked up a fumble recovery and a forced fumble as well.
Fagot can flat out play. He has the size (6'3″, 240 lbs) and athletic ability to attract the attention of NFL scouts. This guy is a total beast, and his performance in 2020 – one of the few bright spots – earned him AAC Second Team honors.
As he enters his senior campaign, Fagot is Navy's clear defensive leader. Opposing offenses are going to have to account for him on every single play. Otherwise, they're going to spend a quite a bit of time in the hurt locker. But he won't be alone. Here are the guys who will be playing alongside him.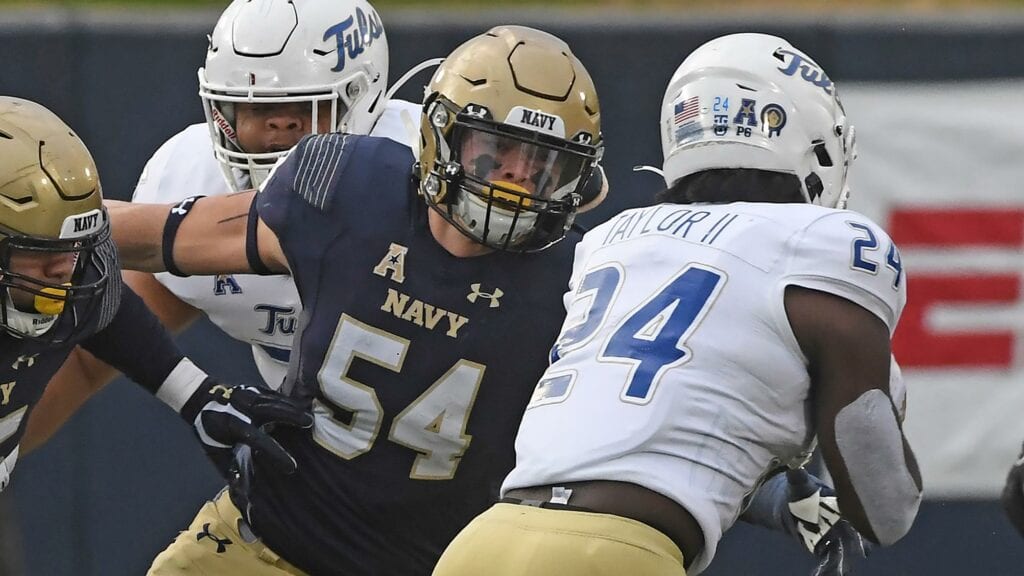 Striker
The biggest question mark on defense going into the season was the Striker position. The depth chart blew up when Jacob Springer, Chelen Garnes, and Tony Brown all entered the transfer portal. So the Mids looked like they would be at a significant disadvantage.
It didn't turn out that way. John Marshall (So) took over as the starter and it turned out to be a great fit. He had 62 tackles (5.5 TFL), and came up with a crucial, momentum-stopping interception in Navy's win over Temple.
Marshall has really good instincts. He was excellent in run support, and had three pass breakups to go along with his interception. What was Navy's biggest concern on defense to start the year is going to be a key strength in 2021. So, look for Marshall to create a lot of chaos next season. Now here's the next player in our 2021 Navy defense preview.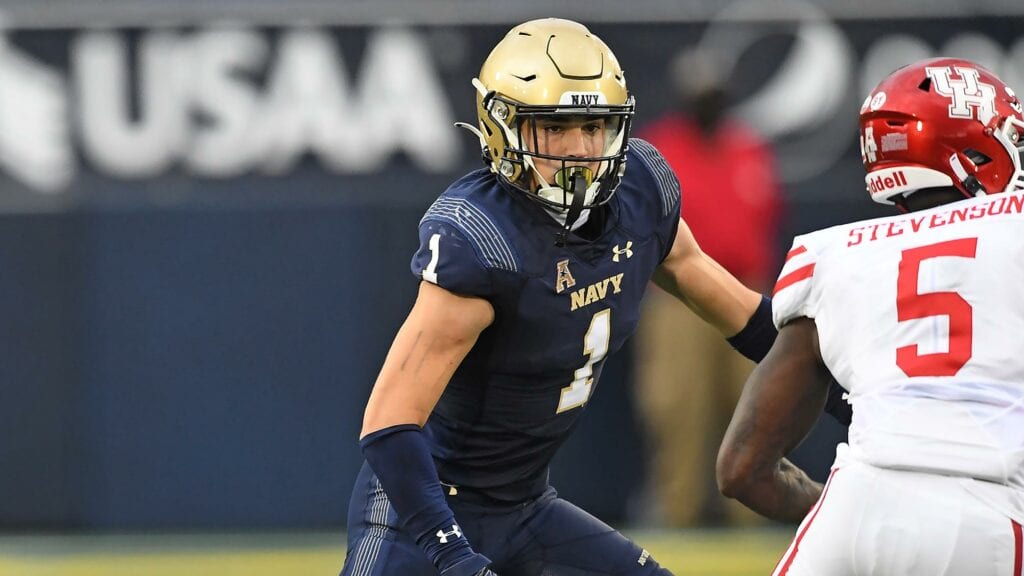 Will
Tama Tuitele lined up next to Fagot at the other inside linebacker position known as the "Will". It took a little time for him to knock the rust off after coming back from a season-ending knee injury last year. But Tuitele really rounded into form with each game.
In addition to finishing with 52 tackles (3 TFL), he also forced four fumbles. This is the kind of aggressiveness that Coach Newberry preaches. And based on their play at the end of the year, the Mids look to be very secure at both inside linebacker positions. That leaves us with one more to cover.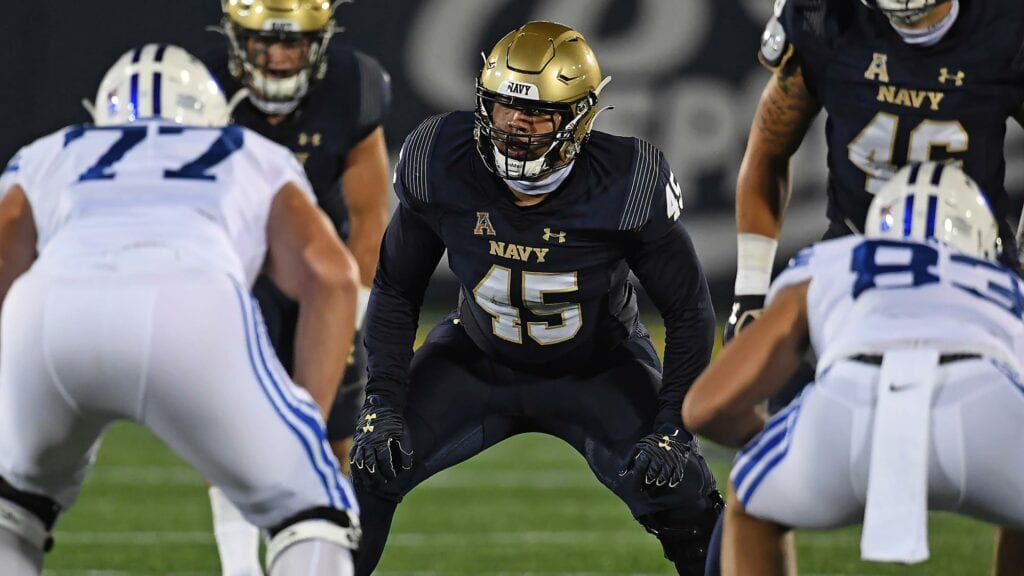 Raider
The Mids appear strong at this outside linebacker position also. Nicholas Straw (So) finished the year as the starter. He did pretty well too. Straw had a knack for getting to the opposing quarterback, picking up a sack and notching 4 QB Hurries (pressure sufficient enough to force an incomplete pass) to go along with 40 tackles.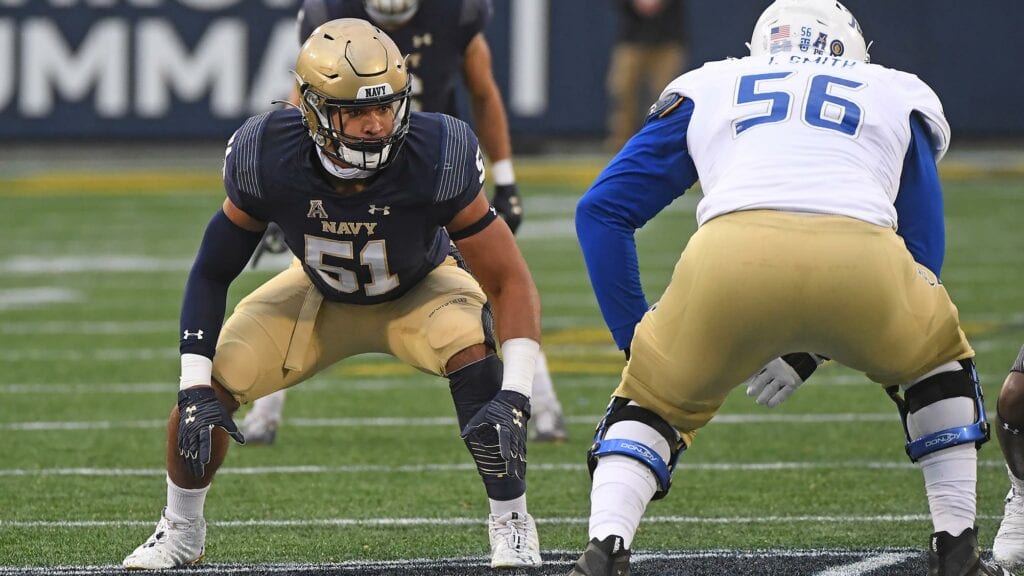 John Kelly III (Jr) also saw action at Raider this past season. He appeared in seven games and looks to push Straw for playing time.
Okay, we're more than half way through. Only four more positions to go in our 2021 Navy defense preview.
Defensive Backfield Brings Back a Strong Quartet
The Navy secondary took a hit when Evan Fochtman retired in mid-season for health reasons. I can't say I blame him though. The talented safety is focused on the big picture, planning for a career as a Naval Aviator. He suffered a concussion early in the season. Not wanting to risk his health any further, he chose to hang up his cleats rather than take any more chances.
The four Mids making up the defensive backfield that closed out the season have a nice mix of talent and experience. So let's see who they have coming back.
Bandit
Kevin Brennan returns at the Bandit Safety position. I've seen this guy fly all over the field over the last two years. He was second on the team in tackles with 68 (1.5 TFL), and pass break ups (5). He's also known for laying some pretty good hits on people.
This will be Brennan's third season in Coach Newberry's system, one that places a premium on safeties making the right reads. His instincts are really good, and having him in the secondary is a definite plus.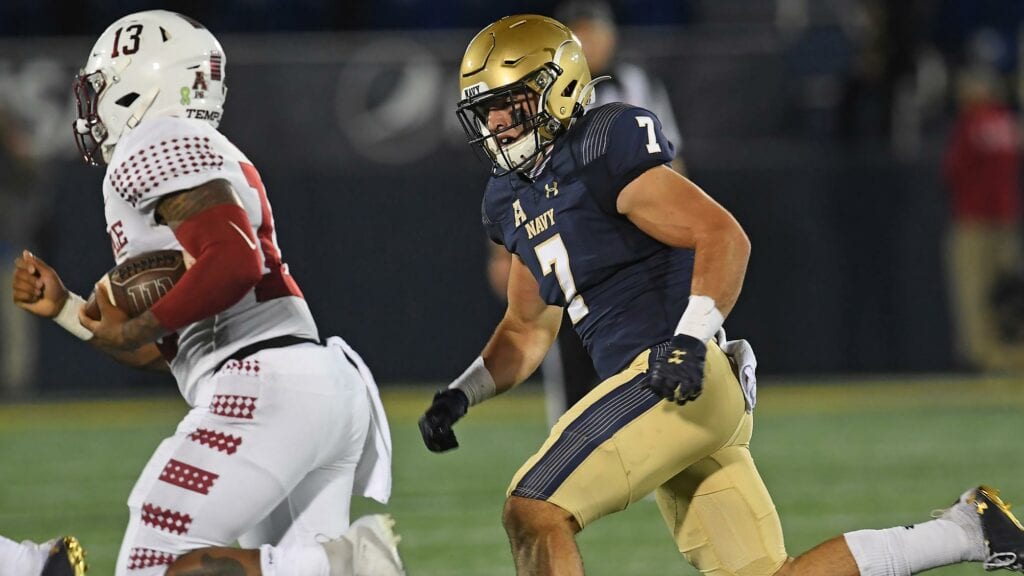 Free Safety
Mitchell West took over at Free Safety after Evan Fochtman retired. He finished the year strong. Besides his 50 tackles, he added a pass break up and a forced fumble.
The Mids have both experience and depth at safety. Derek Atwaters (So) goes into the spring backing up both Brennan and West. And they are in similar shape at the cornerback positions.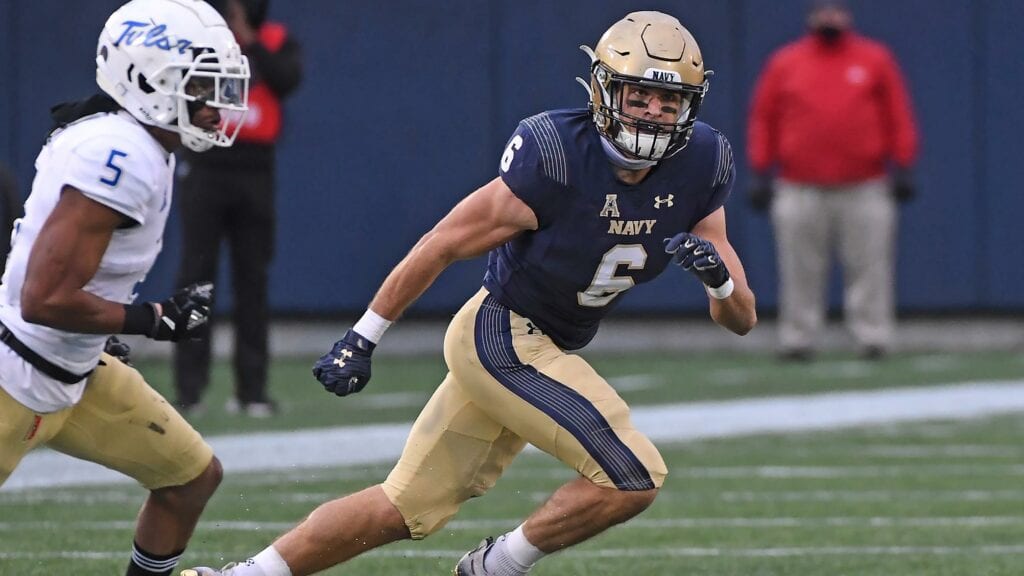 Field Cornerback
Caleb Clear (Jr) finished the year at #1 on the depth chart at the Field Cornerback position. The Memphis, TN native played in nine games, recording nine tackles from his position.
Clear played well enough to earn he starting nod the last few games of the season after beginning the year at #3 on the depth chart. That should tell you something about his skills right there. If he continues on that track, he'll be starting opposite the Mids best cover corner in recent memory next season.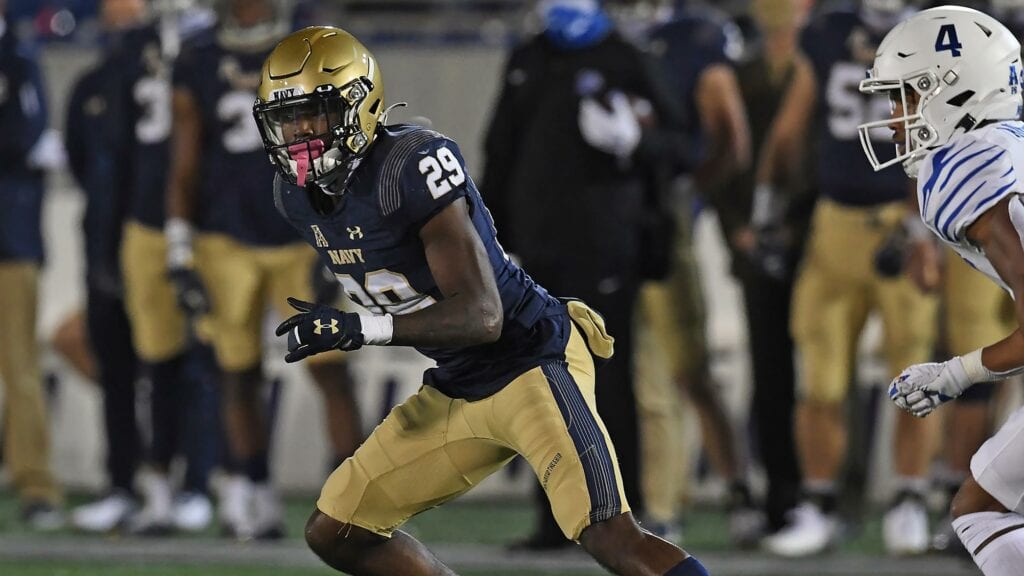 Boundary Cornerback
The Navy defense could have taken an even bigger hit than it did when Springer, Garnes, and Brown left. Michael McMorris entered the transfer portal after last season as well. But after further consideration, he withdrew his name.
That was a good thing because prior to getting injured late in the season, McMorris led the team in pass break ups with six. He also posted 38 tackles (1.5 TFL). McMorris rounds out a very talented secondary that should help return the Mids to their 2019 form. They certainly played like it over the course of the last three games. A look at the numbers will show why Coach Newberry has a reason to be excited.
Flipping the Script
Unlike the offense, the defense finally did manage to find its rhythm over the last three game of the season. Coach Niumatalolo had high praise for Coach Newberry and his defensive staff. What they did in November getting the defense back on track was truly remarkable. A look at some of the numbers will show you what I mean.
| | | | |
| --- | --- | --- | --- |
| Navy Defensive Statistics | First 7 Games | Last 3 Games | 2019 Season |
| Avg. Points Per Game Allowed | 37 | 14.7 | 22.3 |
| Avg. Total Yards Per Game Allowed | 441 | 246 | 314.2 |
| 3rd Down Conversion % | 42% | 29% | 32.75% |
See what I'm talking about? Granted, the last three games represent a small sample size. But keep in mind that both Memphis (31 PPG & 453 YPG) and Tulsa (27.3 PPG & 401 YPG) have pretty high powered offenses. And Navy's defense held them both to more than 100 yards below their averages for total yards. At the same time, they limited their point production considerably.
In fact, the overall numbers compare favorably with the 2019 defense, despite the fewer data points. That is why I'm pretty fired to see them take the field again in the fall. And I'm going to be tracking their progress in the spring as well to see how things start shaping up.
It was great to see how the defense finished things out, considering how disruptive the season was. Their return to form after that long break in November was a testament to Coach Newberry and his staff's commitment to excellence. It had to be incredibly frustrating to waste three outstanding efforts in the final weeks. Each of those games could have easily wound up in the win column.
The most maddening thing was that if the offense could have just matched their point production in the Houston loss (21 points) it would have been enough to ring up three victories and finish the season at 6-4. But that's 2020 for you. As far as I'm concerned, it's already in my rear view mirror.
Some Final Thoughts
If any season can be considered an outlier regarding the Navy program, it would have to be this one. After a record setting 2019 campaign, Coach Niumatalolo and Coach Jasper knew they had some work to do in identifying a quarterback to take over for Malcolm Perry.
They had a rigorous program planned for spring workouts designed to do just that. It even involved full contact to help determine which signal caller was not averse to taking a pounding.
All that went away when the pandemic began raging across the country. Then, an overly cautious approach in the preseason put the Mids even further behind. There was a glimmer of hope when the team beat East Carolina to go 3-2 (3-0 in the AAC). Unfortunately, that bubble burst, and they dropped their last five games.
But as I've told all of you before, I am a big time optimist when it comes to this coaching staff. They understand how to diagnose issues and fix problems.
This spring, the priority will be nailing down a quarterback who is a clear threat to run with the ball. Right now, that looks like Xavier Arline. He needs to get stronger and develop his passing game, but he does have the tools to be a great option quarterback.
Defensively, I think Coach Newberry is really looking forward to seeing what he has to work with in the spring. With nine returning starters, the sky is the limit.
My overall sense is that for both the coaches and returning players, spring practice can't get here fast enough. To me, last season was the equivalent of coming down with a case of food poisoning. It sucks trying to get over it. But when you do, you know you'll be back and better than ever.
One More Thing . . .
I can't believe it's been a year since I started this Navy Sports Nation blog. For the record, I wouldn't recommend launching a sport blog just as a pandemic starts spreading acrocss the country, but who knew?
Anyway, I wanted to tell all of you how much I've enjoyed bringing you all the stories involving our terrific athletes (past and present) at the Naval Academy. It's not the easiest thing to do from Arizona, but I've had a lot of help from the Navy Sports Information.
Finally, I do have some exciting things planned for 2021 with the goal of bringing more Navy fans into our group. So if you like what you've been reading over the past year, keep spreading the word to all the fans you know. And if you would like to help support a major project related to the Navy Sports Nation blog that I will launch sometime in March 2021, here are a couple ways you can do that.
Fan Gear and Challenge Coins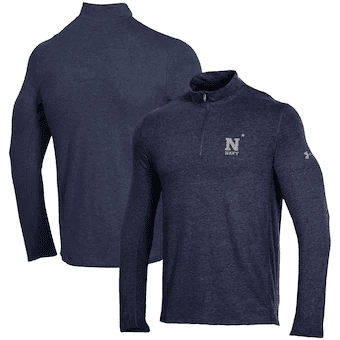 If you are ever in need of Navy fan gear, you can shop for it by going through this Fanatics.com link. And it doesn't have to be just Navy gear either. You can shop for clothing, accessories or collectibles from any of your favorite teams once you get on the site.
I am an affiliate partner with Fanatics, and they do share a small percentage of the sale with me. All proceeds will go towards getting the previously mentioned project up and running in about three months.
And finally, one unique way to show your support for what we do at Navy Sports Nation is to pick up your own custom designed challenge coin. This one of a kind item identifies you as a chronic Navy sports fan. I only had 100 made, and I've got about 30 left. So if you want to get one before they disappear, click on this link to learn more.
That's going to do it for our final blog post of 2020. It's time for this year to get the hell out of town so we can all get on to seeing what 2021 has in store for us. And ever the optimist, I've got a feeling it's going to be a good one for Navy Sports. I hope it is for you all as well.
Until next time . . .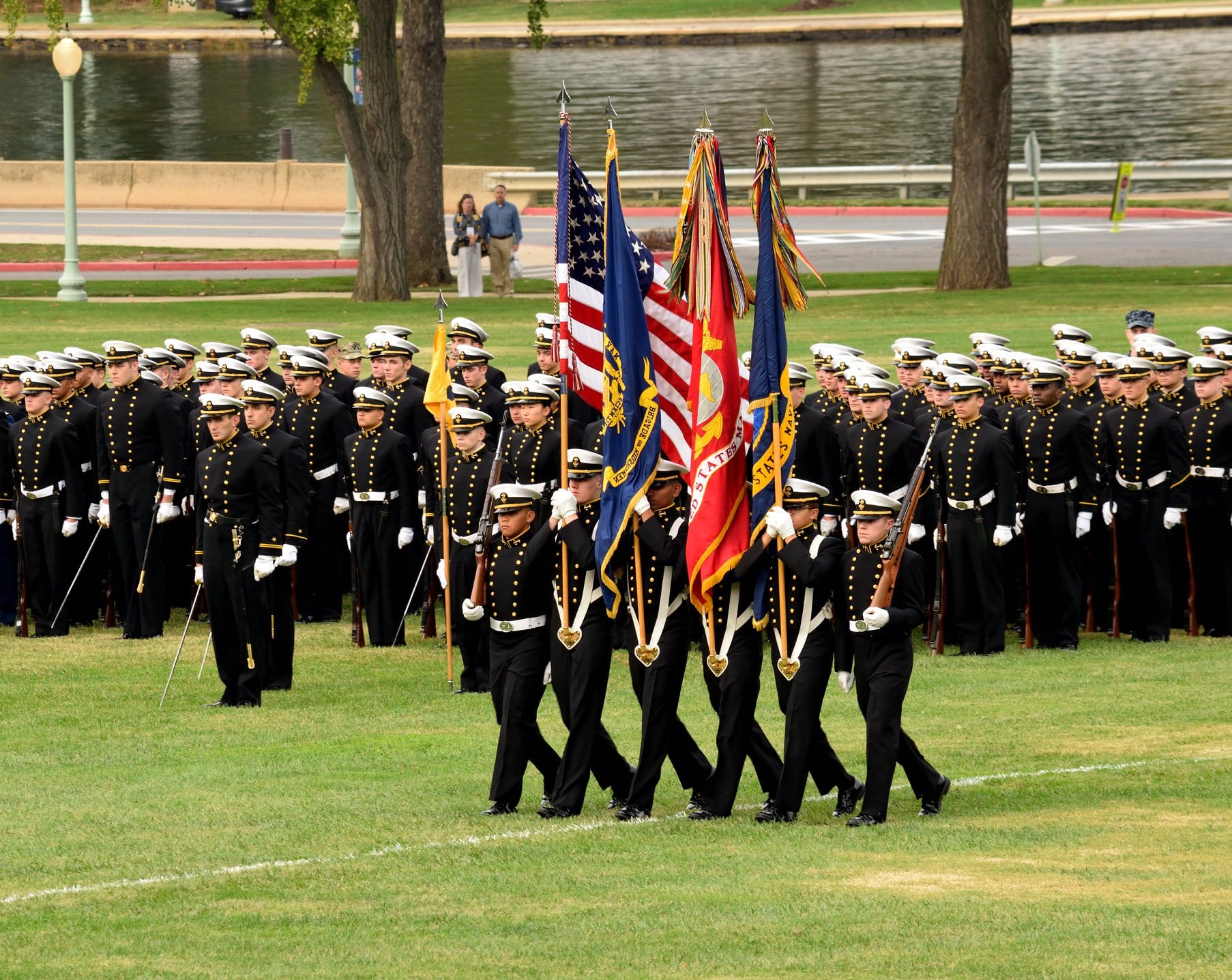 My sincere thanks to Scott Strasemeier, Senior Associate AD for Sports Information at the U.S. Naval Academy for granting permission to use images and video from the Navy Athletics media library. All photos used from this source will be properly credited in the caption. The only exception would be if the photo is used as a feature image where no caption is visible.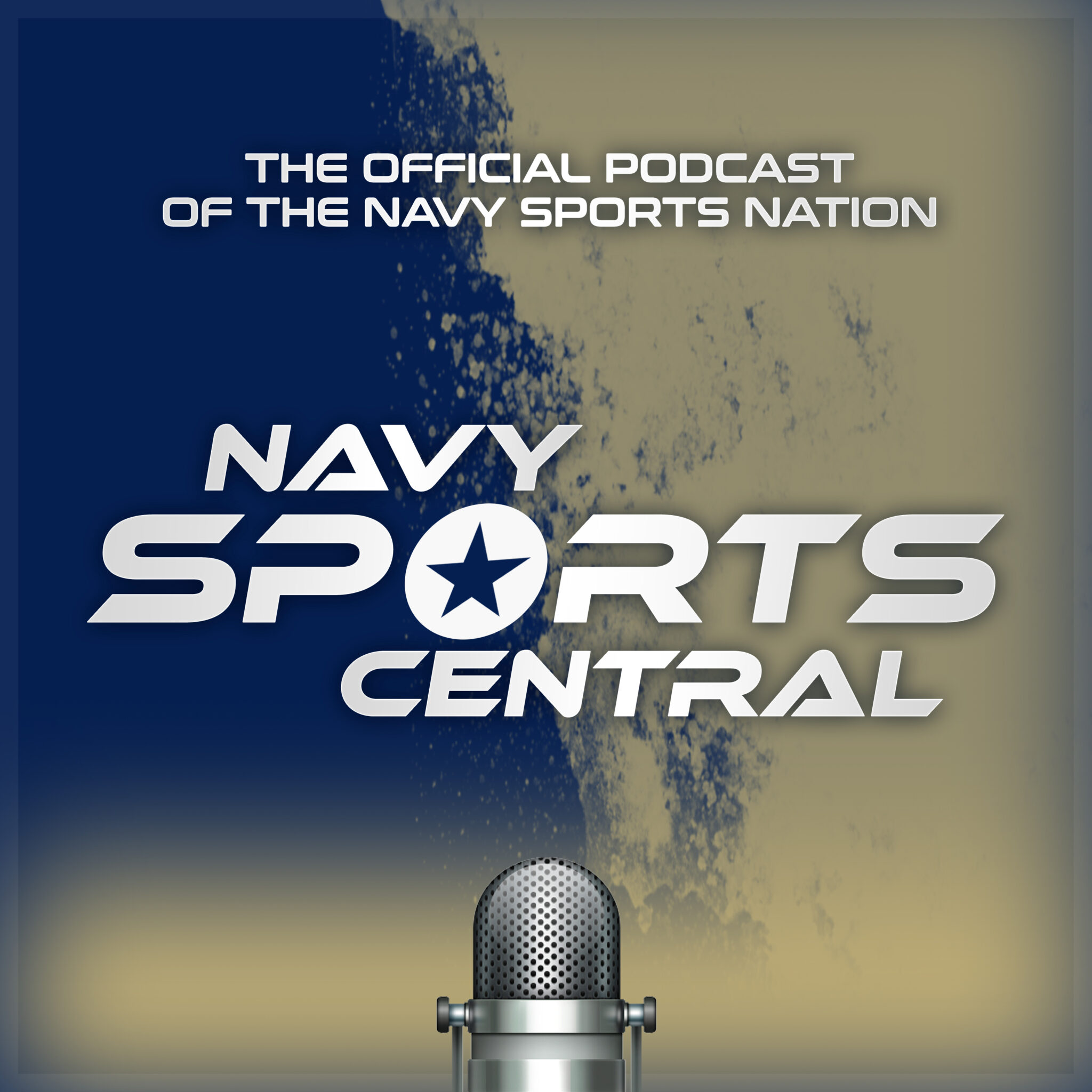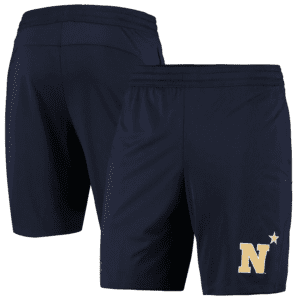 As an affiliate partner, Fanatics shares a small percentage of each sale through these links with the Navy Sports Nation which will be used to maintain the website. Thanks for your support!
Navy and St.Mary's are the only two rugby  programs in the country that have produced two Rudy Scholz Award winners. The award for the collegiate rugby player of the year was first given out in 2016.
Connor McNerney was the Naval Academy's first recipient in 2018. This year, Lewis Gray earned that honor. It was a fitting end to his outstanding career.
Click on the images to buy these two "must have" books for all Navy football fans. As an Amazon associate, I earn from qualifying purchases.
cRA Div. 1 National Championship Highlights
Karl Darden
I am a Navy veteran and a graduate of the U.S. Naval Academy. The idea to start this blog actually came from my classmates. I hope you enjoy reading this content as much as I enjoy writing it. Go Navy!! Beat Army!!